Gotham City's crime-fighting costumed vigilante has been a cinematic mainstay for more than three decades, beginning with Michael Keaton's iconic portrayal in 1989's Batman and its 1992 sequel. Keaton's departure from the franchise led to a pair of critically maligned follow-ups that found Val Kilmer and then George Clooney donning the cape and cowl, but declining box office receipts led to the character being shelved for eight years before director Christopher Nolan breathed new life into the Caped Crusader with 2005's Batman Begins, starring Christian Bale.
Under Nolan's direction, Batman would appear on the big screen twice more: 2008's The Dark Knight, widely regarded as one of the greatest superhero films of all time, and 2012's The Dark Knight Rises, a divisive final installment which saw both Nolan and Bale bidding a fond farewell to the character and opening the door for Warner Bros. to once again reboot the series. In hopes of emulating the success of the Marvel Cinematic Universe by creating an interconnected series of films based on their own DC Comics characters, the studio wasted little time in bringing the Defender of Gotham back to the screen — this time with Ben Affleck under the mask — for 2016's Batman v Superman: Dawn of Justice and its successor, Justice League.
The latter would become such a hotbed of controversy (the details of which we'll not discuss here) that plans for a sequel were scrapped, and a new standalone Batman film written and directed by Affleck was put on indefinite hold. Meanwhile, War for the Planet of the Apes writer-director Matt Reeves pitched an alternate take on the character's early years, focusing on Batman's detective skills and drawing inspiration from the long-form storytelling of classic comic arcs The Long Halloween and Dark Victory. Warner Bros. elected to move forward with Reeves' vision, freeing him from the constraints of the existing DC properties and allowing him to put his own spin on Gotham City, its villains and its heroes. The culmination of that work is The Batman, a sprawling, complex neo-noir thriller that shares more in common — both aesthetically and thematically — with the filmography of David Fincher than with most other superhero movies.
Much in the way Marvel handled Spider-Man's jump to the MCU in Captain America: Civil War, Reeves wisely foregoes the origin story here, and the film is better for it; by this point, we're all familiar with the basic framework of Bruce Wayne's past, and we don't need yet another slow-motion shot of Martha Wayne's pearls falling to the pavement to set the stage. Instead, Reeves opens with the grisly murder of a prominent politician at the hands of The Riddler (Paul Dano), who poses the body in a grotesque tableau and leaves an elaborate series of clues for the police — and especially The Batman (Robert Pattinson) — to suss out the identity of his next intended victim.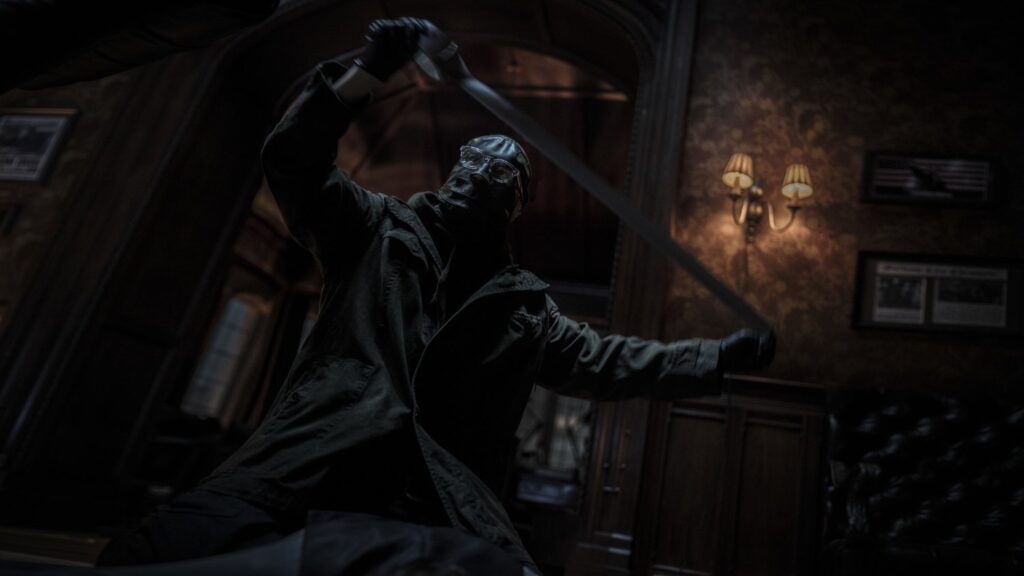 While the majority of Gotham PD regard the costumed vigilante with suspicion, if not outright distrust, Lieutenant James Gordon (Jeffrey Wright) has developed an informal partnership with the mysterious stranger who haunts the streets. And Gordon needs every bit of help The Batman can muster, as bodies continue to pile up and every subsequent murder builds toward exposing the cesspool of corruption that has slowly been devouring the city from within, a vast criminal conspiracy that connects Gotham's highest ranking officials to underworld boss Carmine Falcone (John Turturro) and his right-hand man, Oz (Colin Farrell), better known as The Penguin. There's also Selina Kyle (Zoë Kravitz), an accomplished cat burglar and waitress at a local mob hangout, searching for an abducted friend with ties to The Riddler's first victim. The Batman enlists her to infiltrate Falcone's inner circle, forming a shaky alliance in the process, but her personal connection to the criminal underworld may render her more liability than asset.
As the latest actor to step into the boots of one of the most recognizable figures in pop culture, Pattinson is saddled with the unenviable task of remaining true to the character while also charting a new course that sets his portrayal apart from those that came before. Thankfully, he's more than up to the challenge, asserting his identity the first time he appears onscreen by bringing a completely different physicality than we've seen in other manifestations: stalking slowly, methodically out of the shadows like some unstoppable wraith, exuding menace with every step before unloading the full force of his rage on the gang of thugs in his path. This Batman doesn't yet have the discipline we've come to expect, and seems to balance precariously on the edge of losing all control and beating someone to death, in hopes it will mend the inner turmoil that threatens to consume him.
Unlike his predecessors, Pattinson doesn't have to worry about drawing a clear delineation between The Batman and his alter ego; this version of Bruce Wayne is a notorious recluse, rarely seen in public and with no hint of the character's traditional playboy persona. Pattinson spends the vast majority of the film in full costume — a choice that also sets this version of the character apart from previous incarnations — and proves himself surprisingly adept at conveying emotion with most of his face obscured. Audiences whose only exposure to Pattinson has been through the Twilight franchise will likely find themselves surprised by his range and intensity; those who've seen his more recent work in films like The Lost City of Z, Good Time and The Lighthouse should be familiar with his versatility, and Pattinson is firing on all cylinders here.
Kravitz, who previously voiced Selina Kyle in The LEGO Batman Movie, seems as though she stepped directly out of the pages of DC Comics and onto the screen; there's never been a cinematic depiction of Selina that so perfectly embodies the source material, expertly blending the mischievousness, the sensuality, the rebellious streak and the constant push-and-pull of wanting to do the right thing and wanting to get herself into trouble, all while also being conscious of self-preservation. Kravitz seems practically born to play this role, and the film absolutely nails the complexity of Selina's relationship with Batman; likewise, the ofttimes scorching chemistry between Kravitz and Pattinson is a highlight, and far more convincing than other iterations.
Dano also deserves every ounce of praise he's sure to garner for his work. This rendition of The Riddler is clearly inspired quite heavily by the Zodiac Killer — even paraphrasing a quote from the real-life murderer at one point — and there are some big moments that, in the hands of a lesser actor, might've come across as mannered or overly exaggerated, but Dano's performance is nothing short of masterful. Due to the mask he wears for most of the film, we see very little of his face, but he conveys so much through delivery and inflection alone that when he finally appears unmasked — particularly when confronted by Batman in the visiting room of Arkham Aslylum — he somehow manages to feel even more disturbing.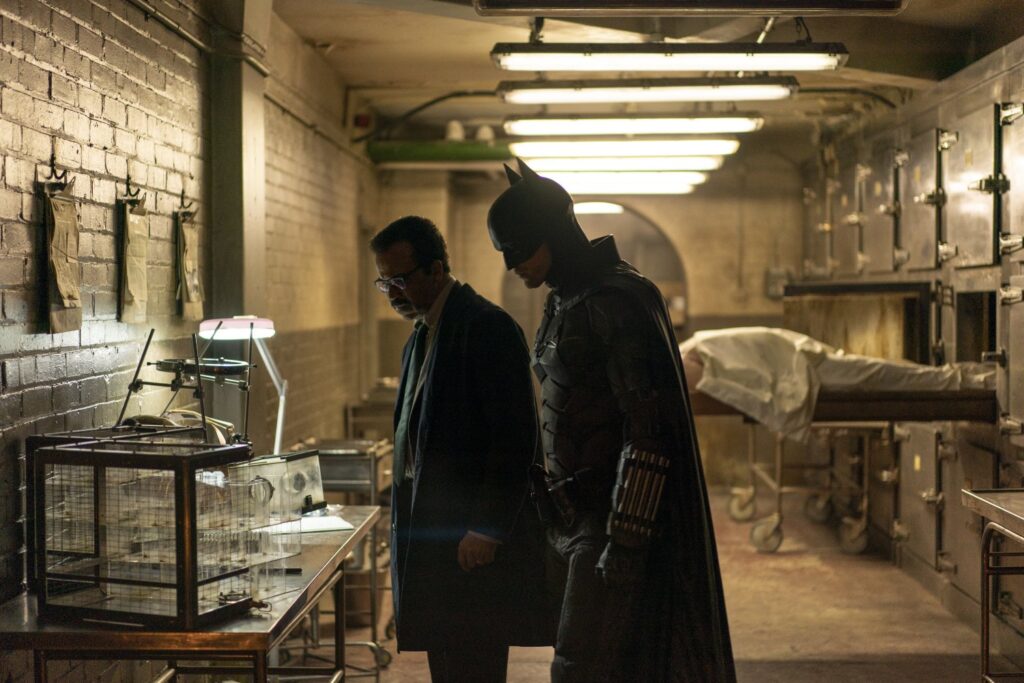 The rest of the cast deserves their share of accolades, too: Wright brings a sort of harried, nervous energy to Gordon that feels unique and fresh, Turturro is quietly threatening as Gotham's biggest crime boss, and Farrell — unrecognizable beneath layers of prosthetics — is seemingly having a blast as a mid-level mobster whose personality exists at the intersection of Tony Soprano and Robert de Niro. And although it's not exactly a character in the traditional sense, the new Batmobile, which shows up around the halfway mark to deliver the film's best action sequence, is magnificent.
I'd be remiss if I didn't mention Greig Fraser's cinematography, but make no mistake: it's truly next-level stuff. Throughout the film's colossal three-hour running time, Fraser consistently finds new opportunities to blend the oppressive darkness of the city with warm tones to create a very distinct, very deliberate cinematic style. Aside from a brief sequence where some obvious green screen compositing is utilized as Batman soars through the city, there are almost zero faults to find with the visuals; aesthetically, this is probably the best-looking superhero film of all time.
Speaking of that running time: at 175 minutes it feels a bit excessive, and that's coming from someone who unabashedly loved this movie. There are probably a handful of nips and tucks that could've been employed to shave down the overall length by 10-15 minutes, and one scene that could have — and probably should have — been repositioned as a post-credits tease rather than inserted prior to the ending. But these are minor gripes, and ones that didn't detract from the overall experience in any major fashion.
First appearing in the pages of DC Comics in 1939, The Batman has endured as a pop culture icon for more than 80 years, and a cinematic staple for more than 30. In a year where both Affleck and Keaton are expected to suit back up as their respective Caped Crusaders in The Flash, introducing a new version of the character — and indeed, the universe — feels almost like an embarrassment of riches, but Reeves has gone to such great lengths to ensure The Batman looks and feels like something completely different that it arrives as a welcome surprise.
Similar to the way in which James Mangold reinvented Hugh Jackman's Wolverine in 2017's Logan, Reeves has taken a well-worn property and presented it in such a way as to make the old feel new again, using familiarity to ease us into an experience that's unpredictable, unexpected — and perhaps even definitive.