Cobra Kai was one of the most pleasant surprises of the 2018 television year, charming fans with its nostalgia and big heart. Johnny and Daniel-san's return to relevance was a hit and quickly renewed by YouTube for a second season in the hopes that 80's fueled lightning could strike twice.
Youtube Premium allowed us back in the dojo with the first two episodes of Cobra Kai Season 2, which kicks things off as compelling and entertaining as ever. Picking up right where Season 1 ended, the show digs back into the dual protagonist structure that worked so well for the previous run of episodes and adds Karate Kid big bad Sensei Kreese (Martin Kove) as the new devil on Johnny's shoulder… or is he?
This idea that the characters we know and love from the original films aren't quite as black and white as originally intended works extremely well in the context of this franchise, and additionally with Johnny's relationship with his old mentor. Stars William Zabka and Ralph Macchio are also still on point and so endearing in completely opposite ways that my allegiances consistently flip back and forth between Miyagi-do and Cobra Kai.
The struggle between Johnny and Daniel in these early episodes centers around the rise of said Cobra Kai dojo and the struggles of Daniel's fledgling new upstart. In direct contrast to Season 1, these episodes have Daniel struggling to succeed with Mr. Miyagi's passive, old school Karate style while Johnny's aggressive "no mercy" tactics and the current reigning All Valley Karate Championship has Cobra Kai business starting to boom.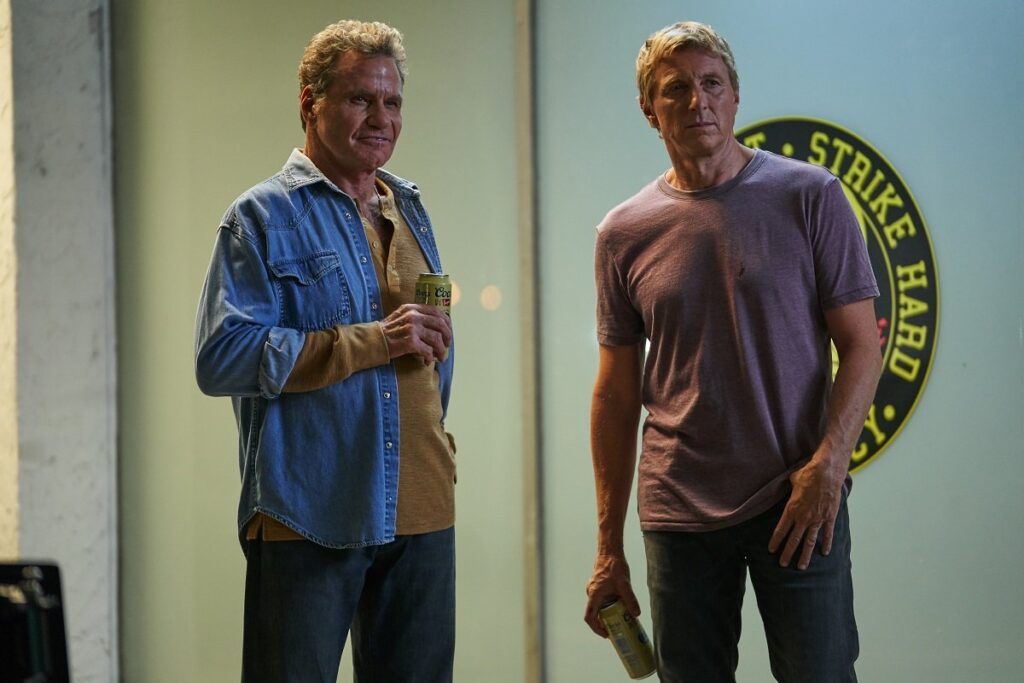 The students are still the chess pieces on the battlefield between Johnny and Daniel, and provide a similar wave of ups and downs per episode when compared to Season 1. Miguel (Xolo Maridueña) and Johnny's son Robby (Tanner Buchanan) remain at center stage of the youth cast with Miguel clearly still the more interesting character. Miguel's struggle with the darker tendencies that Cobra Kai brings out in him is still evolving at the beginning of Season 2, yet the character of Robby seems to only be interesting when sharing screen time with his father.
Despite numerous characters and multiple plot-lines, this show simply doesn't continue to work if Johnny doesn't remain a sympathetic anti-hero. Zabka hasn't lost a step in his portrayal judging by the first two episodes, setting up a very different and complicated modern world for his newly successful Cobra Kai. Aside from more money, more problems, seeing Johnny start to deal with the demons of his past (namely Kreese) gives him plenty of solid material to sort through in the remaining episodes left of the season.
Cobra Kai Season 2 starts with all the things that made the first season such a breath of fresh air and continues them in seamless fashion. To be completely fair, the series does still suffer from occasionally low production values and Disney Channel-style teen drama, but on the larger scale these nitpicks are all very forgivable. If the rest of Season 2's ten-episode run can stick the landing like the first, Cobra Kai may truly never die… at least for a few more seasons.
Score: 4 out of 5
Cobra Kai Season 2 releases all 10 episodes exclusively on YouTube Premium on April 24th.