2019's A Plague Tale: Innocence was a hidden gem, a superb single-player offering with an engaging story and a surprising level of polish for a game whose development team only consisted of about 40 people. Glowing reviews and positive word of mouth turned the story of Amicia de Rune and her younger brother Hugo into a sleeper hit for Asobo Studio, and now they've returned with a bigger, more ambitious sequel in A Plague Tale: Requiem.
Taking place some six months after the events of the first game, Requiem finds Amicia and Hugo enjoying some well-earned peace after escaping the clutches of the Inquisition. With family matriarch Beatrice and budding young alchemist Lucas in tow, they're en route to southern France in hopes that a magister with ties to a shadowy organization of alchemists known as The Order can provide information on a cure for the Prima Macula, the supernatural blood disease that allows Hugo to control hordes of plague-ridden rats. When the magister proves to have ulterior motives, Amicia absconds with Hugo, but not before he loses control of his power, allowing the rats to return with even greater numbers — and greater ferocity — than before.
A Plague Tale: Innocence already boasted some impressive tech, with major sequences in the game showcasing upwards of 5000 rats onscreen at once. But developing for the next generation of consoles allowed the team at Asobo to push things to extremes, turning 300,000 skittering rodents into a veritable "rat tsunami" with incredible destructive force, capable of bursting through walls and toppling buildings. At multiple points throughout the game, Amicia and her allies will be forced to flee in terror from the encroaching horde, and these moments are always exhilarating and heart-pounding. Environments are also much more varied this time around, as Amicia and Hugo travel from bustling marketplaces to candlelit ruins to a sunny island paradise, each rendered in dazzling, jaw-dropping detail that makes Requiem often feel like a showcase title for modern consoles and hardware.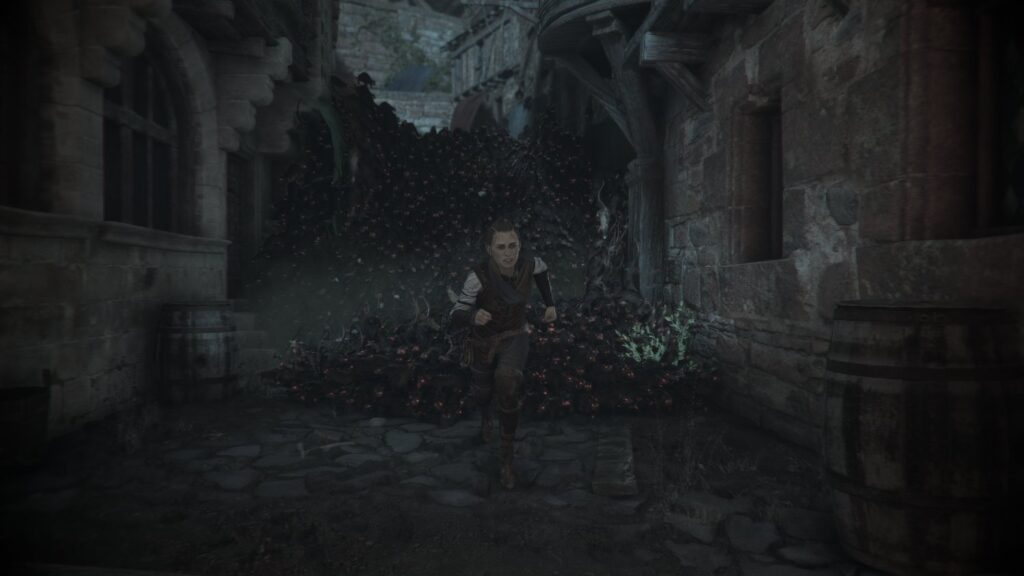 From a storytelling perspective, A Plague Tale: Requiem also manages to one-up its predecessor, exploring the lasting effects of trauma not only on Amicia herself, but on those closest to her. As Amicia's anger and frustration grow, so too does her desire for bloodshed; companions will often admonish her for killing unnecessarily, and Hugo's fragile emotional state will sometimes find him following in his big sister's footsteps, much to her horror. The introduction of new supporting characters, including disgraced knight Arnaud and adventurous smuggler Sophia, help provide some additional depth to Amicia and Hugo's story, while also offering some nice gameplay variations in particular segments: Arnaud can be commanded to engage enemies in open combat, allowing Amicia to sneak by undetected, while Sophia can use a prism to refract light and create a safe haven around the party as they navigate the environment.
The stealth-based gameplay that served as the foundation for Innocence has been nicely expanded upon for the sequel. Amicia is still armed with a sling that she can use to fire rocks through the skulls of unsuspecting soldiers — or to lure them in a particular direction for a less-lethal option — and she can still use alchemy to conjure up various powders and potions, allowing her to light torches that keep the rats at bay, or to snuff out fires and expose adversaries to the teeming hordes. These familiar elements are complemented by new additions, including tar, which causes torches and braziers to burn much brighter, blinding enemies and forcing the rats further away, and a crossbow, which can take down armored foes with ease or fire burning bolts into walls and structures to create additional light sources. About a third of the way through the game, Hugo will also gain the ability to commune with the rats, using them to sense the location of enemies on the battlefield, and in some cases even take control of the horde and use them to attack soldiers directly. The latter is a handy tool, but one that I used sparingly; something about the ethics of wielding an emotionally frail child as a lethal weapon just felt wrong to me.
A Plague Tale: Requiem isn't entirely devoid of issues. Pacing is a bit uneven, particularly in the game's latter half, and despite a skill upgrade system that adapts to a diverse array of play styles, Requiem will occasionally force you into situations where combat is the only option. These segments can be frustrating for players who might prefer a pure stealth approach, as they likely won't have many of the more combat-focused upgrades to Amicia's arsenal, leaving them at something of a disadvantage. But despite these mild complaints, there's no denying that A Plague Tale: Requiem is an improvement over the first game in pretty much every measurable way; there's more variety in virtually every facet of gameplay, the narrative is more complex and emotional, and the visuals are incredible. We'll stop short of calling it a masterpiece, but it's pretty damn close.
---
Version Reviewed: PC
Screenshots and gameplay footage captured by The Lamplight Review