Country music superstar Garth Brooks returned to the Valley on Saturday night with a sold-out show at State Farm Stadium in Glendale, AZ. The capacity crowd of more than 77,000 fans not only broke the venue's attendance record (previously held by the NCAA Final Four), but also set a new record for the largest single-night crowd in the history of Arizona.
Not that Brooks is a stranger to massive ticket sales, mind you — his last stop in the valley came in 2015, where he played six sold-out shows at Talking Stick Resort Arena. His latest venture, a three-year stadium tour that kicked off earlier this month in St. Louis, is easily the most ambitious undertaking of his storied career, but if last night's show is any indication, Brooks will have no trouble breaking a few more records.
After a rousing set from opener Easton Corbin and a five-minute countdown worked the crowd into a frenzy, they greeted Brooks with a thunderous roar the moment his signature cowboy hat began to rise out of the stage. Thankfully, the stadium roof had been opened earlier in the evening, otherwise it might have been blown completely off when fans realized Brooks had shown up in an Arizona Cardinals jersey.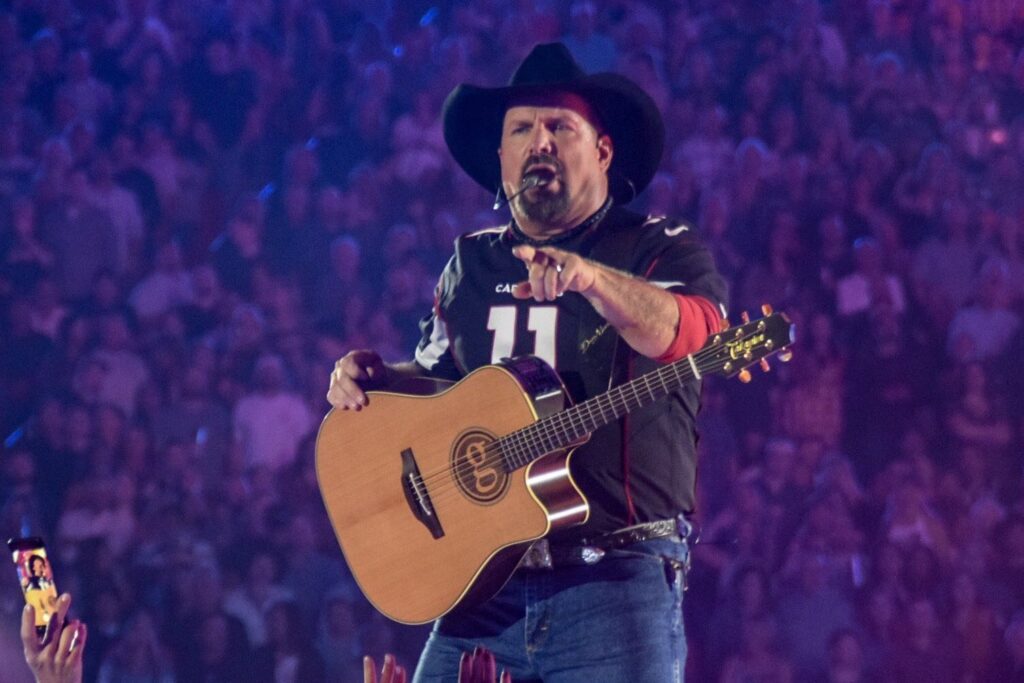 The evening opened with a pair of newer selections, "The Road I'm On" and "All Day Long," but it didn't take long for Brooks to break out well-known hits like "Rodeo" and "The Beaches of Cheyenne." The crowd met him at every turn, belting out lyrics and nearly drowning out the band, prompting Brooks to let the audience take the lead for "The River." With enough cell phones held aloft to completely illuminate the venue, the sound of 77,000 voices elicited an ear-to-ear grin from Brooks, who exclaimed "my God, listen to you, you sound amazing."
The evening was filled with some of the most popular selections from Brooks' three-decade career, including staples like "The Thunder Rolls" and "Friends in Low Places," both complete with additional verses that have long been a part of his live show. Brooks also made time for a few tunes from other artists, including The Nitty Gritty Dirt Band's "Fishin' in the Dark" and a stirring rendition of Bob Seger's classic "Night Moves."
But Brooks wasn't the only one with a few surprises up his sleeve. About halfway through the show, Arizona Cardinals wide receiver Larry Fitzgerald — whose name Brooks had been wearing all evening — walked onstage to present the singer with a guitar and a custom Cardinals jersey with his own name. After an exuberant and heartfelt thanks, Brooks told the audience that Fitzgerald was "the greatest human being I've ever met in my life," and advised them to "always hang around people that make you want to be a better person."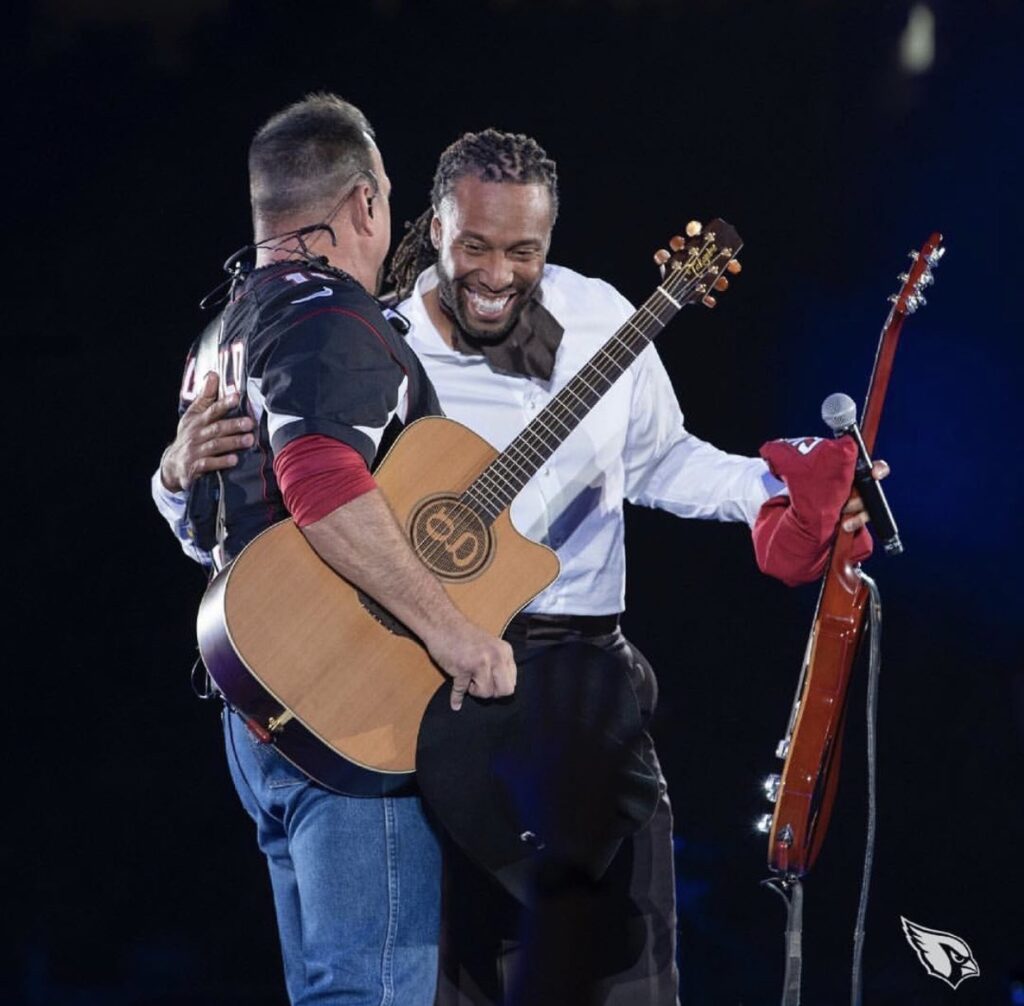 Despite the massive scope of the show, with its towering video screens and expansive lighting rigs, Brooks possesses the unique ability to make the entire production feel intimate. A big portion of this can be attributed to the way he interacts with his fans, honoring requests they've written on signs or admonishing security guards for keeping those in the front row away from the stage. "Maybe I got my communications crossed," he said amiably. "But I want to be clear: this stage belongs to them. Come on up, everyone."
Brooks is also remarkably gracious for an artist of his caliber, stopping frequently to express his appreciation for the life he's been allowed to lead, thanks to the unwavering support of the audience. As he told the fans, whether he was performing in "honky tonks, arenas, stadiums, my favorite part of the show is when is just comes down to the song and you guys."
Wouldn't you know it? That's our favorite part, too.
Setlist
The Road I'm On
All Day Long
Rodeo
The Beaches of Cheyenne
Two of a Kind, Workin' on a Full House
The River
Fishin' in the Dark (Nitty Gritty Dirt Band cover)
That Summer
Papa Loved Mama
The Thunder Rolls
Unanswered Prayers
Make You Feel My Love
Two Piña Coladas
Ask Me How I Know
Much Too Young (To Feel This Damn Old)
Callin' Baton Rouge
Shameless
Friends in Low Places
The Dance


Encore
What She's Doing Now
The Change
A Friend to Me
Night Moves (Bob Seger & the Silver Bullet Band cover)
Standing Outside the Fire
American Pie (Don McLean cover)