Quirky, beloved director Wes Anderson returns in Asteroid City, a film with a peculiar framing device and one of the greatest ensemble casts ever to grace the screen. Dripping with color and packed with wry, deadpan humor (and Anderson's usual subtext of longing and loss), Asteroid City is one of the director's most enjoyable films from his recent catalog and has more mainstream appeal than his usual offerings.
A quiet desert town, that also serves as meteor crater tourist trap, is the setting for a Junior Stargazer/Space Cadet convention in our story. Only it's not. See, Asteroid City employs an Inception level narrative device that has three separate realities taking place simultaneously. Let me explain…
Bryan Cranston serves as a black-and-white TV host/narrator introducing a stage production about Asteroid City. When the stage play begins, it explodes into wide-screen technicolor with the production's characters gathering together for the story's misadventure on a representation of the theater stage – complete with stylized, not quite realistic backdrops. To peel back the onion further, we get glimpses of the "real world" actor/creator counterparts of the Asteroid City production leading up to and during the production.
Sound like a lot? It kind of is. But it's presented with that irresistible whimsy that Wes Anderson does so well – it sticks with you. Personally, I spent days afterwards connecting the dots between the multiple narratives and uncovering different themes and foreshadowing that I found quite satisfying. But to be clear, this film is embraces every hallmark of a Wes Anderson film and then some, so if his movies aren't your thing, this one will not win you over.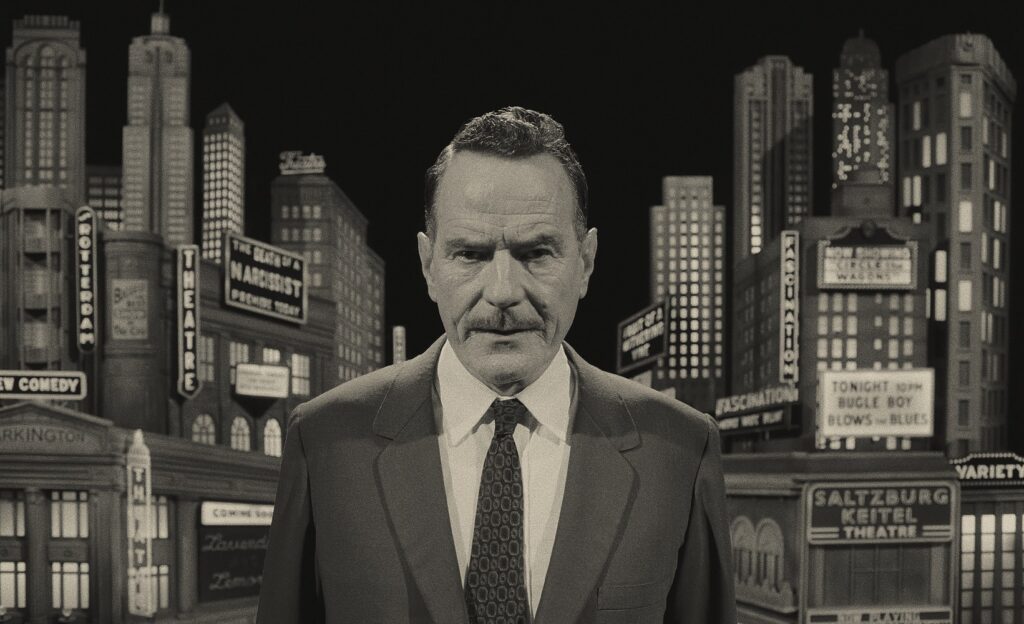 I'll spare our readers the breakdown of each iconic actor and their respective roles. That would be far too long of a review. Instead, I'll take a moment to address what is essentially the core story of the film. Jason Schwartzman returns to lead actor in a Wes Anderson production here, playing a father, Augie Steenbeck, taking his four kids on a road trip to visit his father-in-law (Tom Hanks) while trying to break the news to his children that their sick mother has passed away. Augie is a bit emotionally detached (and potentially on the spectrum?), but clearly hurting when he awkwardly befriends his starlet neighbor, Midge Campbell (Scarlett Johansson), through the window of their motel in Asteroid City. Looking past the deadpan line delivery, everything in their scenes is told through body language and conversational subtext and it's wonderfully acted by both. Their "window conversations" exploring a shared sadness are shot impeccably, creating moving art pieces that explore the odd way this unconventional duo connects.
There is plenty of silliness and dry humor to be had in Asteroid City as well. The turning point of the film is when an alien (in a hilarious cameo by Jeff Goldblum) visits the site and causes the Junior Stargazer/Space Cadet families and all current tenants of the motel to quarantine until the government sorts out what happened. The alien stuff is brief and quite fun, but is just the excuse to make a parallel to the Covid pandemic, during which the film was conceived and shot. But for my money, the best bit of off-the-wall goofy comes from a western song shindig featuring Rupert Friend's cowboy and Maya Hawke's teacher character, June, and her students.
Unfortunately, everything moves along swimmingly until the film seems to lose steam in an attempt to find any sort of ending. What you get is a bizarre, avant-garde sendoff taking place in an actor's studio that neither provides any kind of narrative closure nor provides an ending of any kind. It's an odd choice that will no doubt irk many audiences that aren't into the more art-house approach to filmmaking, but to be fair, it's not out of character for Anderson. Nevertheless, Asteroid City remains one of his most visually impressive films, populated with an amazing cast and everything you'd expect from Anderson's better works.
Score: 4 out 5
---
For more on Asteroid City, see our article featuring director Wes Anderson and the cast discussing the creation of the film.