There was a point in time where I unabashedly loved the Fast and Furious movies, but with each new installment, my affection for this franchise diminishes further. The high-octane action that gleefully thumbs its nose at the laws of physics has been steadily losing its appeal thanks to the eighth and ninth installments, the latter of which turned a long-running online joke about Dom Toretto's crew going to space into an eye-rolling reality. That Fast X could somehow be even worse is nigh unthinkable, and yet here we are.
Weirdly enough, this latest entry opens by reminding us just how great these films used to be, flashing back to the bank vault heist from Fast Five, which remains the series high point. But this time, the moments we remember are intercut with new scenes that reveal drug lord Hernan Reyes had an adult son named Dante (Jason Momoa), who witnessed the vault theft and the subsequent death of his father at the hands of Dom (Vin Diesel) and company. It seems Dante has been carefully plotting his revenge for the last decade, and now he's resurfacing (literally, as the intro shows his being blown off a bridge and nearly drowning) to set his grand plan into motion, which begins by sending a massive bomb careening through the streets of Rome while the crew desperately tries to keep it from wiping out half the city — a sequence that feels like a retread of the aforementioned vault heist, although with significantly more slow-motion shots of Diesel trying to look heroic.
Naturally, the Toretto crew are blamed for the chaos and are forced to go on the run, splintering the narrative into various subplots that play fast and loose with character motivations and the series' own history. Remember how Dom's brother Jakob (John Cena) was a stone-faced badass who spent the last movie trying to murder everyone? Apparently the filmmakers don't, as Jakob is now a dorky goofball high-fiving his nephew while admonishing him not to swear — there's absolutely zero trace of the character's personality as depicted in F9. Ruthless cyberterrorist Cipher (Charlize Theron) is also back, following in the footsteps of Jason Statham's Deckard Shaw (also returning) by joining forces with the Toretto crew after expending considerable resources trying to wipe them off the map in previous films; after spending the last two films monologuing and staring at monitors, at least we get to see Theron get physical this time around, and Cipher's prison cell brawl with Letty (Michelle Rodriguez) will be catnip for longtime fans.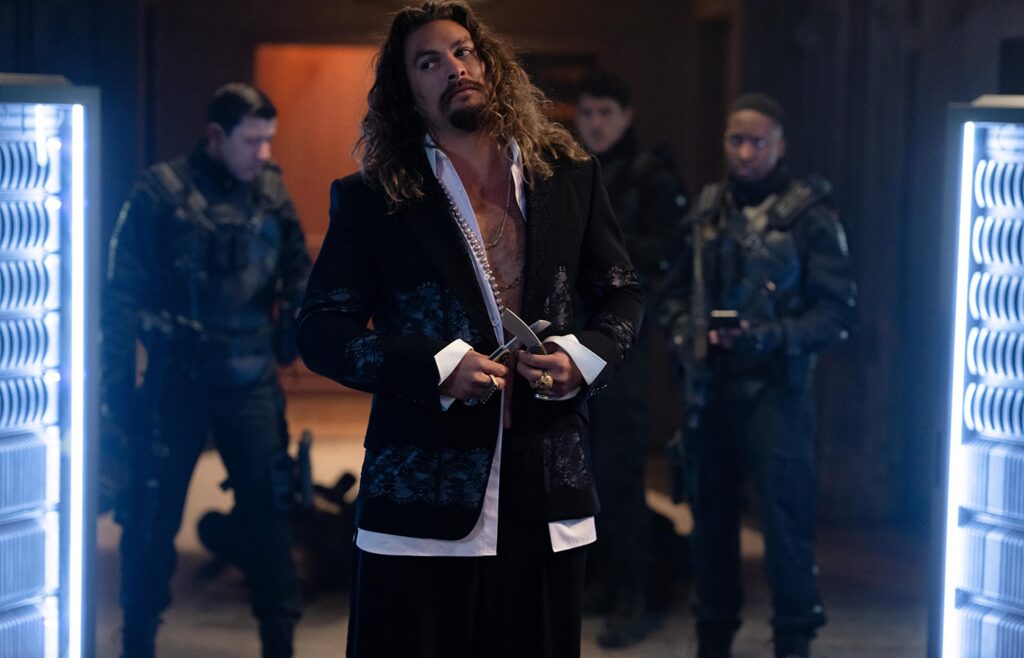 With returning characters that also include Roman (Tyrse Gibson), Tej (Chris "Ludacris" Bridges), Ramsey (Nathalie Immanuel), Han (Sung Kang), Mia (Jordana Brewster) and Queenie (Helen Mirren), Fast X struggles to find enough for its massive ensemble cast to do. That's before introducing new characters like Tess (Brie Larson), the daughter of (a conspicuously absent) Kurt Russell's shadowy government agent Mr. Nobody, or Isabel (Daniela Melchior), whose sister played a pivotal role in the events of Fast Five. There's also a new agency contact in the form of Aimes (Alan Ritchson of Jack Reacher fame), whose presence is actually somewhat pivotal to the narrative, something which can't be said of most of the names on this list. And as if the roster weren't already overstuffed, the final moments tease the return of at least two more former cast members for the eleventh (!!) film, which was originally envisioned as a finale but may turn out to be the middle installment in a trilogy.
Thankfully, there's Jason Momoa as the revenge-driven Dante, a cackling and charismatic sociopath who exists somewhere at the intersection of Cesar Romero's Joker and a classic Bond villain. Momoa is electrifying here, gleefully chatting up the decomposing bodies of minions he's just dispatched while clad in a bathrobe and detonating remote bombs with the exuberance of a ten-year-old kid playing a video game; it's the best work of his career, and almost makes the unwieldy tedium of Fast X worth the cost of admission. If virtually anything onscreen was half as entertaining as Momoa's performance, I could offer a begrudging recommendation, but the rest simply pales in comparison: an unwieldy jumble of disparate action sequences, puzzling departures from logic (even for this series) and a self-serious Diesel grimacing through the entire 141 minutes.