After grossing more than $1 billion at the global box office, Disney's live-action update of beloved animated classic Aladdin heads to home video this week, with a Blu-ray release that delivers just the sort of top-notch audio and video quality we've come to expect from Disney releases, but fails to cast a spell when it comes to the extras.
You can read our full review of the theatrical release here, but here's a brief excerpt:
Let's get this out of the way right from the beginning: as the exuberant magic wielder in Disney's live-action remake of Aladdin, Will Smith is perfectly fine. Sure, he'll never surpass the chaotic comedy that Robin Williams brought to the role of the Genie in the 1992 animated classic — let's be honest, no one could — but he's not really trying to, either. With a mix of charm and silliness and a healthy dose of Smith's innate charisma, he makes the role his own while occasionally dropping a wink and a nod to the work that Williams did more than two decades ago.
Director Guy Ritchie and his production team clearly spared no expense bringing the world of Agrabah to life, and there's an uncanny amount of detail in every frame. The marketplace scenes are particularly stunning, with an array of colored fabrics and shimmering jewels, and the lavish decorations of the Sultan's palace are jaw-dropping. Of course, nowhere is opulence on display more than the film's two biggest musical numbers: "Friend Like Me," with Smith showcasing the Genie's wide-ranging abilities, and "Prince Ali," where the newly transformed Aladdin parades through the crowded streets with drummers, dancers and his "world class menagerie," surveying it all from the back of an elephant. If nothing else, Ritchie has made an absolutely gorgeous film, taking full advantage of a vivid and vibrant color palette and ensuring there's always something eye-catching on display.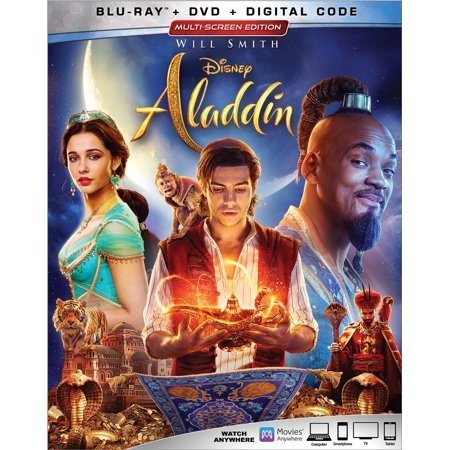 Those eye-catching visuals are especially vibrant on this Blu-ray release, with a stunning amount of detail in every frame. Disney has long been in the upper echelon when it comes to home video releases, and Aladdin is certainly no exception to that rule. Audio quality is equally great, with a 7.1 track that introduces a ton of ambience, especially in the marketplace scenes.
Regrettably, the special features are something of a letdown, with a handful of deleted scenes, a collection of music videos, and a pair of all-too-brief featurettes. A feature-length commentary track from Ritchie and the cast would have been welcome here, but as it stands, there's not much to choose from.
Aladdin is now available on Blu-ray. Click this link to purchase from Amazon.