Hustlers, the latest from writer-director Lorene Scafaria (Seeking a Friend of the End of the World), is one of those rare "inspired by a true story" films that actually hews closely to the real-life events, subscribing to the notion that truth is often more compelling than fiction.
Based on Jessica Pressler's captivating New York Magazine piece, the story opens in 2007 with Destiny (Constance Wu) trying to find her footing as the new girl at a popular Manhattan strip joint called Moves. The late nights and long hours bring in plenty of cash, but after tipping out the DJs and bartenders, and paying the club management for the "privilege" to dance under their roof, Destiny is left with very little.
Enter Ramona (Jennifer Lopez), the seasoned veteran and de facto queen bee of the club, who introduces herself to Destiny (and the audience) with a jaw-dropping pole-dance sequence that finds the Wall Street crowd emptying their wallets and literally showering her with cash. In awe of (and perhaps a little turned on by) this mysterious beauty, Destiny watches in amazement as Ramona saunters off the stage, arms loaded with bills, and throws her a wry smile. "Doesn't money make you horny?" she asks.
Soon, Ramona has taken Destiny under her wing, offering pole dance instruction and life lessons in equal measure. Under the elder dancer's tutelage, Destiny quickly rises through the ranks to become one of the club's top earners, boasting that in one year she took home more money than a brain surgeon. But the success is short-lived, because the 2008 financial crisis is just around the corner, turning Moves from a happening nightspot to a veritable ghost town.
Fast-forward to 2011, and Destiny is struggling to make ends meet, raising a daughter and living with her grandmother after a failed stint in retail. Reluctantly going back to the stage, her first week at the club turns out to have a silver lining: a reunion with Ramona, who in the years since the crash has graduated from dancing to drugging wealthy Wall Street types, maxing out their credit cards and banking on them being too embarrassed to file a police report. When Destiny exhibits shock at the idea, Ramona justifies her actions with a fiery speech about the system being stacked against women like them. "Hard-working people lost everything, and not one of those douchebags went to jail," she snarls. "They're paying for blowjobs with a firefighter's retirement fund."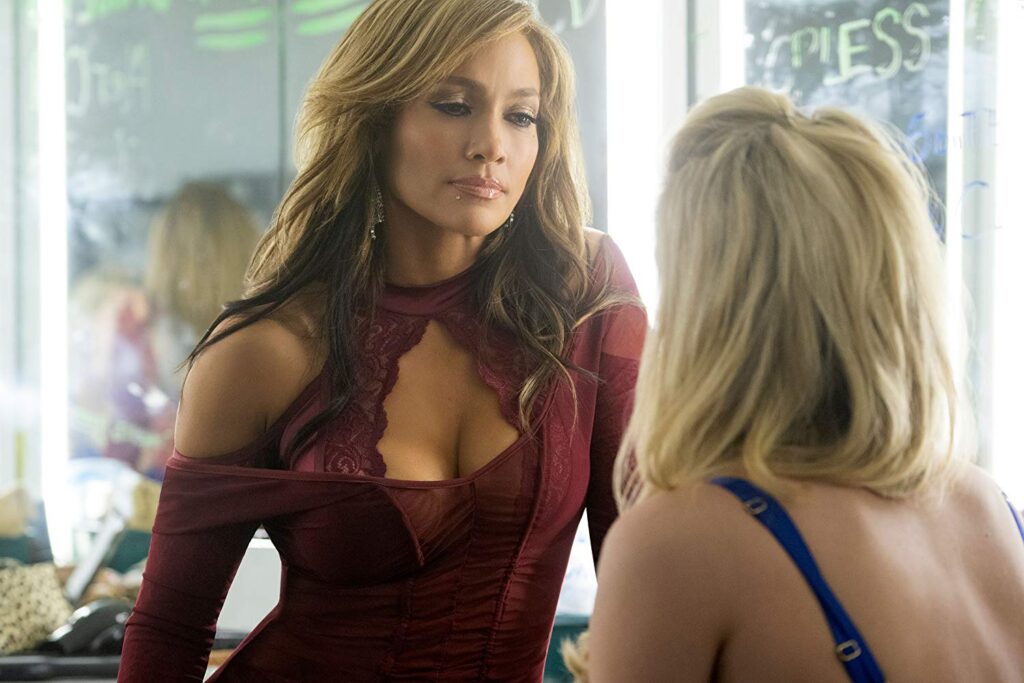 The notion of taking something back from the greedy white-collar criminals who ran the country into the ground is enough to convince Destiny to join Ramona's crew of Robin Hood wannabes, and before long the women are presiding over a sprawling criminal empire. As Destiny tells it, she went from disposable dancer to CFO of her own corporation — a hell of a climb, and one destined to end in downfall.
Wu is superb as the film's lead, both in the heartfelt moments of friendship and vulnerability she shares with Lopez, and the somewhat combative relationship with a reporter (Julia Stiles) working on a feature about the scheme. A supporting cast that includes Keke Palmer, Lili Reinhart and Madeline Brewer is uniformly good, and pop stars Lizzo and Cardi B also pop up in smaller roles — the latter being something of an inspired choice after confessing to very similar crimes prior to becoming a celebrity.
But truth be told, Hustlers belongs to Jennifer Lopez as the fearsome "mama bear" of the group, able to shift from loving matriarch to trustworthy confidant to terrifying nemesis in the blink of an eye. It's easily her best work since 2008's Out of Sight, and arguably the most complex role of her career — don't be surprised if Lopez's name starts popping up in award season conversations, because she's absolutely dynamite here.
That wealthy, powerful men often underestimate women or see them as inferior beings is a fact that Ramona and Destiny use to their advantage, and there's something undeniably delightful about watching some smug asshole get fleeced for several thousands bucks. It's the same kind of pleasure derived from crime films like Ocean's Eleven or Catch Me If You Can, but through a refreshing and decidedly different lens. Hustlers may be a sexy and stylish crime thriller, but it's also a film about women banding together to take on a system that frequently treats them as "less than," about turning the tables on those who often hold all the cards, and having a damn good time doing it.