After cutting his teeth on 2006's Brick, a brilliant throwback to Dashiell Hammett detective noir set in a suburban high school, writer-director Rian Johnson is back with another homage, this time riffing on Agatha Christie mysteries in the star-studded whodunit, Knives Out. With a huge ensemble of A-list talent, a razor-sharp screenplay and a head-spinning number of shocks, surprises and twists, Johnson adheres to genre conventions while simultaneously spinning them into something more complex, more devious, and more hilarious.
The morning after his 85th birthday party, celebrated mystery novelist Harlan Thrombey (Christopher Plummer) is found dead in his study, presumably having committed suicide. While the local fuzz (LaKeith Stanfield and Noah Segan) view the author's demise as an open-and-shut case, legendary private investigator Benoit Blanc (Daniel Craig) — "the last of the gentleman sleuths," according to a magazine article — suspects something far more nefarious. Gesturing at the sprawling, elaborately decorated Gothic mansion, he tells the other officers, "Look around, the guy practically lives on a Clue board."
Determined to uncover the truth, Blanc sets about interrogating the family, including ambitious son Walt (Michael Shannon), who tried to convince his father to sell the motion pictures rights to his novels; overachieving daughter Linda (Jamie Lee Curtis), a business mogul whose husband (Don Johnson) might be having an affair; and Joni (Toni Collette), a single mom whose personality feels like the worst traits of every Instagram influencer all rolled into one.
There's also Marta (Ana de Armas), who spent the past few years serving as Harlan's nurse. The nature of that relationship gradually earned her the old man's confidence, and with her knowledge of the family's conflicts, secrets and schemes, she just might be the key to unraveling what really happened the night Harlan Thrombey died. It doesn't hurt that Marta is physically incapable of telling a lie, for reasons which are better left discovered in the context of the film.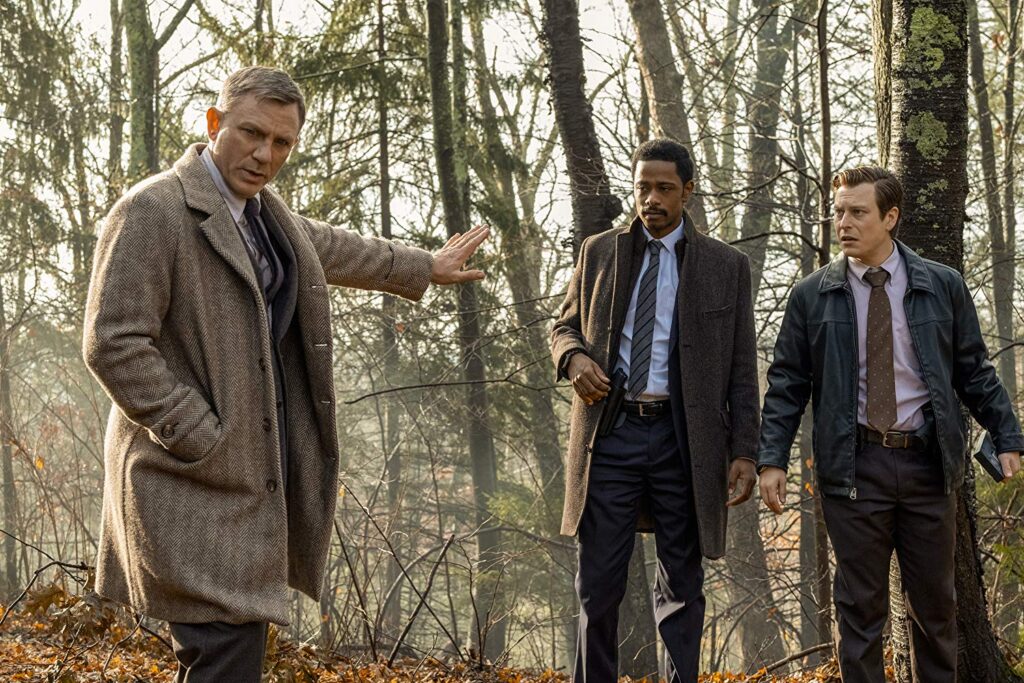 The cast of Knives Out is killer — no pun intended — and everyone seems to be having a blast, especially Chris Evans as Harlan's black sheep grandson, Ransom. After portraying the virtuous Captain America for the past eight years, Evans is clearly relishing the opportunity to shake things up, and he turns the dial to "full asshole" for some uproarious interactions with the rest of the family. Plummer is also tremendous in his limited screentime, full of bluster and bravura, and Craig manages (just barely) to keep his Southern-fried snoop from drifting into the realm of parody.
Knives Out assembles the ingredients of a classic murder mystery before gleefully upending expectations with a first-act reveal that seemingly solves the case. But while it's true audiences won't have to wait until the final moments to discover the events surrounding Harlan's death, the devil is in the details — as Linda remarks at one point, "I keep waiting for the big reveal where it all makes sense." Johnson delights in leaving a trail of breadcrumbs that appear to lead toward a particular conclusion, only to veer off course at the last moment with another clever twist to keep viewers on their toes, and this engaging, hilarious and sharp-witted puzzler emerges as one of the year's most entertaining films.