Over the past few weeks, acclaimed director Martin Scorsese should have been making the press rounds and discussing his monumental new film, The Irishman, about a mob enforcer (Robert De Niro) who claims to have assassinated Jimmy Hoffa (Al Pacino). And although Scorsese has certainly given a number of interviews about the film, he's spent entirely too much time defending his criticism of the current cinematic climate — specifically, that blockbusters like the Marvel films are more akin the theme park attractions than actual cinema.
This is both a completely fair assessment of superhero films, and a wildly controversial remark that blossomed into a media frenzy, with geek-themes blogs and online "influencers" raking the legendary auteur over the coals for the audacity of having a different opinion regarding the industry's hottest commodity. That Scorsese went so far as to pen an op-ed for the New York Times defending his position is admirable, but also feels a little ridiculous — have we truly reached the point where one of the most accomplished creators in the history of filmmaking needs to justify his disagreement on this topic?
Apparently, the answer is "yes," and that's a shame for a number of reasons: chiefly, because it distracts from the conversations we should be having about The Irishman. Scorsese is no stranger to this sort of subject matter — Goodfellas and Casino remain among the most revered Mafia films of all time — but he's truly outdone himself with this sprawling, sorrowful showcase, reuniting some of his favorite players and marking his first-ever collaboration with Pacino, who turns in some of his most energetic work in years.
In a story that spans multiple decades, Frank Sheeran (De Niro) ingratiates himself with the Bufalino crime family, rising from low-level thug to trusted confidant of Philadelphia boss Russell Bufalino (Joe Pesci). Thanks to his willingness to "paint houses" (carry out hits) and do his own "carpentry" (clean-up and body disposal), Frank garners a reputation for being just the sort of guy you bring in to solve a problem, and Jimmy Hoffa (Pacino) has plenty of problems. Their meeting kicks off a lasting friendship that eventually sours as Hoffa runs afoul of the Bufalino family and starts a feud with New Jersey mobster Antony "Tony Pro" Provenzano (Stephen Graham), setting in motion a series of events that culminate with his disappearance in 1975.
While De Niro has enjoyed no shortage of work over the past few years, he hasn't been tasked with stretching his limits of reaching deep into his back of tricks in quite some time. It's been ages since we've seen De Niro like this, with a rich and layered performance full of nuance, somehow locating the tiniest vestiges of humanity in a character who we should immediately find despicable, and yet are undeniably drawn to. There's a lot of emotional baggage for De Niro to shoulder here, particularly in Frank's final years as he desperately tries to reconnect with his family, particularly his estranged daughter (Anna Paquin).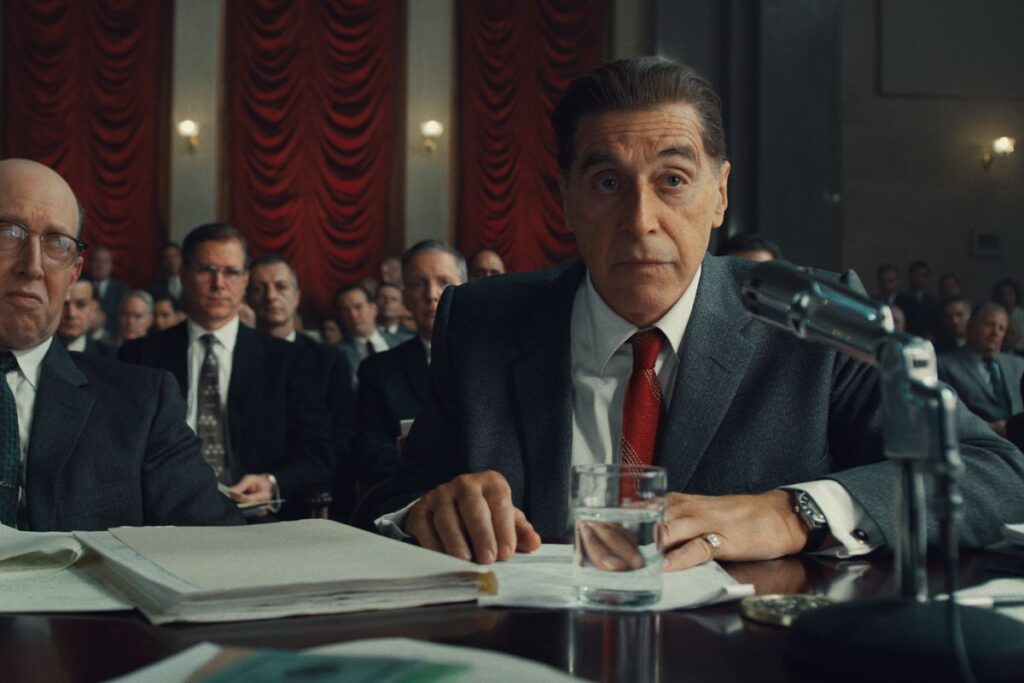 Of course, Pacino gets to have the most fun as the charismatic Hoffa, and the veteran actor commemorates his first appearance in a Scorsese film by exercising the full breadth of his talents. Pacino knows just when to turn up the charm, when to dial it back a notch for the more somber moments, and when to swing the pendulum right into crazy mode — I've long held the opinion that any movie featuring Pacino shouting and waving his arms is a great film (and might even deserve its own genre classification), and The Irishman offers ample opportunity for him to do just that.
Coming out of retirement for what may be the best role of his career, Joe Pesci turns in a performance that exists at the opposite end of the spectrum from the violent thugs he previously portrayed in Scorsese's earlier works. Good-natured, soft-spoken and with seemingly infinite patience, Russell is often tasked with serving as peacemaker when tempers begin to flare — a far cry from the sort of hot-headed tough guys that Pesci embodied in Goodfellas and Casino. It's also delightful to see him share the screen with De Niro again, and an early scene where the two sit across from each other at a restaurant, conversing in Italian, is marvelous for no other reason than their onscreen chemistry.
The timeline of The Irishman necessitates the usage of special effects wizardry to show the passing of years, and the digital de-aging employed here is truly impressive. That's not to say that it looks perfect in every scene, but it's more than enough to be convincing about 95% of the time — and in a film rooted in themes of mortality and reflection, it becomes a crucial storytelling device that makes the characters and the world they inhabit much more convincing. Had Scorsese instead made the decision to cast younger actors for the flashback sequences, it's unlikely The Irishman would pack the same emotional punch.
And punch it has, in abundant supply: the film is full of moments both shocking and satisfying, horrific and heartbreaking. Its 209-minute runtime has already been cause for much trepidation among potential viewers, but truth be told, Scorsese needs practically every one of those minutes to tell this story in such specific fashion — virtually none of that time is wasted. The Irishman will no doubt be revered as one of the greatest films ever produced about organized crime, and might very well be the definitive statement on the genre, because it's difficult to imagine anyone eclipsing what Scorsese has done here.