Phoenix-based rock radio station KUPD has firmed up the roster for their annual UFest show, set to take place on April 20 at Mesa Riverview Park. Limp Bizkit will headline the all-day outing, with Killswitch Engage and Parkway Drive also appearing alongside P.O.D., Ded and Fever 333.
This show will mark Limp Bizkit's first appearance in the valley since performing at the Marquee Theater back in 2013. Despite their last studio record, Gold Cobra, being released in 2011, Limp Bizkit has continued to tour regularly while working on a follow-up, rumored to be titled Stampede of the Disco Elephants.
Killswitch Engage recently confirmed plans for a spring tour with Parkway Drive, and the UFest appearance will serve as part of that trek. Parkway Drive's last record, Reverance, was released in 2017, while Killswitch Engage is expected to release their next effort later this year — and could potentially debut a few tracks from that record during their UFest performance.
P.O.D. last effort, Circles, was released in November, and the San Diego rockers have been touring steadily ever since, even stopping at the Marquee Theater just a few months ago for a show with Nonpoint and Islander.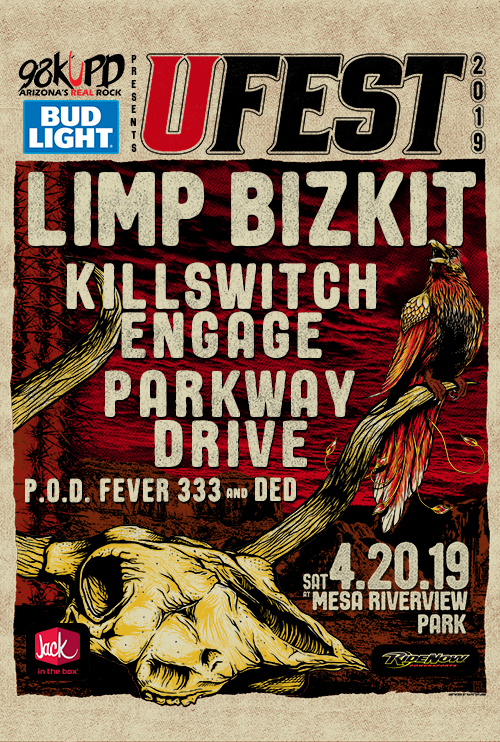 Tickets for UFest, including VIP packages, are currently onsale at this link. VIP attendees can look forward to a range of perks, including:

– 3 alcoholic beverages
– 1 meal, served between 6pm-8pm
– bottled water
– shaded area seating
– front of stage viewing
– luxury toilets
– free parking