With a history stretching back nearly three decades, Mortal Kombat is one of the longest-running and most successful video game franchises of all time, spawning numerous sequels and spin-offs, along with a pair of live-action films released in 1995 and 1997. Various attempts to reboot the property have been underway since 2010, when director Kevin Tancharoen's eight-minute short film — produced as a proof of concept for his own pitch on the franchise — turned into a viral sensation, leading to a well-received webseries that ran for two seasons, but a feature-length version never materialized.
Fast-forward a few more years, and the dense, oft-convoluted lore of the video game series has since gone through a reboot of its own, sparking renewed interest in the franchise and catapulting sales into record-setting territory. With popularity at an all-time high, there's no better time to introduce a new live-action Mortal Kombat film, and director Simon McQuoid's feature-length debut aims to satisfy fans by embracing the weirdness of its mythology — and more importantly, the exaggerated, almost cartoonish levels of violence that have become the series' calling card.
Gallons of blood are spilled within minutes of the film's opening, as the family of Hanzo Hasashi (Hiroyuki Sanada) falls victim to an assassin (Joe Taslim) with supernatural abilities, conjuring ice out of thin air and fashioning it into weapons. It's goofy as hell, but establishes one of the franchise's most important conflicts: a centuries-old feud between ninja clans with repercussions that will echo for generations to come. More than 400 years later, the assassin has become Sub-Zero, a wraithlike entity that carries out the bidding of Shang Tsung (Chin Han), a sorcerer from the terrifying wastelands of Outworld.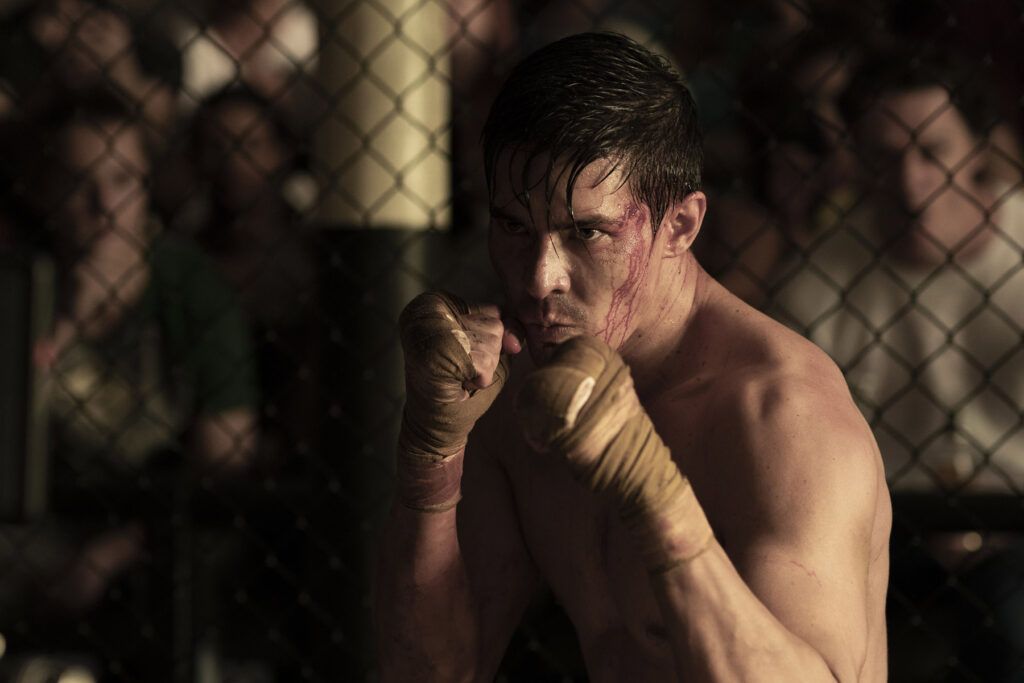 Tsung and his warriors have won nine consecutive victories in a brutal tournament against Earthrealm's strongest champions, and by the decree of the Elder Gods, a tenth victory will allow Tsung to invade our world, bringing the full might of his army against the hapless humans of Earth. The God of Thunder, Lord Raiden (Chin Han) is assembling a new roster of fighters, virtually none of whom are prepared for the challenge that awaits — especially not struggling MMA fighter Cole Young (Lewis Tan), a "human punching bag" whose once-promising career was derailed by a series of devastating losses. Like it or not, Cole has been chosen to participate, as evidenced by the dragon-shaped birthmark on his chest, and he'll find allies in Special Forces operatives Sonya Blade (Jessica McNamee) and Jackson Briggs (Mehcad Brooks), warrior monks Liu Kang (Ludi Lin) and Kung Lao (Max Huang), and Lord Raiden (Tadanobu Asano), God of Thunder and protector of Earthrealm.
The screenplay by Greg Russo and Dave Callaham is full of clunky dialogue and often gets bogged down in exposition; a lengthy scene where Sonya explains the history of the Mortal Kombat tournament and the story behind Cole's birthmark is particularly unwieldy. But much like last month's Godzilla vs. Kong, the plot details are of little consequence: the series has always been less about intricate storytelling and more about an outlandish cast of characters engaging in hard-hitting, frequently gruesome martial arts action, and on that front, the film is more than happy to deliver. Nearly every fight sequence features a sensational act of violence, inspired by the game's "fatalities," where arms are torn from sockets, still-beating hearts are ripped from chest cavities, and bodies are sawn in half lengthwise.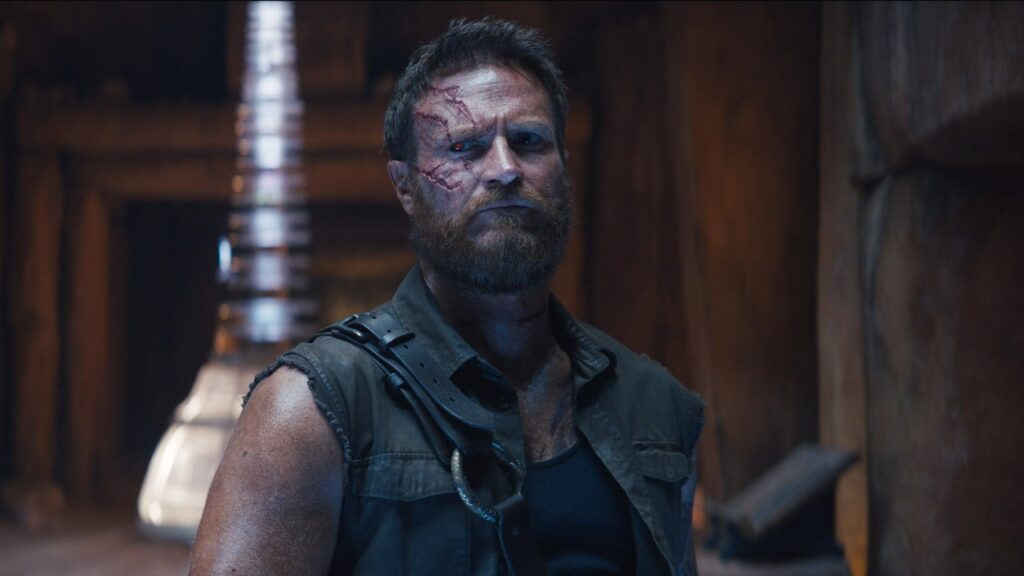 Indeed, Mortal Kombat is not for the squeamish, but McQuoid presents the bloodshed with such theatricality that it feels more silly than stomach-churning. It doesn't hurt to have a near-constant source of comic relief in the form of Kano (Josh Lawson), a beer-swilling Australian mercenary prone to eye-popping outbursts of vulgarity. Amid the barrage of characters wielding ice swords, fireballs, and lightning bolts, Kano is one of the few to emerge with an actual personality, although he does wind up with enhanced abilities of his own, too (the script's explanation for the various mystical powers bestowed upon the combatants is one of its most eye-rolling elements).
Fight choreography is solid, although McQuoid's camera sometimes feels too busy for its own good, and it's hard not to feel that certain sequences would've been better served by longer shots with fewer cuts. Setpieces are also compelling, with the natural beauty of South Australia standing in for the vast, imposing Outworld landscape. Throw in some impressive effects work and it all comes together in a visually arresting package, gifting fans of the video games with the big-budget, blood-soaked, R-rated adaptation they've always wanted. Whether or not Mortal Kombat can appeal to audiences outside of its built-in fanbase remains to be seen, but if the film can punch, kick and stab its way to financial success, the ending makes it clear that we're just getting started.