The work of novelist Tom Clancy has been the basis for a number of Hollywood adaptations, from critically acclaimed box office fare like The Hunt for Red October and Patriot Games, to small-screen offerings like Netforce and Tom Clancy's Jack Ryan. While the latter's titular CIA agent remains the author's most famous creation, arguably just as important to the Clancy canon is former Navy SEAL John Clark, a major character first introduced in 1993's Without Remorse, and it's this novel that serves as the inspiration for the latest reimagining of Clancy's work.
I use the word "reimagining" because the film, which reunites screenwriter Taylor Sheridan with Sicario: Day of the Soldado director Stefano Sollima, is less an adaptation and more a complete overhaul of the settings, characters, and conflicts presented in the source material. While both the novel and the film center on a lethal operative seeking revenge for the murder of a loved one, the similarities basically stop there.
Recently returned from a covert rescue mission in Aleppo, Senior Chief John Kelly (Michael B. Jordan) and his team are targeted for retribution, and although Kelly manages to stave off a home invasion by a squadron of highly trained assassins, his pregnant wife Pam (Lauren London) is one of the casualties. While the intelligence community refuses to sanction any further retaliation — "the CIA considers the matter closed," advises Agent Ritter (Jamie Bell) — Secretary of Defense Thomas Clay (Guy Pearce) is willing to turn a blind eye to Kelly's personal vendetta. As far as Clay is concerned, Kelly is doing the sort of things the government can't do itself. He's shaking trees that need shaking, so "let's see what falls out."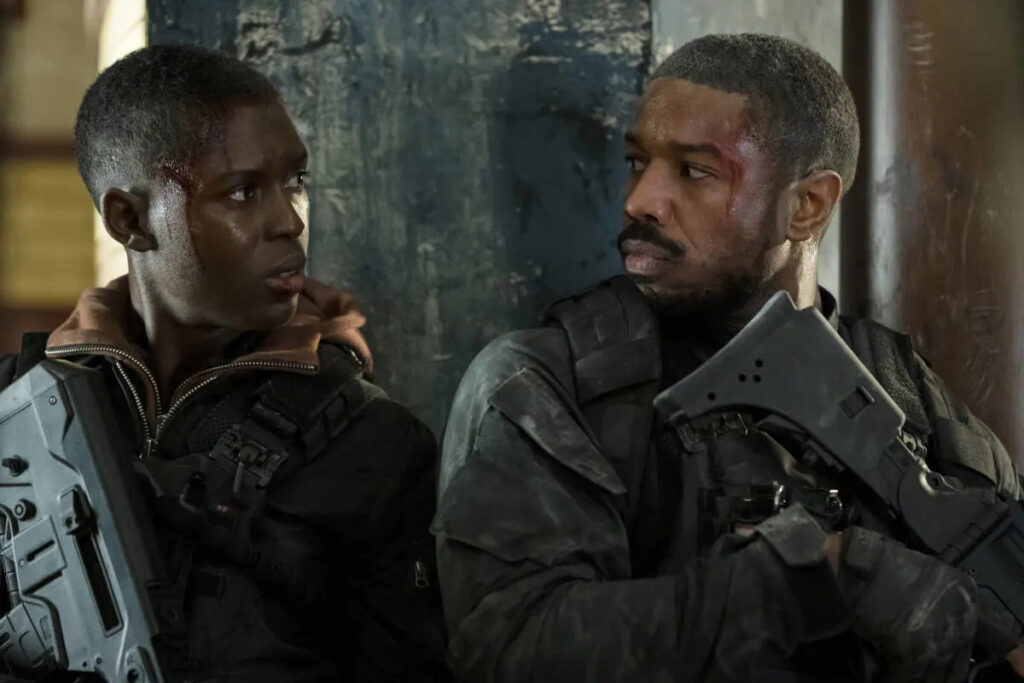 What falls out, unfortunately, is a shakily constructed plot involving alleged plans for a series of attacks on US soil, an off-the-record extraction mission and a far-reaching conspiracy whose tendrils ensnare the highest levels of government. On the page, it sounds like everything you might expect from a Tom Clancy story, but virtually none of these ideas are fleshed out beyond their most basic, surface-level details; instead, they exist solely to move the story forward just far enough to justify another major action beat.
Michael B. Jordan is a tremendously talented actor, but the film never truly taps into his potential; he spends far more time punching, kicking, shooting and stabbing his way through an endless supply of nameless, faceless enemies than doing anything to elicit a genuine emotional response from the audience. When the film slows down long enough to attempt anything resembling character development, the threadbare dialogue leaves the bulk of these moments feeling hollow and unearned (although Jodie Turner-Smith, as Kelly's commanding officer, is excellent).
Without Remorse serves up a steady parade of explosions, shootouts, plane crashes and more shootouts, but it eventually begins to feel monotonous, and the film's centerpiece attraction — a 20-minute sequence where Kelly's team infiltrates an apartment building in enemy territory, only to become pinned down inside — borders on exhausting. As for the conspiracy at the center of its plot, most viewers will have pieced this together long before the film gets around to pulling back the curtain, causing the "reveal" to land with a resounding thud. Clancy's work is often revered for its more cerebral qualities, but those are conspicuously absent here.