One could reasonably assume the writing process for Godzilla vs. Kong, opening this week in theaters and simultaneously streaming on HBO Max, involved copious amounts of mind-altering substances. Between hovercrafts that look like unused concept art from Tron: Legacy, subterranean cargo trains that can travel from south Florida to Hong Kong at more than 700mph, and a perilous journey to a wholly self-sustaining ecosystem at the center of the Earth where an ancient kaiju war once took place, the inevitable clash — or clashes — between two towering icons of cinematic history is probably the least bizarre thing in this much-anticipated franchise entry from director Adam Wingard.
Picking up a few years after the abysmal Godzilla: King of the Monsters, the film opens with the revelation that Kong's tranquil paradise on Skull Island is actually an elaborate simulation — the big guy is being kept in an enormous containment facility where he's the subject of a years-long study by Dr. Ilene Andrews (Rebecca Hall) and her adopted daughter Jia (Kaylee Hottle), the only living member of Skull Island's native tribe. Kong is becoming increasingly aware of the artificiality of his prison, but relocation is too dangerous: "Godzilla will come for him," insists Dr. Andrews, offering no explanation for why this might occur.
When Godzilla appears in southern Florida and levels a manufacturing facility belonging to sprawling tech conglomerate Apex Cybernetics, its obscenely wealthy founder Walter Simmons (Demián Bichir) vows to create a weapon capable of subduing the overgrown iguana. Simmons enlists the help of Nathan Lind (Alexander Skarsgård), a scientist whose "Hollow Earth" hypothesis — a theory that Godzilla and the other "titans" are descended from creatures that inhabited a hidden world beneath the planet's surface — might hold the key to preventing any further destruction. If this all sounds ridiculous, just wait until characters start babbling about things like "genetic memory" and "gravitational inversion" and various other poorly explained concepts.
Truth be told, I didn't need an elaborate backstory to set up the titular showdown: I'm here to see precisely what's advertised on the marquee, and in that regard, Godzilla vs. Kong delivers in pretty spectacular fashion. The initial skirmish, occurring around the 40-minute mark and taking place amid a fleet of US Navy warships, is everything it should be: massive creatures engaged in a brutal slugfest, with catastrophic collateral damage. The spines on Godzilla's back slice through aircraft carriers like paper, while Kong hurls fighter jets at his opponent as if they were lawn darts; deafening roars ring out as claws tear through flesh, massive fists deliver teeth-rattling blows, and just about everything explodes. And that's just the appetizer.
Regrettably, the film takes its sweet time getting around to the main course, veering off to follow a subplot that involves the previous movie's Madison Russell (Millie Bobby Brown) teaming up with her best friend (Julian Dennison) and a conspiracy-minded podcaster (Brian Tyree Henry) to infiltrate Apex's laboratory. Kyle Chandler also returns in a blink-and-you'll-miss-him appearance as Madison's father, tasked with basically nothing to do but furrow his brow and stare at monitors.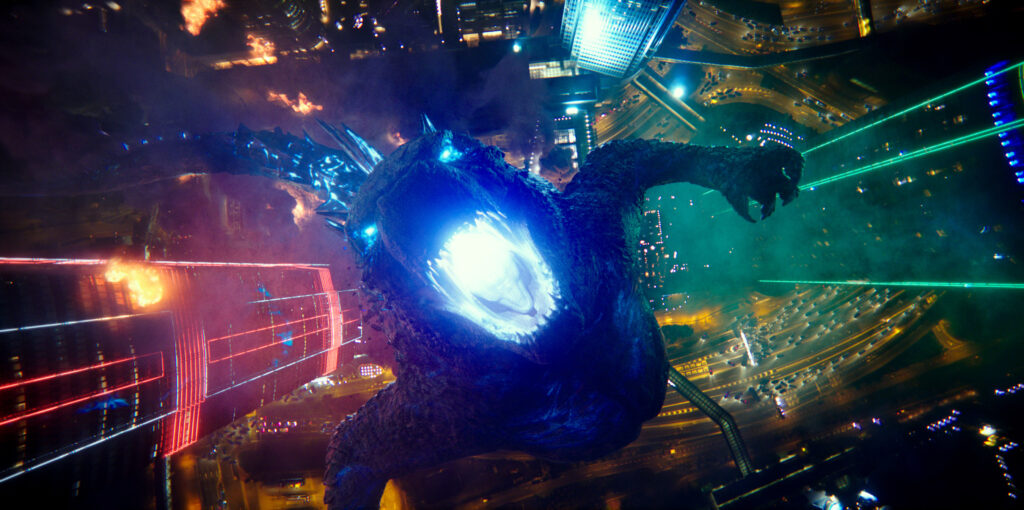 The action ramps back up as Lind's expedition team arrives in "Hollow Earth," a witches' brew of weirdness where mountain ranges hang upside down in mid-air, shimmering veins of luminous purple minerals glitter among the rocks, and fearsome prehistoric creatures swoop through the air. Then it's onward to the neon-lit Hong Kong cityscape, where — in the film's most visually arresting sequence — Kong and his sworn enemy dropkick and bodyslam each other through every skyscraper in sight. Wingard's staging of the climactic battle is top-notch, and the last 30 minutes of the film is peppered with numerous "did you see that?" moments, especially one particular surprise that mercifully wasn't spoiled by the film's marketing campaign.
After a disappointing middle entry that seriously dampened expectations, Godzilla vs. Kong feels like a massive redemption for the series. That the primary attraction is wrapped in a ludicrously stupid plot doesn't matter: no one is opening their wallet for this film because they're invested in the human characters. We want the enormous, cacophonous, frivolous fun of two immense creatures beating the hell out of each other, and Godzilla vs. Kong is more than happy to serve up a monstrous smackdown of seismic proportions.
---
For more on Godzilla vs. Kong, check out Kyle's review at this link.