In Butcher's Crossing, Harvard student Will Andrews (Fred Hechinger) leaves his educational pursuits to explore the American frontier. When he crosses paths with Buffalo hunter Miller (Nicolas Cage), young Will is swept up into Miller's risky "hunt of a lifetime" in search of a massive herd during the dwindling days of the Bison in the Colorado wilderness.
Nicolas Cage easily slides into the lead role of this moody, slow burn western. The iconic actor's usual penchant for slipping into madness is tailor-suited for the role of Miller as the group's bad luck, and the deteriorating sanity of the quartet of hunters threatens to envelop them all. If there's a downside to Cage's portrayal, it feels like old hat for him. Miller is a well suited, but predictable type of role for Cage, although he does look quite cool with his new bald head and beard.
The film has a small but solid supporting cast that helps carry some of the slower elements of Butcher's Crossing. While Cage is the draw, Jeremy Robb as the volatile Bison hide skinner, Fred, is the best performance in the film. There's an underlying danger to him at all times that reminded me of young Jack Nicholson in The Shining. Tried and true character actor Xander Berkeley also gets to play up his usual bag of tricks as the squirrelly religious man of the group.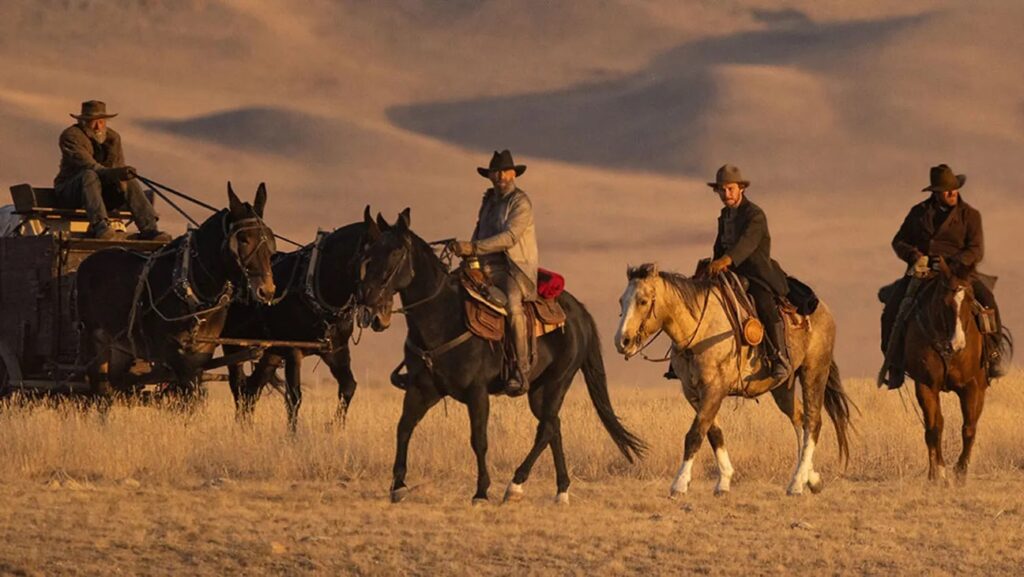 The two youngest cast members do a fine job, but are overshadowed by their veteran co-stars. Hechinger has the most range to cover as Will goes from an eager-eyed explorer to a beaten man on the verge of insanity by the journey's end. It's a believable performance but perhaps doesn't lean hard enough into the deep end. Rachel Keller is completely wasted as the beautiful prostitute Francine in the Butcher's Crossing outpost. Francine is more of plot point for the hunters and Will to discuss out in the wild rather than an actually fleshed out character.
The Montana scenery used to shoot the film is breathtaking, creating a harsh but beautiful portrait of the frontier landscape. As the hunt drags on and the hunters grow weary, so does the land's weather until they reach a breaking point. The real Bison used in filming are also quite incredible to behold and it's all a refreshing change from CG locations and animals used too often these days in film.
Butcher's Crossing is pretty okay as a moody look into the psyche of survival and the dangers of wanderlust. It's not a rootin' tootin' Old West good time, but for Cage fans, this is an interesting enough look into the harsher elements of frontier life in a role that plays to the actor's strong suits.
Score: 3 out of 5