Set in a world where artificial intelligence has risen to be humanity's ally and then unexpectedly rebels by dropping a nuclear bomb on Los Angeles, Rogue One director Gareth's Edwards The Creator is a beautifully realized sci-fi world with unique perspectives on A.I. and bigotry, but follows a recycled by-the-numbers genre story structure. It's not the award worthy epic that the studios might have hoped, but The Creator is a thought-provoking dose of science-fiction that is the rare cinematic tentpole that is not based on a pre-existing property.
The film stars John David Washington (Tenet) as Joshua, an ex-special forces agent still reeling from an undercover operation that cost him his wife (Gemma Chan). Joshua is brought back into service to find and kill the Creator – an entity behind the large advancement of A.I. that is also rumored to have made a weapon that will end the war and humanity itself. Things go sideways when the weapon turns out to be an A.I. child (Madeleine Yuna Voyles) with special abilities beyond other A.I. including the ability to age/grow.
After Joshua's backstory is brutally established, the plot moves along at a brisk pace once Alphie, the A.I. child, is introduced. Edwards' story then becomes predictable and feels derivative because of the unfortunate timing of other current massive genre properties like The Last of Us and The Mandalorian following similar "escort mission" style storytelling revolving around a special child protected by a grizzled, disillusioned warrior. Characters and scenes all play out exactly how you'd guess and there's very little deviation from the predictability for the duration of the film.
While it may be easy to see where everything is going, the performances in the film highly elevate the material. Washington is superb, balancing his internal hurting with a flippant, quippy personality that makes for an easy to root for character and a great father figure for Alphie. Speaking of, Voyles brings it with a breakout performance that has depth and range well beyond her years and the chemistry with Washington is undeniable.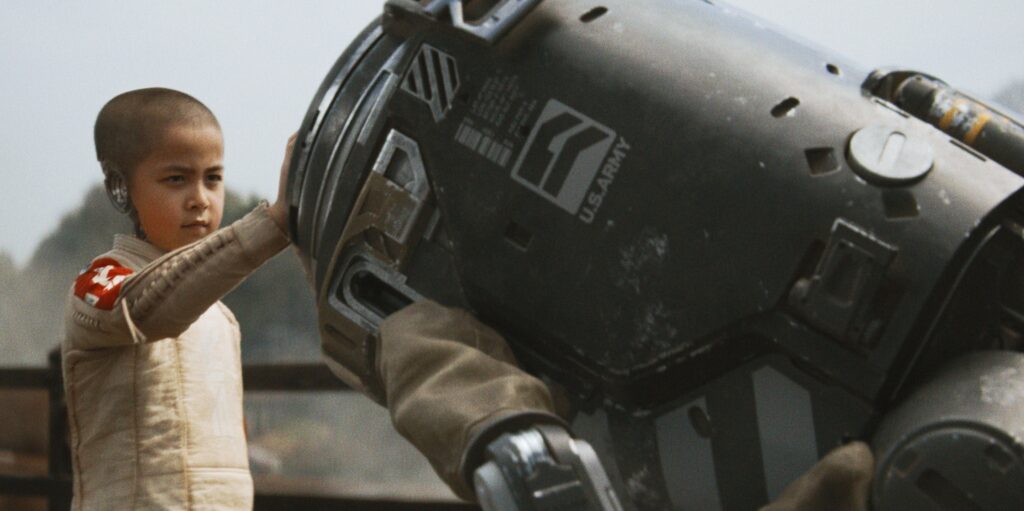 The Creator focuses most of the film squarely on Joshua and Alphie, but the supporting cast is still stocked with terrific actors. Ken Watanabe is reliably endearing as Harun, a "Sim" (human simulation A.I.) ally of Joshua's and gets to put his acting combat experience to good use. Allison Janney camps it up as Colonel Howell in a role that feels akin to Stephen Lang's Colonel Miles Quaritch from the Avatar franchise. Howell is cartoon-ish, but Janney still makes it fun and relatable enough to fit into this particular story.
Gareth Edwards really has an eye for this kind of film and seeing the way this world gets presented and how the layers of robotics and A.I. are integrated into society is a creative triumph. There is not a single shot in the film that looks manufactured or green-screened and the Sims are so realistic that the robotic augmentations just look like part of the human actors. This is one of those films where every shot looks like it could be an imaginative sci-fi painting if freeze framed and warrants a trip to see on the big screen.
The ends result comes across like a hybrid Christopher Nolan/Neil Blomkamp collaboration where the story is handled by Nolan and the sci-fi action/aesthetic by Blomkamp. The Creator does not redefine the genre with its recycled story structure, but it's a well crafted sci-fi epic with some unique perspectives on A.I. and its place in the modern world.
Score: 3.5 out of 5