Growing up in a small town in the Midwest and working the evening shift at a mom-and-pop video rental store with my closest friend, it should come as little surprise that I found something to connect with in Kevin Smith's debut film, Clerks. My first exposure to the "View Askewniverse" was actually Smith's sophomore feature, Mallrats — viewed on a VHS screener in advance of the rental release, no less — but it was the misadventures of Dante (Brian O'Halloran) and Randal (Jeff Anderson) that really spoke to me, largely because I could see aspects of my own life in those characters. Not that we ever played hockey on the roof or stood idly by while someone fucked a dead guy in the bathroom, mind you, but as the only location within a few hundred mies where people could rent pornography, we had more than our fair share of bizarre interactions with the local customers.
Nearly thirty years after Dante and Randal tipped over a casket at Julie Dwyer's wake, and more than 15 years since they burned down a Mooby's restaurant during an ill-advised animal sex show, the snarky malcontents are back on the big screen in Clerks III. Dante and Randal are now the co-owners of the Quick Stop convenience store which served as the backdrop for the original film and the opening and closing moments of its 2006 sequel. Jay (Jason Mewes) and Silent Bob (Smith) are still around, but they've gone from hanging out in front of the store to operating a dispensary situated next door, in the shell of the video rental establishment where Randal would often terrorize customers. Even the Transformer-and-Jesus-obsessed Elias (Trevor Fuhrman) is still attached to Randal at the hip, which means he's on the scene when the latter collapses during a shift.
It's a heart attack, inspired by the one Smith himself suffered in 2018 (the attending physician is even named after the cardiologist Smith credits with saving his life). Randal pulls through, and the aftermath of his brush with the hereafter finds him grappling with his own mortality and taking inventory of his achievements — or noted lack thereof. Eager to make his mark on the world, Randal enlists Dante, Elias and everyone else within his orbit to create a film based on his experiences working at the Quick Stop; you can probably guess where this is heading. Clerks III is as meta as they come, with Smith's stalwart counter jockeys revisiting some of the most iconic sequences from the original film, and there's an undeniable charm about watching these characters, now well into their middle ages, trying to recapture that same youthful spark. Smith even puts some behind-the-scenes Clerks lore in front of the camera, with references to Mewes' refusal to perform a dance number unless the entire set was cleared before rolling camera, and a nod to the original film's darker, more violent festival ending.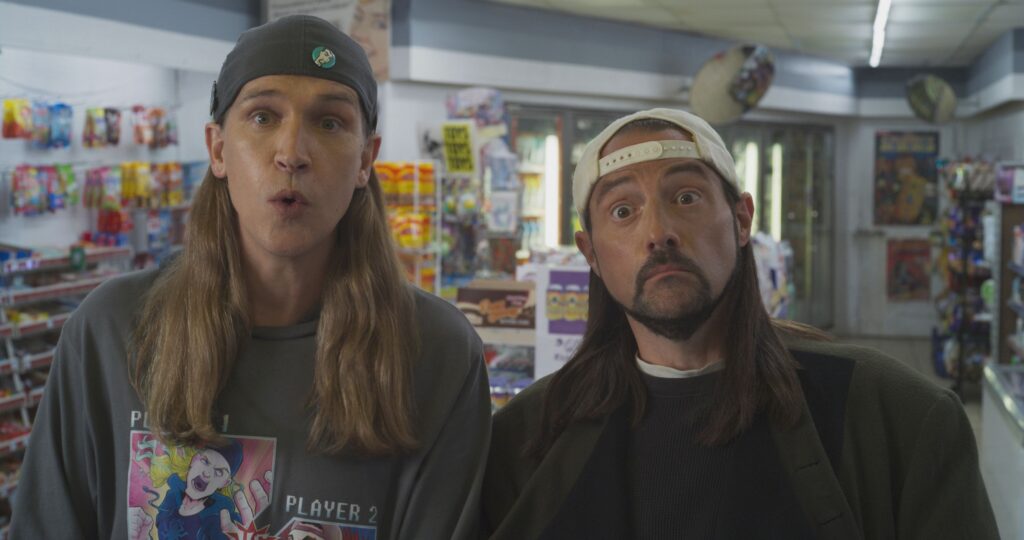 But nostalgia will only carry you so far, and the self-referential material begins to wear out its welcome long before the end credits, to say nothing of the film's other running gag, where Elias swears allegiance to a new deity and shows up in each scene with an even more ridiculous outfit; this was good for a chuckle or too, but Clerks III runs this "joke" straight into the ground. Far more interesting and engaging is the evolution of the relationship between Dante and Randal, and how the latter's inflated sense of self threatens to derail decades of friendship. Smith mines some surprisingly effective emotional beats here, and both Anderson and O'Halloran prove themselves up to the task of making those moments land with authenticity; if I told you that I didn't get a bit glassy-eyed during a pivotal third act conversation, I would absolutely be lying.
Whether or not Clerks III works for you will largely depend on your affection for these characters (I admittedly have quite a bit) and your familiarity with, or appreciation for, Kevin Smith's particular brand of humor and storytelling. The jokes range from clever to cringe-worthy, and the reliance on meta references and constant winks and nods to the fanbase feels a bit overboard, but the film nails what matters most, closing the book on Dante and Randal in a way that feels logical and satisfying, and more than a tad bittersweet. To quote another longtime Smith collaborator that appears during the film's final moments: "Well played, Clerks."