After last week's Fear Street Part 1: 1994 paid beautifully bloody homage to the slasher flicks of the late 90s, Fear Street Part 2: 1978 winds the clock back even further for the trilogy's second installment. Director Leigh Janiak once again cribs lovingly from genre classics, this time evoking the likes of Sleepaway Camp and Friday the 13th in all their counselor-murdering glory while fleshing out the sinister, violent history of Shadyside.
But before we relive the massacre at Camp Nightwing, there's some table-setting to be done, and Fear Street Part 2: 1978 picks up directly from the events of the previous film, with Deena (Kiana Madeira) and Josh (Benjamin Flores Jr.) arriving on the doorstep of the event's only surviving victim (Gillian Jacobs). Having already escaped the curse of Sarah Fier, she's not exactly chomping at the bit to get involved, but ultimately agrees to recount the events which led to the slaughter of numerous campers and counselors, including her own sister.
Her tale opens with Ziggy Berman (Sadie Sink) sprinting through the woods as a group of pursuers give chase, led by the camp's resident bully, Sheila (Chiara Aurelia). Ziggy's been accused of theft, and Sheila's merry band of sycophantic followers have few qualms about helping their leader dole out a bit of vigilante justice — after all, Ziggy is from Shadyside, so it's not like anyone gives a shit about her, right? The only person that could conceivably care is strait-laced sister Cindy (Emily Rudd), but her immediate concern isn't Ziggy's well-being, but rather how the incident might reflect poorly on her, potentially damaging her reputation as Shadyside's brightest hope.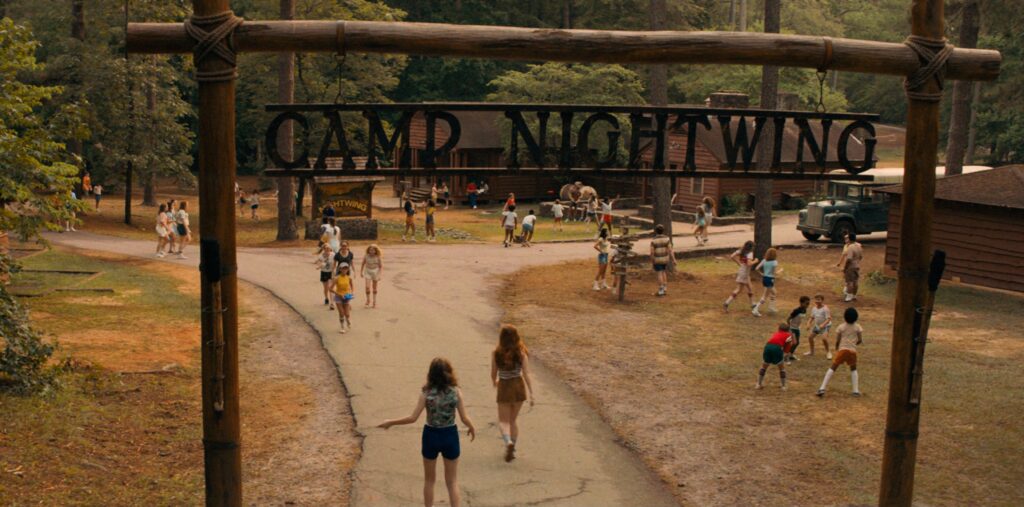 It's an image that has obviously been painstakingly cultivated, but Ziggy knows better. "This fake bullshit life of yours is going to come crashing down," she warns. "No one gets out of this town, not even Miss Perfect." As if to prove her right, Cindy's handsome boyfriend Tommy (McCabe Slye) is targeted in a shocking assault, and the ensuing investigation leads to the discovery of a journal filled with scribblings about the execution of Sarah Fier and the subsequent curse she placed on the land which would eventually become Shadyside, and where Camp Nightwing stands today. With bodies rapidly piling up, each of the Berman sisters enlists an unlikely ally — Cindy joins forces with recreational drug enthusiast Alice (Ryan Simpkins), while Ziggy teams with Sunnyvale golden boy Nick Goode (Ted Sutherland) — to unravel the truth behind the witch's curse.
As with the previous installment, Fear Street Part 2: 1978 isn't shy about wearing its influences on its sleeve. The axe-wielding killer with the burlap sack over his head is practically lifted part and parcel from the first appearance of Jason Voorhees in Friday the 13th Part 2, and the immediate dispatching of "immoral" teens who engage in sex, drugs and/or both is a time-honored genre staple. That said, Janiak's film is quite a bit more gruesome than its forerunners, with plenty of ultra-violent kills to delight genre fans, although she thankfully cuts away whenever younger victims are in danger.
The film's soundtrack once again warrants a mention; while not quite as stuffed with needle drops as Part 1, there are still a number of solid inclusions ranging from the obvious (Blue Oyster Cult, The Runaways, Kansas) to the more inspired, like the decision to bookend the film with two different versions of David Bowie's "The Man Who Sold the World," the original recording and the hugely popular cover performed by Nirvana.
Fear Street Part 2: 1978 further advances the central narrative while providing another enjoyable horror throwback experience, but next week's conclusion promises to be cut from a very different cloth. Set more than 300 years in the past, and featuring actors from the first two installments appearing in new roles, it already feels like a much more ambitious undertaking, and may not have the sort of reference points the first two films enjoyed. Nevertheless, we've loved the Fear Street trilogy so far, and we can't wait to find out if Janiak can pull off a hat trick and stick the landing.