After more than a decade in supporting roles, former KGB assassin turned world-saving superhero Natasha Romanoff (Scarlett Johansson) finally takes center stage in Black Widow, a long overdue solo outing that seeks to fill in the gaps of the character's shadowy past. Director Cate Shortland adopts a strategy not unlike that of Captain America: The Winter Soldier, focusing on the core relationships at the center of this globe-trotting spy narrative while mostly eschewing the massive stakes of other Marvel Cinematic Universe entries, at least until the gratuitous goofiness of the third act.
Set in the aftermath of Captain America: Civil War, Natasha's violation of the Sokovia Accords has left General Ross (William Hurt) no choice but to brand her a fugitive, and she retreats into the mountains for some much-deserved rest. But a message from younger "sister" Yelena (Florence Pugh) compels her to leave the relative safety of her remote safehouse and travel to Budapest for an impromptu family reunion, evading a lethal assassin known as Taskmaster along the way. It seems Yelena has managed to escape the control of Dreykov (Ray Winstone), the minacious mastermind behind the infamous Red Room that turned both Natasha and Yelena — not to mention countless other young women — into highly efficient killing machines. Not only that, but she also holds the secret to freeing the other "widows" from Dreykov's clutches, provided she can stay alive long enough to set her plan into motion.
Of course, Yelena's scheme doesn't account for the recent dismantling of the Avengers and Natasha being declared persona non grata by the US government, so they'll need to rely on the closest thing to a family they've ever known: aging Soviet super-soldier Red Guardian (David Harbour) and research scientist Melina (Rachel Weisz), the two sleepers agents who spent three years posing as parents to Natasha and Yelena during an undercover mission in mid-90s Ohio, as glimpsed during the film's opening sequence. Yelena, who was only six years old when she was separated from her "parents" and sent to train in the Red Room, welcomes the opportunity to indulge in the familial charade once more, while Natasha pushes back against the idea that a covert op from two decades ago might have resulted in genuine emotion.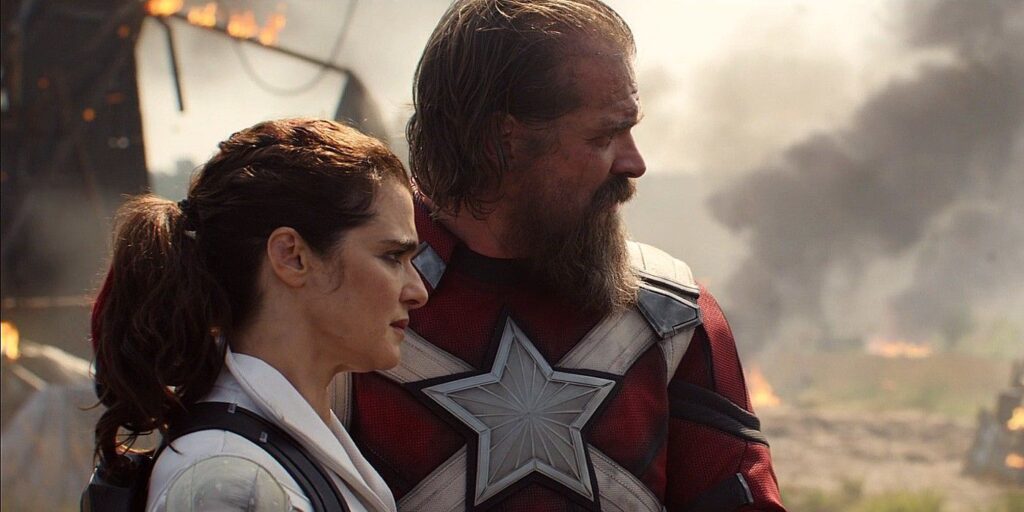 Black Widow is at its best when honing in on these characters and wrangling with the complexities of their feelings toward one another. Yelena cares deeply for Natasha, but also clings to resentment over her big sister's escape from the Red Room program and subsequent rise to global recognition, while Yelena herself continued to be enslaved. Between pointed and often hilarious jabs at Natasha's public persona and the lack of superpowers that sets her apart from her Avengers teammates — "I doubt the god from space has to take ibuprofen after a fight" — she's not about to let Natasha forget where she came from, or the trail of bodies she left behind when defecting to the US. "We're both killers," she tells Natasha. "But I'm not the killer little girls call their hero."
The film may be ostensibly about Natasha, but it's Pugh who emerges as its most irresistible element, humorously skewering familiar MCU tropes like Natasha's signature pose but never losing sight of the raw pain percolating below the surface of her scathing wit. She and Johansson both acquit themselves nicely during the film's action scenes, several of which play out in close-quarters hand-to-hand combat à la the Bourne films. Elsewhere, Red Guardian is delighted to reconnect with his "daughters," but even more thrilled at the opportunity to squeeze himself back into a spandex costume and relive his glory days as the Soviet equivalent to Captain America. Harbour's commanding physical presence is well met by his comedic timing, and he effortlessly steals scene after scene in a role that's far more suited to his talents than his previous foray into superhero filmmaking.
Regrettably, Black Widow eventually falls back in lockstep with the typical Marvel formula with the requisite overstuffing of the third act. The climax is far bigger than necessary, particularly for a plot so focused on intimacy, and the explosion-filled finale services neither the characters nor their story — if anything, it blunts the emotional impact of the previous 90 minutes, trafficking in spectacle more than soul. It's not egregious enough to completely derail the experience, but we can't help but feel that Johansson's MCU swan song deserved a better final note on which to end.
For more on Black Widow, check out Kyle's review.