Spider-Man: Into the Spider-Verse is regarded by yours truly as one of the all-time best animated films. So when I tell you its sequel, Spider-Man: Across the Spider-Verse, is a mind-blowing follow-up, that statement holds some serious extra weight in my estimation. Returning writers/producers Phil Lord and Christopher Miller (The LEGO Movie) have created not just one of the best animated sequels of all time, but one of the greatest sequels of all time. Period. No need for the "animation" label.
Miles Morales/Spider-Man (Shameik Moore) has spent years since the events of the original film protecting the city, but with no sign of his multiverse Spider-Friends — that is until Gwen Stacy (Hailee Steinfeld) unexpectedly returns on the night Miles' family and friends are celebrating his father's (Brian Tyree Henry) promotion to police Captain. Gwen's presence coincides with the appearance of new villain The Spot (Jason Schwartzman), prompting Gwen to take Miles into the multiverse to reveal where she's been and her team of diverse Spider-People, led by Miguel O'Hara/Spider-Man 2099 (Oscar Isaac), that are working to keep all existence from collapsing.
Despite having quite a bit of exposition and plot setup to sort through, Spider-Man: Across the Spider-Verse moves like a bullet train from start to finish. That doesn't mean this film leaves behind the emotion and character building that made the original so brilliant. No, this film focuses heavily on the evolution of Miles and Gwen and their relationships with each other and their respective families. It feels effortless how endeared you become to the characters between the two films and Moore and Steinfeld are big parts of the complex equation that make these characters magical; Gwen, in particular, is arguably a dual protagonist which really drives much of this film's story.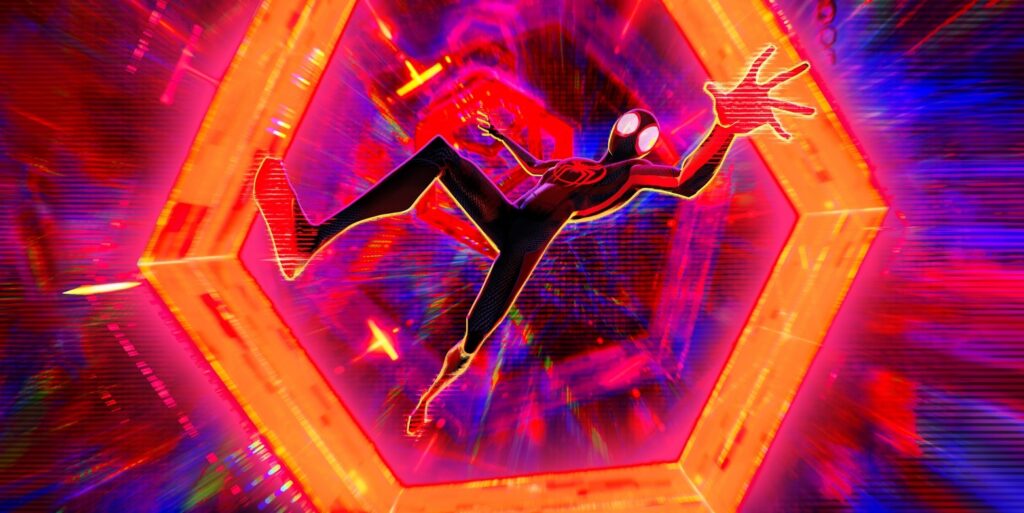 The bar for visual artistry has also been raised yet again by this franchise. Every shot in the film looks like a gorgeous water-color painting or a retro-printed comic book page or whatever particular Earth the story is currently taking place dictates. It's rare in a critic's career to say something is truly unlike anything seen before, but I can't stress enough what a visual achievement is this film. Give it the Oscar now.
Not only does it look pretty, the action sequences that use the aforementioned artistry are dazzlingly constructed. Even if the complex story goes over your head, the Spider-mayhem that constantly ensues is frantic and meticulously crafted. Basic superhero battle stuff like Miles vs. The Spot in NYC crackles with whirling camera shots and lightning fast ingenuity by both combatants. Scenes like one that sees the entire legion of Spider-People chasing Miles through the base of the Spider-Society absolutely warrant multiple viewings thanks to the insane amount of detail put into every second of the sequence.
The story is really the key to making a sequel work and Spider-Man: Across the Spider-Verse is next level filmmaking. The balance of time with the returning and new characters expertly threads the needle and the reverence to all things Spider-Man in pop culture shown is just fantastic. Multiple cameos, references and callbacks had me laughing out loud with delight. Oh, and the story twists, especially in the final act, are unexpected and jaw-dropping, setting into motion even bigger things to come. Spider-Man: Across the Spider-Verse is everything you could ask it to be and still something more than you would expect and this summer will be hard-pressed to offer a better moviegoing experience than this for audiences.
Score: 4.5 out 5