Spider-Man: Into the Spider-Verse was one of the most pleasant surprises of 2018, with its groundbreaking visuals and huge heart. From the minds behind The Lego Movie, Phil Lord and Christopher Miller, the film brings an enormous scope and wide array of characters, the likes of which have never been attempted in a Spidey movie.
The movie is a must-own for any fan of the character or even comic book films in general, even before factoring in any special features or extras included with the release. As great as it was seeing the film in the theater, it's equally enjoyable watching the colors and inspired designs really pop in crisp 1080p. Animation always looks terrific on your home theater setup, but Spider-Man: Into the Spider-Verse takes the robust normal color palette of a Pixar or Illumination animated picture and exponentially ups the ante with waves of pastels and neons that all swirl together into an eye-melting visual extravaganza.
The aforementioned bonus features only add to the impressive resume of this 2-disc set. Some of my personal favorites include the all-new original short Spider-Ham: Caught In a Ham, a Looney Tunes style re-telling of the moments leading up to Spider-Ham's appearance in the film. John Mulaney reprises his role as Peter Porker aka Spider-Ham and the short is cute, funny and a perfect palette cleanser in the middle of the all informative features.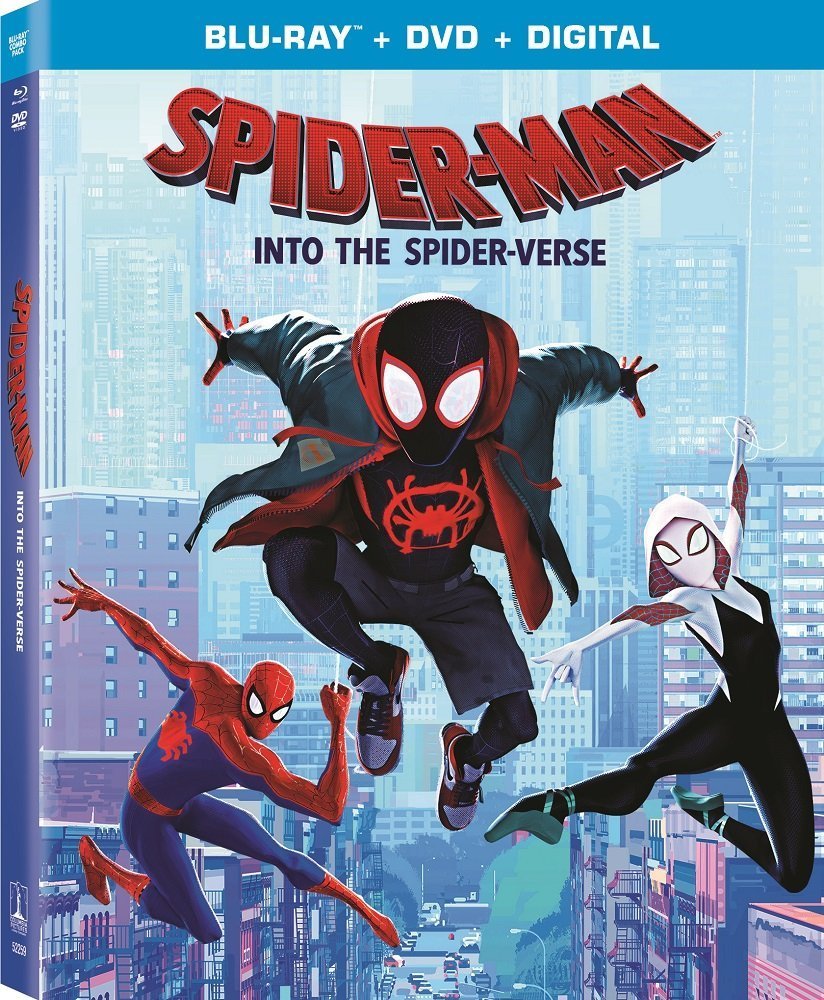 The Spider-Verse Super-Fan Easter Egg Challenge will also capture the interest of anyone who loves watching films to keep a look out for all the hidden gems and references for the fans buried in plain sight. The feature highlights some of the biggest Easter Eggs in the film, many of which I completely missed, as well as sending the viewers off to find even more.
Another big selling point of the release is Alternate Universe Mode which acts as a type of second screen experience that allows you to pop out and watch alternate scenes, plotlines, characters, and more all hosted by the filmmakers. The feature is a really neat watch and gives another excuse to fire up the film again after watching the solo experience on its own.
In addition to owning the discs with the film and the stacked bonus features, the set also includes a digital copy that you can watch on any of your devices on the go — which is a must these days. All of these elements and one fantastic, Oscar winning film make Spider-Man: Into the Spider-Verse one comic book film release you can't pass up for your Blu-ray library.
Score: 5 out of 5
---
Spider-Man: Into the Spider-Verse is now available on Blu-ray. Click this link to purchase from Amazon.