Lovers of puzzle-based torture horror have to be excited about Spiral, the next installment in the Saw franchise. The attempted revitalization boasts two A-list stars in Chris Rock and Samuel L. Jackson and brings back director Darren Lynn Bousman (Saw II, Saw III and Saw IV) and writers Josh Stolberg & Pete Goldfinger (Jigsaw). Sadly, instead of taking the once-groundbreaking horror series in a fresh and exciting new direction, Spiral wastes its terrific cast with a watered down, copy and paste of every other Saw film.
Jaded detective Ezekiel "Zeke" Banks (Chris Rock) can never live up to the legacy of his legendary police veteran father (Samuel L. Jackson), so why even try? His co-workers hate him for his staunch morals and lack of loyalty to the force and he hates most of them right back. In punishment for a recent incident, Zeke is saddled with a cliche — ahem, sorry, no a rookie partner — to show him the ropes. Lucky for the rookie, his first day is investigating a wickedly gory murder in a subway tunnel that's eerily reminiscent of the city's dark history with serial killer Jigsaw.
Unlike Zeke, Spiral not only wants to be as good as the franchise that spawned it — the film uninspiringly duplicates almost every aspect of the Saw films to accomplish it. The killer is, in every way, simply a Jigsaw knockoff that instead wears a pig mask, but also has a creepy little doll friend and voice changer. The franchise's signature traps are decent, and indeed still gory and uncomfortable to watch, yet nothing all that clever or different from what has come before. And it wouldn't be a chapter in the book of Saw, if it doesn't have a twist ending, but Spiral's is fairly easy to see coming, not to mention poorly executed.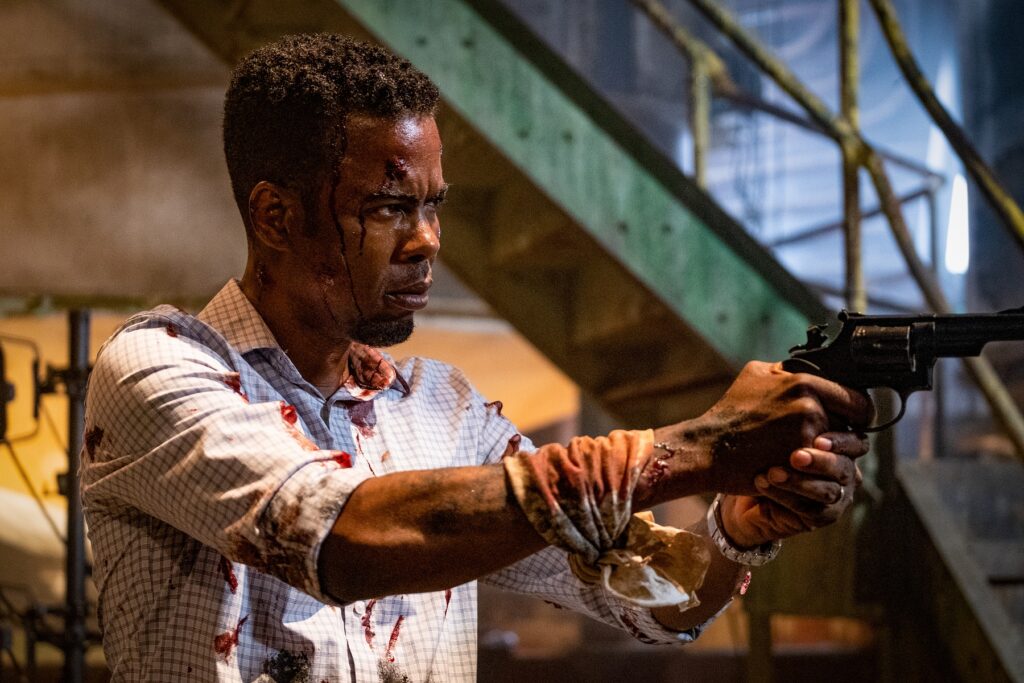 The best parts of Spiral involve either Rock or Jackson getting to go on some of their trademark foul-mouthed rants, and the film is sorely lacking more shared screen time between the two. Rock does an admirable job as the lead, but shows his dramatic inexperience more than once with some awkward takes and line deliveries. Jackson is just being Jackson in all of his scenes, but would you want him any other way in this one?
To Spiral's credit, the film moves quick, jumping from murder setpiece to murder setpiece, and clocks in at a brisk 95 minutes. The abrupt ending, very much in keeping with the franchise, is clearly establishing another serialized set of films that begs the question: shouldn't this just be a streaming series at this point? The running time and storytelling style are far more conducive for a TV format than the big screen in today's consumer entertainment market, and it wouldn't take years in between installments.
Saw fans that absolutely love the formula and see nothing in it that should need to evolve will be fine with this new paint job on the same old thing. Personally, this felt like a great opportunity to branch out with a SE7EN-style film that could take some chances to expand the Saw universe while pushing the talented cast. Alas, Spiral audiences will still play the same tired game, but this time with a less intriguing, carbon-copy villain.
Score: 2 out of 5
For more on Spiral: From the Book of Saw, check out Brent's review.