Four baby turtles. Ooze. Mutation. Ninja Training. You know the story, but Teenage Mutant Ninja Turtles: Mutant Mayhem aims to revive the franchise with a truly bold re-imagining of the Turtle brothers and the wide roster of characters and mythology surrounding it all. Co-written and co-produced by Seth Rogen (among others) and directed by Jeff Rowe, the director of the wonderful Netflix animated film The Mitchells vs. The Machines, this incarnation of the Turtles is weird, gross and all the most fun parts that came from the evolution of the comics and the wacky 80s cartoon series.
Teenage Mutant Ninja Turtles: Mutant Mayhem take is truly a unique one, both visually and plot-wise, from all previous installations and that's coming from a critic that has watched every Turtles animated series and movie ever produced. The core elements of the Turtles' origins are mostly intact, but bold choices like making the brothers voiced by teens and imbued with truly young teen personalities is a welcome approach. Relative unknown actors Micah Abbey as Donatello, Shamon Brown Jr. as Michelangelo, Nicolas Cantu as Leonardo, Brady Noon as Raphael have put their stamp on these characters and will hopefully voice them for years to come. It would be fantastic to see them grow/mature with the characters akin to something like the Harry Potter franchise.
Comparisons to the Spider-Man: Into the Spider-Verse franchise will no doubt be rampant and are not totally unwarranted. Much like those films, this one is a feast for the eyes with its aesthetic evoking a Laika Studios stop-motion animated film with a Van Gogh filter overlay. It's beautiful and, at times, unsettlingly, but nothing done on this scale has ever looked quite like this before. Teenage Mutant Ninja Turtles: Mutant Mayhem isn't as conventionally "pretty" as the Spider-Verse movies, but the style fits with the dirty, sewer-laden charm of this setting and outcast characters.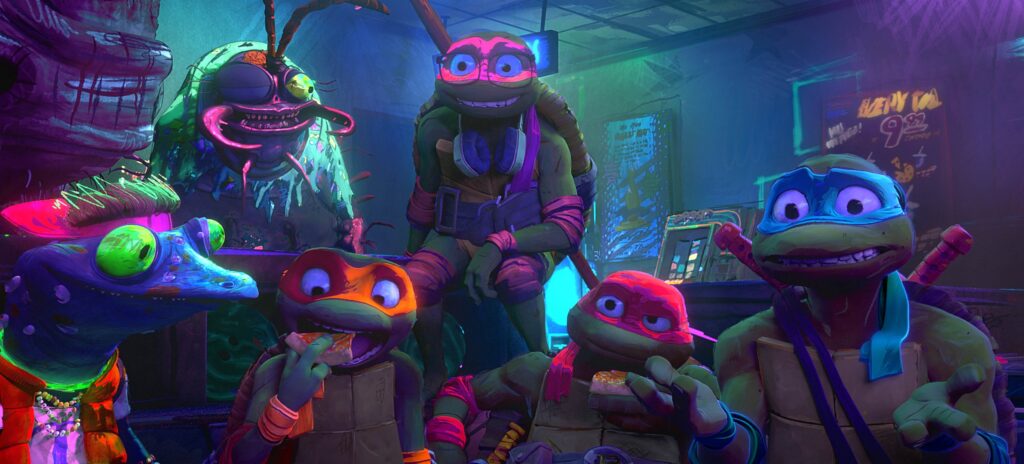 Although not all the bold choices work for the overall enjoyment of everyone. Some of the talent involved with crafting the story and its presentation bring their trademark boundary pushing. Teenage Mutant Ninja Turtles: Mutant Mayhem isn't afraid to have low-brow, gross-out humor and childish jokes that only the young kids will find amusing. For example, this mostly delightful take on burgeoning teen reporter April O'Neill, played by Ayo Edebiri, has a tendency to throw up when on camera. Some fans might also find fault in how certain characters like Master Splinter (Jackie Chan) are played solely for goofball laughs and other's like Michaelangelo are missing key elements of their personality – much of Mikey's happy-go-lucky "skater dude" traits went primarily to Paul Rudd's take on Mondo Gecko – at least for this first film.
Occasionally the film's story and the huge roster of characters threatens to get away from itself. Among a massive list of big name voice actors, Ice Cube as the main villain Superfly takes the story in new directions (away from the usual Shredder stories) and his band of merry mutants get into some bizarre hijinks that earn the Mutant Mayhem title. Thankfully, before things devolve too far, Rowe always brings the story back to the heartwarming bond between the brothers and their desperate teenage need for acceptance. None of this film works without the emotional family moments that ground all the bright colored insanity. An impressive first installment that kids will go nuts for while taking the characters into a future with big potential, Teenage Mutant Ninja Turtles: Mutant Mayhem is gross and weirder than the Turtles have ever been and that's why it's awesome.
Score: 4 out 5