Playwright John Pollono makes his directorial debut with Small Engine Repair, adapting his acclaimed 2011 one-act stage play into a feature-length drama about a trio of lifelong friends reuniting under suspicious circumstances.
Reprising his role from both the Los Angeles and Off-Broadway stage productions, Pollono stars as Frank Romanoski, proprietor of a rundown repair shop in Manchester, New Hampshire, and proud father of Crystal (Ciara Bravo), recently accepted to UCLA. She breaks the news over Christmas dinner to Frank's closest pals, Swaino (Jon Bernthal) and Packie (Shea Whigham), both of whom served as surrogate father figures throughout her formative years — usually while Frank was locked up in the local penitentiary.
When Crystal's absentee mother Karen (Jordana Spiro) shows up and ultimately sours the evening, the boys head out to a bar, but when tempers flare and a brawl erupts — prompting Frank to lose control and nearly beat another patron to death — he orders Swaino and Packie to keep their distance from him and his daughter. So it comes as a surprise when Frank reaches out a few months later with a peace offering, requesting the boys come to the shop that night for steaks, the UFC fight, and a bottle of Johnny Walker Blue.
The central characters of Small Engine Repair are the textbook definition of toxic masculinity, from explicit discussions of sexual conquests to continuous degradation of the various women in their lives (Karen is a frequent target of these diatribes), to the ever-percolating threat of violence: toward themselves, each other and everyone in their orbit. The only person excluded from their venom and vitriol appears to be Crystal; she's spoken of with nothing but reverence, as though she might somehow be shielded from their rampant misogyny.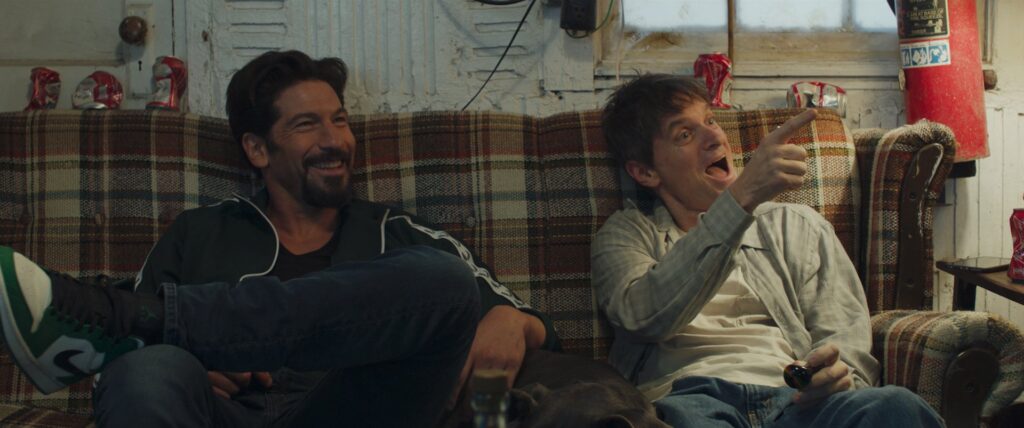 The arrival of Chad Walker (Spencer House), a drug-dealing law student who drives a brand new Mercedes-Benz G-Class (purchased by his father, a partner at a prominent law firm), suggests the evening is about to progress to its next stage. The smug, swaggering collegiate definitely reads as the odd man out in this scenario, but as he passes out baggies full of molly and regales his elders with stories of Instagram hookups, it's clear that at least one portion of his worldview aligns with Frank and his pals.
The true reason for Chad's presence at the repair shop, along with Frank's motivation for bringing everyone together in the first place, is best left discovered on your own. Rest assured the secret at the heart of Small Engine Repair is genuinely shocking, and the mentally and emotionally exhausting final stretch feels of a piece with the never-ending anxiety attack of 2019's Uncut Gems.
Behind the camera for the first time, Pollono proves himself adept at milking every last drop of tension from a scene and bringing out some truly exceptional work from his performers, himself included. Everyone is firing on all cylinders, and the combination of lurid, disturbing subject matter and unbelievably intense performances makes for a thrilling finish. None of these characters may be particularly likable, but they're indisputably watchable.