On paper, Aron Gaudet and Gita Pullapilly's Queenpins sounds like a surefire comedic premise: two Arizona women (Kristen Bell and Kirby Howell-Baptiste) amass a fortune through the illegal sale of coupons while an overzealous loss prevention officer (Paul Walter Hauser) and a US postal inspector (Vince Vaughn) join forces to bring them down. In practice, however, the film is a tangled mess of mismatched tones, like two separate films haphazardly slapped together and constantly at war over which story deserves the spotlight.
Bell stars as Connie, a former Olympic race-walker (yes, that's a real thing) whose chipper demeanor and penchant for discounts has earned the ire of cashiers at her local supermarket, where she's known as "the crazy coupon lady." Multiple failed attempts at conceiving a child, along with Connie's newfound obsession with using manufacturer discounts to stockpile home goods, have created friction with husband Rick (Joel McHale), a joyless auditor for the IRS. "Get out of this room and get a job," he says coldly on his way out the door for his latest business trip.
Next-door neighbor JoJo (Howell-Baptiste) runs a YouTube channel where she teaches shoppers to save money through couponing, but her audience seemingly consists only of the smitten postman (Dayo Okeniyi) who delivers her mail. JoJo's would-be entrepreneurism is hampered by the fact that her identity was stolen, leaving her credit rating destroyed and her financial prospects increasingly dire. But when Connie discovers large corporations will often respond to complaint letters by replying back with a complimentary coupon, she enlists JoJo in hatching a scheme wherein they'll acquire coupons directly from the source — a printing company just across the Mexican border — and sell them online to shoppers looking to save a few bucks.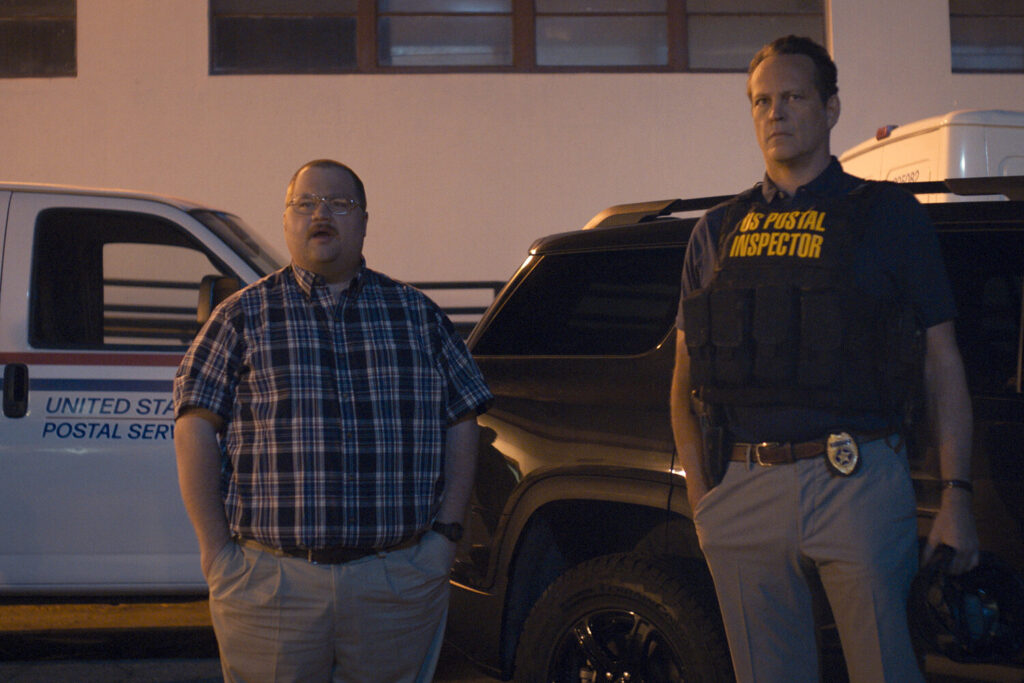 A sudden influx in local coupon usage attracts the attention of Hauser's Ken Miller, a rule-abiding loss prevention investigator — the kind of guy who refuses to switch airplane seats with a child because "that's not how the world works, you don't always get your way." Much like the character Hauser portrayed in Richard Jewell, Ken is desperate to be taken seriously by actual law enforcement officers, but here the eagerness is played for laughs (or chuckles, to be fair). He's furious when the evidence he provides to the FBI is turned over to Vaughn's veteran postal inspector Simon Kilmurry, incredulous that "a mailman" has been sent to investigate, rather than the "boots on the ground" response he expected. "Mailmen carry the mail," responds Simon. "I carry a gun."
Vaughn is well-cast as the straight man to Hauser's slightly unhinged aspiring cop, and their onscreen exchanges are the most consistent source of humor in Queenpins (even if some of those moments, like a recurring joke about Ken's impeccably scheduled bowel movements, feel more than a bit incongruous). Less entertaining is the primary plot involving Connie and JoJo's growing criminal enterprise, with both women raking in cash while also being portrayed as hopelessly out of their depth. They bumble their way through a series of progressively ludicrous scenarios, zipping around on a private jet and selling a stockpile of weapons to a local militia group, and form a shaky alliance with a money laundering mastermind (singer/songwriter Bebe Rexha, in the film's most unconvincing role) to cover their digital trail. Virtually none of this feels engaging or interesting.
The primary issue plaguing Queenpins is that Gaudet and Pullapilly seem undecided on a number of key points, like who the audience should root for or what message the film hopes to convey. Is it a feminist underdog story about two women challenging the omnipresent corporations that permeate every aspect of our lives? Is it a commentary on the selfishness and entitlement of pink collar criminals? Is it a buddy cop procedural about a bizarrely unconventional fraud scheme? You could answer "yes" or "no" to all of the above, and that ambiguity ultimately becomes the albatross around the film's neck.