As Avengers: Endgame prepares for a brief re-release at the box office this weekend — a move that seems destined to propel it to the highest-grossing film of all time — Spider-Man: Far From Home waits in the wings, saddled with the unenviable task of being the first film of the Marvel Cinematic Universe to occur in a post-Thanos world. The conclusion to the "Infinity Saga" was fraught with tragedy and loss, and with those events so inextricably linked to the plot of this film, it feels appropriate to warn you: there will be spoilers below.
Seriously, if you haven't seen Avengers: Endgame and have somehow managed to avoid discovering its secrets, don't read any further.
Okay, let's continue.
Trying to return to a sense of normalcy in the aftermath of "the blip" — the five-year period during which half of the world's population ceased to exist — Peter Parker (Tom Holland) is still reeling from the death of his friend and mentor, Tony Stark. Classes have resumed at Midtown High and Peter is still zipping around Queens as the friendly neighborhood Spider-Man, but his mind is focused less on fighting crime and more on working up the nerve to reveal his feelings for MJ (Zendaya).
An upcoming class trip to Europe seems like the perfect opportunity, even as Ned (Jacob Batalon) tries to convince Peter that it would be in his best interest to remain a bachelor during his time abroad. "Europeans love Americans," he insists, but Peter has already concocted an elaborate plan involving a visit to the Eiffel Tower and a special piece of jewelry. There's just one obstacle: Nick Fury (Samuel L. Jackson), who arrives with a top secret assignment and a new ally from another world, Quentin Beck (Jake Gyllenhaal).
Colossal destructive beings called "elementals" have been popping up all over the globe and laying waste to everything in their path, from a remote Mexican village to the waterways of Venice. Having already witnessed the annihilation of his own world, Beck hopes to enlist Fury and Peter to prevent the same thing from happening on this version of Earth. But when Peter balks at facing such a terrifying threat, Fury is forced to consider that perhaps Stark's faith in Peter was misplaced, and maybe he's not ready to be the kind of hero the Avengers need.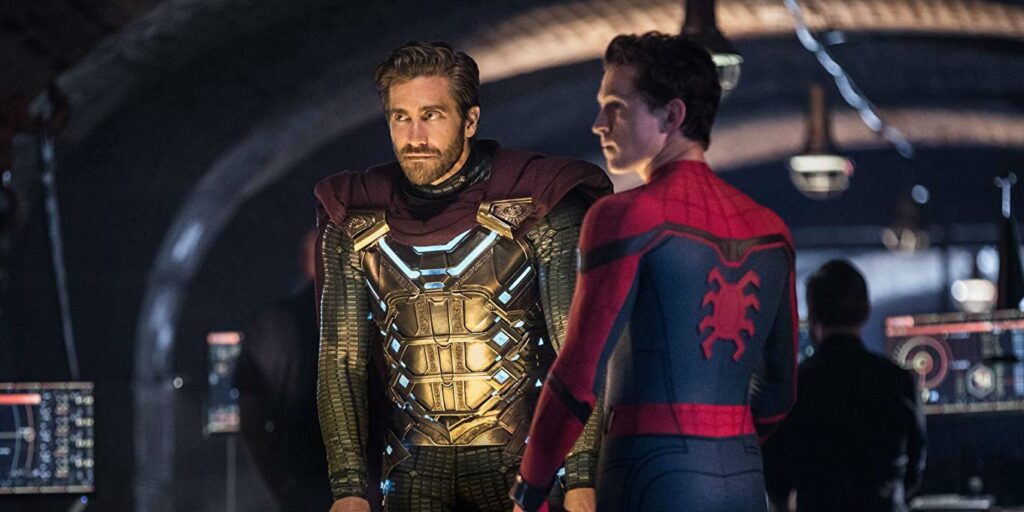 While the action in Spider-Man: Far From Home is much larger in scope than its predecessor, the film nevertheless feels considerably smaller and more self-contained than most MCU entries, especially in the wake of Endgame's enormous finale. That's not to say Far From Home is lacking in the spectacle department, but even with a host of international locations and a bevy of effects-laden brawls with towering baddies, it's ultimately a story about a teenager trying to understand his place in the world. When asked what he really wants, Peter replies honestly: "I want to go back on my trip with my friends and the girl I really like," but he remains painfully aware of the duty placed on his shoulders. Watching Holland wrestle with balancing the exuberance of youth and the responsibility of being a hero is compelling, if not a little heartbreaking, and he once again delivers a note-perfect performance.
The always charismatic Gyllenhaal is superb as Beck, better known to comic readers as Mysterio, an iconic character from the Spider-Man mythology cleverly updated for the modern world. With its flowing purple cape and bulbous glass helmet, the costume can seem like a bit much — Beck himself even acknowledges this at one point — but there's something so refreshing about seeing such a classic retro design inserted into the MCU without the advent of mechanization or nanotechnology. And when Gyllenhaal finally cuts loose during the film's second half, he's so magnetic you couldn't wrench your eyes away from him if you tried, even turning what could have been a yawn-inducing information dump into a dynamic and spirited bit of exposition that never slows the film's momentum.
Despite themes and subject matter that can be a little weighty at times, Spider-Man: Far From Home manages to pepper in more than its fair share of humor. The script from Erik Sommers and Chris McKenna isn't quite as sharp as their work on Spider-Man: Homecoming, but it still doles out some big laughs, gleefully reveling in awkward moments and misunderstandings. There's also a positively brilliant moment when EDITH (an augmented reality interface that replaces the A.I. in Peter's previous suit) divulges the origin of her name, showcasing Sommers and McKenna's crystal clear understanding of this universe and the characters that inhabit it.
Spider-Man: Far From Home may have been meant as a bookend for the first decade of the MCU — a role which it fulfills to great effect — but it also drops a few clues about the future. We may not have a clear picture of what to expect from Marvel over the next few years, but thanks to a pair of shocking post-credits sequences (one of which elicited a thunderous roar of approval from my screening audience), one thing is certain: some big changes are coming, and the next Spider-Man adventure is going to be very interesting.
For more on Spider-Man: Far From Home, read Kyle's review here.