Following up on Avengers: Endgame, Tom Holland is donning his Spidey underoos for the second time this year in a follow-up solo adventure, Spider-Man: Far From Home. Directed by Spider-Man: Homecoming's Jon Watts, this series continues to excel at breaking the format for not only Spider-Man films, but also solo superhero adventures in general.
Midtown High's European class trip could not have come at a better time for Peter Parker, as he really needs to take a vacation from the duties of the spider-suit after the life altering events of Avengers: Infinity War and Avengers: Endgame. Peter just wants to enjoy being a kid in high school and pursue his crush on MJ (Zendaya) and maybe get some hang out time with his best buddy Ned (Jacob Batalon).
But where Peter goes, danger follows and inexplicably, giant elemental monsters begin appearing in Europe just as the kids arrive for their vacation. Even more curious is the emergence of a new superhero from another world called Mysterio (Jake Gyllenhaal), who along with Nick Fury (Samuel L. Jackson) and Maria Hill (Cobie Smulders), plans to face this planetary threat head on — and they need Spidey's help to do it.
Spider-Man: Far From Home does all the things a good sequel does by not just avoiding a retread of the original but forging ahead faithfully with a fresh approach. The film is also one of the funniest of the year with nonstop, genuine laughs for nearly the entire first half that continues the winning John Hughes-esque coming-of-age humor that made its predecessor so enjoyable.
Jake Gyllenhaal's performance as Quentin Beck, aka the fish-bowl-headed Mysterio, is also a big reason why the movie works, providing a clever new take on a classic Spidey character that has never before been attempted in live action storytelling. Gyllenhaal lights up the screen in every scene as his character evolves throughout the story and his chemistry with Holland is nothing short of fantastic.
I could also not be more pleased that the filmmakers and studio, much like with Michael Keaton as the Vulture in Spider-Man: Homecoming, yet again took a chance on a goofier, lesser known villain from the early Spider-man comics. Even more impressive, the film also avoided the temptation to surround Mysterio with more recognizable adversaries to overload the roster for pure spectacle and fan service.
Zendaya also deserves praise for earning her stripes in this new take on MJ that finally finds some nice footing in Spider-Man: Far From Home. The MJ in the previous film never quite clicked as a potential future romantic fit for Peter — or even as someone he would always enjoy being around — but here Zendaya's performance (along with the script from Chris McKenna and Erik Sommers) shows just how cute this version of the couple can be without altering either's personality from Spider-Man: Homecoming.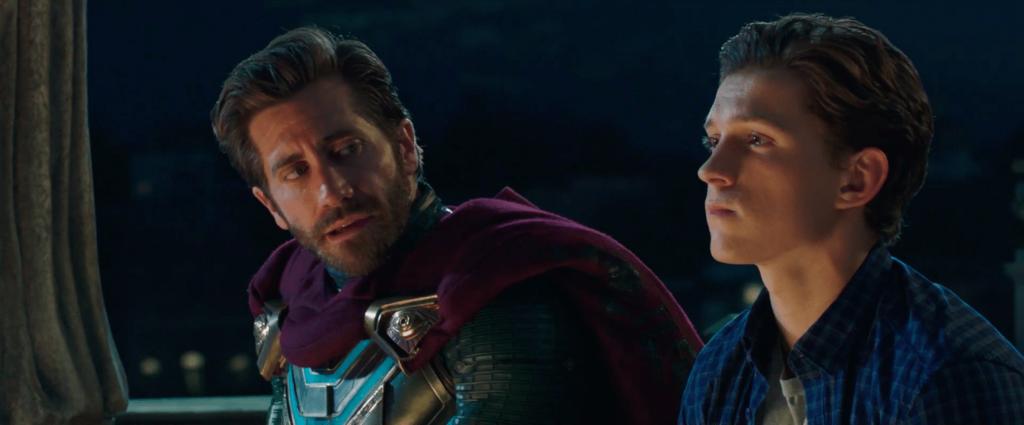 Jon Favreau also picks up the slack left by Robert Downey Jr.'s departure in his reprisal of Tony Stark's right hand man Happy Hogan. Favreau has always had a fun, annoyed uncle vibe with Holland's Peter Parker and that expands even further in this film to both humorous and touching realms.
It goes without saying that this new Spidey franchise is nothing without Tom Holland's effortless embodiment of Peter Parker with both his talent in the role and the evolution of the writing of the character growing even further in this outing. Parker is crushed and vulnerable after the loss of Tony Stark in Avengers: Endgame and Holland threads the needle between heartbreaking and hilarious the entire film.
If I had to make a slight, geeky nitpick complaint it would be the film's basic lack of Spidey's witty fight banter and quips. Most of the humor originates from Peter or Spider-Man's awkward teenager moments and Parker's rookie superhero mistakes. These moments are all very funny, but I prefer my Spider-Man to make fun of his enemies and crack jokes while avoiding explosions. It's an endearing defense mechanism that's one of Spidey's most defining characteristics. Neither Maguire, Garfield or even to lesser degree Holland's films have ever totally gotten it right and it kind of perplexes me, but thankfully doesn't affect the enjoyment of this particular film.
Also on the negative side, the action sequences are bigger and arguably more exciting than the previous film, but as a direct result there is noticeably more subpar CG effects this time out. Lastly, while the humor has never been more abundant, there are also quite a few more joke moments that fall flat when compared to Spidey's appearances in his own films or guest starring in other MCU affairs.
As the film winds down, Spider-Man: Far From Home audiences will be sitting back in their seats smiling from this lighter, wonderfully entertaining ride back into the MCU. It's not over yet though, as they'll need to buckle in for two of the best and most exciting post-credits scenes from this shared cinematic universe in quite sometime. They provide the perfect cappers to a film that serves as both a great bookend to the first era of the MCU and another immensely pure and satisfying installment of everyone's favorite friendly neighborhood wallcrawler.
Score: 4 out 5
For more on Spider-Man: Far From Home, read Brent's review here.