An unapologetic throwback to the R-rated action comedies of the 1980s, Stuber finds hulking, vengeful narcotics detective Vic (Dave Bautista) hijacking a mild-mannered Uber driver named Stu (Kumail Nanjiani) to shuttle him around Los Angeles in search of a notorious drug dealer responsible for the death of Vic's partner. While the setup bears a passing similarity to Michael Mann's white-knuckle thriller Collateral, the execution shares more in common with buddy cop staples like 48 Hours or Lethal Weapon.
A series of poor experiences with shitty passengers has left Stu's driver reputation hovering dangerously close to the point where the rideshare company will suspend him from the platform — one more subpar rating and it's the end of the road. When first-time passenger Vic climbs into the front seat and begins barking orders, Stu resolves to put up with whatever this beefy bundle of testosterone dishes out in order to save his job, having no idea the next few hours will be filled with breaking and entering, kidnapping, shootouts and an all-out brawl in an empty sporting goods store that turns into one of this year's funniest bits of physical comedy.
Bautista's comedic chops will come as little surprise to audiences familiar with his work in the Marvel films, and he admirably holds his own opposite Nanjiani, whose pointed jabs at Vic's overt masculinity and technological illiteracy provide a steady supply of chuckles. "There's no tab," he explains at one point, barely disguising his bemusement at Vic's ignorance. "Uber's not a general store in the old west." When Vic tries to convince Stu to pick up a firearm, he tries to create a teachable moment about the veteran cop's habit of distancing himself from his family: "This is your problem, you give people Glocks instead of love."
The supporting cast of Stuber fares much worse than its duo of stars, however, with Natalie Morales (as Vic's daughter, a budding sculptor who has little patience for her dad's macho police bullshit) and Mira Sorvino (as Vic's captain) given precious little to do. Even more disappointing is the utilization of The Raid star Iko Uwais as the dealer who inadvertently sets the entire chase in motion — not that the role itself is a bad one, mind you, but it's baffling why anyone would take one of the most talented martial artists working in cinema today and toss him into a fight scene where you can't tell what the hell is going on. On a more positive note, GLOW's Betty Gilpin (as the longtime female friend Stu secretly pines for) makes the most of her limited screen time, and American Vandal's Jimmy Tatro is delightfully douchey as the boss at Stu's day job.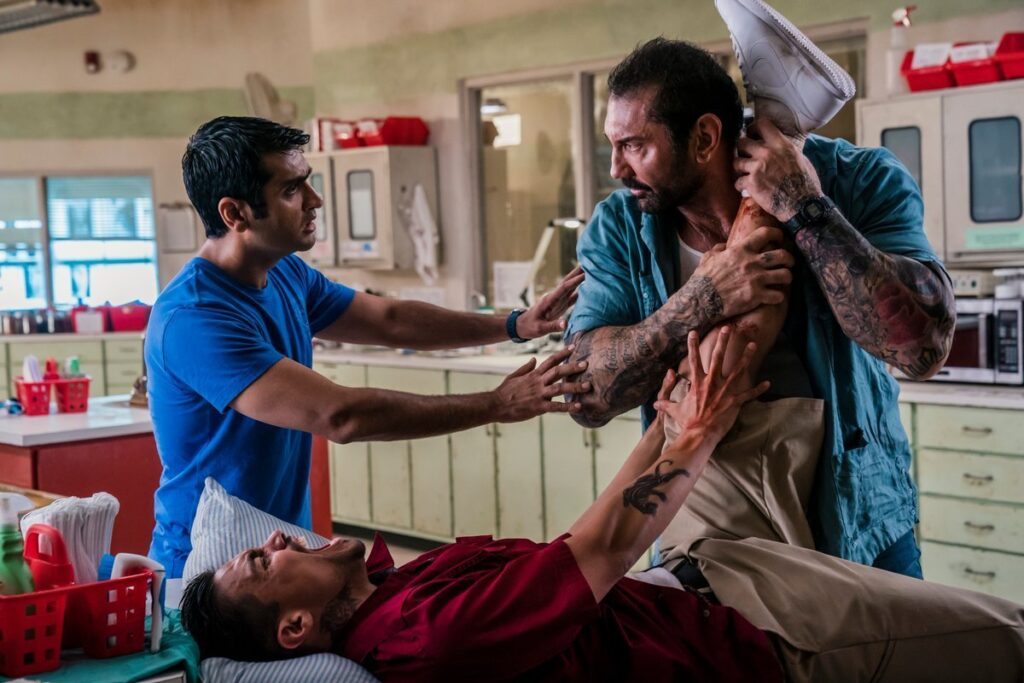 Unlike so many recent comedies, Stuber avoids the mistake of overstaying its welcome, clocking in at a brisk 93 minutes. It's a bit slow out of the gate, thanks to the necessary table setting required to drive its central premise, but once Bautista and Nanjiani finally connect, it makes up for lost time with an overload of laughs and a healthy dose of bloody, cartoonish violence.