When it comes to staging eye-popping historical action, few are as adept as Ridley Scott. Simply uttering the legendary director's name will conjure images of the sword-and-sandals epic Gladiator, but even much maligned offerings like Exodus: Gods and Kings and Robin Hood still boasted stunning visuals. Arriving this weekend after a well-received premiere at the Venice Film Festival, Scott's latest effort, The Last Duel, marries his gift for visceral battle sequences with a cleverly constructed screenplay that relates the events surrounding a 14th century rape accusation from the divergent perspectives of the three people involved.
Up first is Matt Damon's mullet-sporting Jean de Carrouges, whom we meet on the battlefield during the Hundred Years War as he defies a direct order and allows the enemy to goad him into a skirmish that pulls his army's attention from their objective. Swords whistle through the air, careening off armor plating and occasionally opening an artery or severing a limb, and although Carrouges lands firmly on the losing side of the battle, he does manage to save the life of his longtime friend and fellow squire, Jacques Le Gris (Adam Driver). But that friendship is put to the test when Count Pierre d'Alencon (Ben Affleck) gifts Le Gris a parcel of land meant to be part of the dowry for Carrouges' marriage to Marguerite de Thibouville (Jodie Comer); Carrouges makes a dangerous enemy by going over the Count's head and appealing directly the King, and soon he's stripped of his birthright and Le Gris is given command of the fort Carrouges' father has held for decades.
All of this might have eventually been forgiven — indeed, as the years pass and Carrouges ascends to knighthood, the men attempt to reconcile — but when he returns from a months-long campaign and a tearful Marguerite claims that Le Gris visited their home unannounced and took her by force, Carrouges demands retribution. With Count Pierre overseeing the trial, Carrouges knows that Le Gris will never be found guilty, so he instead demands the matter be settled in a duel to the death, where proof of Marguerite's claims will be judged "by the gods" rather than his disdainful liege lord.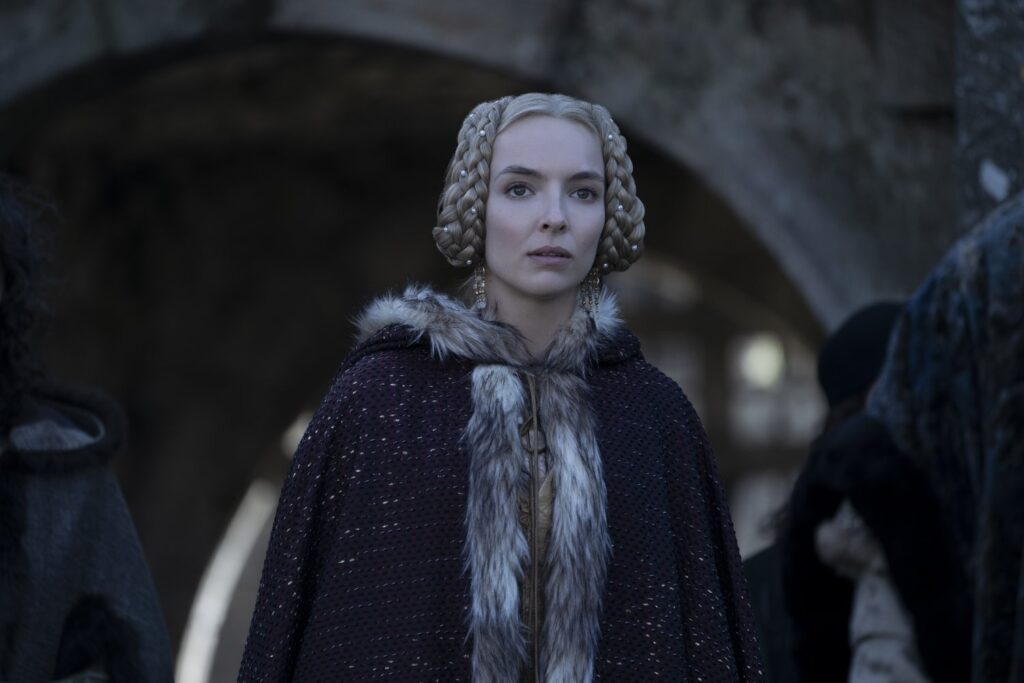 The second chapter of The Last Duel revisits many of the same events, this time from the perspective of Le Gris. Rather than the valiant and chivalric knight we met during the film's opening forty minutes or so, Carrouges is portrayed here as something of a dullard, regarded as little more than a laughingstock by other members of Pierre's court. Both Damon and Driver make subtle adjustments to their performances in each chapter — each is the hero of their own tale — and it's remarkable to see how much this affects the narrative. Even more surprising is the depiction of Marguerite's assault at the hands of Le Gris: one might expect there to be some ambiguity when told from Le Gris' point of view, but what happens in her chambers is very clearly rape, although Le Gris would never view it as such. "We couldn't help ourselves," he tells a sobbing Marguerite as he buttons his trousers, and later recounts the event as "adultery" when confessing to a priest. "She made the customary protests," he explains, before both he and the clergy lay the fault squarely as the feet of the victim.
The male perspectives were penned by Damon and Affleck, sharing script duties for the first time since Good Will Hunting, which makes Affleck's turn as a impetuous, jovial, wine-and-sex-obsessed ruler all the more fun — seriously, is there anyone better at playing a smug prick? But the Oscar-winning duo wisely acknowledged they weren't equipped to tackle this sort of subject matter from a feminist point of view, and tapped acclaimed writer-director Nicole Holofcener to handle Marguerite's story. Through her eyes, Carrouges is a brute that regards his wife as nothing more than one of his possessions (it's not a coincidence when a supporting character classifies rape as a property crime against a woman's male guardian), and despite her best efforts to clean up her husband's finances and reclaim the household from its state of disarray, his interests in her start and stop with the bedroom. Likewise, the handsome and charming Le Gris depicted in the film's second chapter is shown here to be a scheming womanizer, and Driver's ability to ratchet up the menace with little more than a shift in vocal tone or a slight adjustment to a facial expression is admirable.
The remainder of The Last Duel, including a trial where Marguerite is subjected to insulting, invasive and blatantly misogynistic questions from members of the court, is all told from Marguerite's perspective. Comer is next-level great in the film's home stretch, with her meek exterior melting away to showcase a fiery independence and an iron-willed refusal to be silenced by the patriarchy. While Damon and Driver modulate their performances throughout the film to reflect the viewpoint of different narrators, Comer's characterization of Marguerite is largely consistent, with each new chapter introducing additional layers and complexity. It's truly exceptional stuff, and among the most captivating work I've seen this year — Damon and Driver are great, but they can't hold a candle to Comer.
Of course, with a title like The Last Duel, audiences will be anticipating the eventual clash between Carrouges and Le Gris, and Scott delivers the goods with a protracted battle full of broken bones, splintered shields and copious bloodshed. But despite the thrilling climax, the Rashomon-inspired storytelling and a career-best performance from Comer prove to be far more enthralling than the events that play out on the battlefield.