Venom wasn't a slam dunk with either critics or fans, but it left audiences clamoring for a sequel after the surprise end credits stinger introducing Woody Harrelson as serial killer Kletus Cassidy, better known as the symbiote Carnage. Three years later, Venom: Let There Be Carnage is making good on that showdown with sadly mixed results and wasted potential.
Following the aforementioned encounter between Eddie Brock (Tom Hardy) and Cassidy, Brock/Venom have had an ongoing dialogue with the incarcerated murderer akin to Clarice Starling and Hannibal Lector. Brock/Venom are able to glean where the rest of his murder victims are buried through one of these conversations, essentially closing the case and solidifying Cassidy for the death penalty. On his way to execution, Venom accidentally exposes Cassidy to part of his symbiote DNA, creating his own psychotic murderous offspring Carnage, which bonds to Cassidy. It's a solid overall premise that gets woefully little screen time, wasting what could have been some stellar performances from the two leads to make way for massive, forgettable CG mayhem after the first act's transformation.
Venom: Let There Be Carnage isn't a letdown for those that enjoyed the first film, although it shares the same tonal issues, horrendous dialogue, and odd character choices that made the original so frustrating. Also much like the original, the sequel works best when focusing on the growing bond between Brock and Venom. The symbiote still looks great and the two characters share some funny and surprisingly touching moments. Hardy is great in the dual role and deserves better as the characters.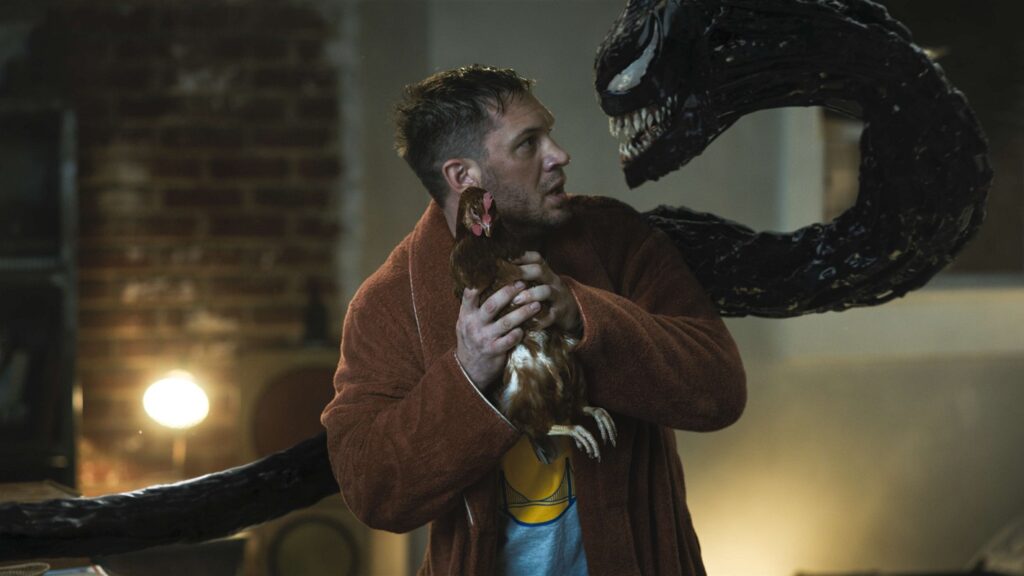 Everything really just falls apart with the approach to Cassidy's character, despite Harrelson trying to have some fun with it. Instead of having the deranged, symbiote-powered killer spend his freedom murdering innocents and seeking revenge on Brock, the film shoe-horns in a Bonnie and Clyde relationship with fellow Marvel villain Shriek (Naomie Harris) that is beyond ridiculous and turns Harrelson into a goofy caricature of his Natural Born Killers character.
As mentioned earlier, the tone continues to be an issue with this franchise. The humor in Venom: Let There Be Carnage has its moments, but otherwise is wildly out of control, bordering on family-friendly goofball humor. If you've ever wanted to see the Venom symbiote singing songs while cooking at home or having the time of his life while wearing glowing necklaces at a rave, well this film obliges. These scenes hop back and forth with jarring shifts featuring Carnage murdering waves of law enforcement and revealing Cassidy's dark childhood.
Director Andy Serkis is even non-committal on the aforementioned violence. He does a better job than the previous film making the symbiote fights easier to follow visually, but his overall tone would have benefited from an R-rating. The audiences aren't fooled the many times Carnage and even Venom eats someone's face and the camera quickly cuts away and then back to a slumped body with no blood. The Venom franchise needs teeth, and this movie doesn't have the balls to give them to either symbiote.
Not much has been fixed since the original film and this sequel continues to make mostly the same mistakes and successes. Forgettable fun can certainly be had with Venom: Let There Be Carnage, but this one stings a bit more with so much misused talent and lost potential. And yet, fans will no doubt clamor for more after this one's jaw-dropping end credits stinger.
Score: 2.5 ouf of 5