After breathing some much-needed new life into one of the Marvel Cinematic Universe's key characters in 2017's Thor: Ragnarok, it's no surprise that Taika Waititi would be invited back to the director's chair for the God of Thunder's next solo adventure. But whereas the aforementioned third installment of the franchise was a deftly balanced blend of humor, drama and spectacle, Thor: Love and Thunder piles the jokes on even thicker than before, much to the detriment of its two major narrative threads — one centered around the returning Jane Foster (Natalie Portman) and the other following a father's murderous and misguided quest to avenge the death of his daughter.
We're introduced to the latter event right out of the gate, as Gorr (Christian Bale) trudges across the desert, watching his daughter's life evaporate and beseeching the gods for deliverance. When an encounter with a wine-soaked deity reveals the ugly truth — that the gods don't actually care about mortals, and view their suffering as a source of amusement — Gorr vows to dedicate his remaining days stalking these supreme beings and cutting them down, one by one, until none remain.
Meanwhile, having exhausted the capabilities of modern medicine, an illness-stricken Jane elects to seek answers in mythology: namely, the histories and traditions of Asgard — or in this case, Elsewhere, Thor is wearing out his welcome as an unofficial member of the Guardians of the Galaxy, and an urgent plea for help from an old comrade offers the perfect excuse for Star Lord (Chris Pratt) and company to drop their new buddy on the nearest planet and zoom off into the cosmos (the Guardians' presence is just a cameo, despite what the film's marketing campaign might have you believe, but the comedic chemistry between Hemsworth and Pratt is the source of more genuine laughs than most of the remaining runtime).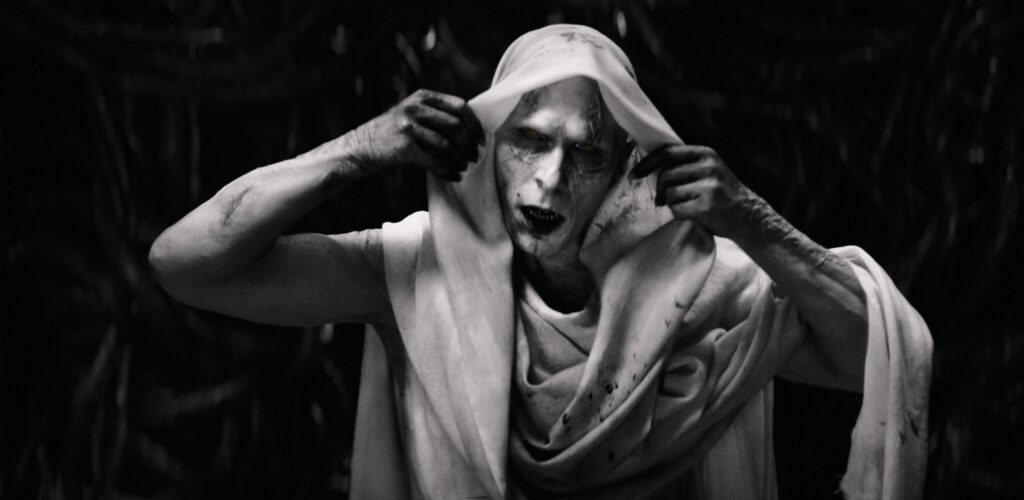 The encroaching threat of Gorr "The God Butcher" finds our hero returning to New Asgard — a refugee village along the Norwegian coastline that has grown into a booming tourist destination since its last appearance in Avengers: Endgame — and teaming up with his old pal Valkyrie (Tessa Thompson, magnetic but underutilized) and a Mjolnir-wielding stranger that turns out to be none other than Jane Foster. Coming face to face with both of his great lost loves (the godly hammer being the other) tasks the big guy with navigating some pretty complicated emotions, but Love and Thunder undercuts these moments of pathos with its near-constant barrage of jokes, a shocking majority of which lack the punch of Waititi's previous efforts.
In fact, the humor serves to be the albatross around Love and Thunder's neck; rather than enhancing the emotional arc of the narrative, as seen in Ragnarok, the jokes keep the more poignant moments held at arm's length. Nowhere is that distance felt more than in Jane's transformation from terminal patient to capable warrior, a journey that an actress of Portman's caliber could've knocked out of the park had she not been saddled with a goofy recurring gag about trying to come up with a heroic catchphrase. Bale's alabaster-skinned villain is one of the few things Love and Thunder consistently takes seriously, and it's no coincidence that his scenes — including a skin-crawling interaction with some captured Asgardian children — are among the film's best.
That's not to say the comedy fails on the whole — Russell Crowe's scene-stealing and genuinely hilarious turn as a horny Zeus would beg to differ — but Love and Thunder often feels like a film at odds with itself. Plot developments that should carry genuine weight are given short shrift in favor of what often feels like a quest to achieve some mythical jokes-per-minutes quota. The film's sub-two-hour running time might be seen as a welcome respite from the gargantuan length of other MCU entries, but if an extra 15 or 20 minutes could've allowed room for the story and characters to breathe a little before rushing to the next setup and punchline, the additional length would've been welcomed with open arms. It's still an enjoyably zany adventure, and Waititi deserves credit for taking some massive stylistic swings (a sequence where our heroes battle Gorr in the shadow realm is especially striking), but Love and Thunder falls well short of recapturing the magic of Ragnarok.