No other character in the Marvel Cinematic Universe has had a more bizarre or diverse evolution within this staggering catalog of superhero films than Thor Odinson and he's back at it. Directed once again by the genius behind Thor: Ragnarok, Taika Waititi, Thor: Love and Thunder is by far the weirdest and most unrestrained MCU-expanding adventure fans have seen to date, but its also a bit much — the second MCU film in a row (Doctor Strange in the Multiverse of Madness) to suffer from (dare I say it?) perhaps too much creative control?
When last we saw Thor (Chris Hemsworth) in Avengers: Endgame, he still had a few extra pounds and was looking for some direction in his life, so he tags along with the Guardians of the Galaxy to see what adventures space had in store. Mostly, they involve Thor losing the weight and getting shredded as he clumsily upstages the Guardians again and again to inflate his own wounded ego. The sequence is all wonderfully narrated by Thor's BFF Korg (voiced by Waititi himself) and leads to his inevitable departure from the ragtag crew. Fate has other plans for our God of Thunder as his adopted home New Asgard comes under attack from a dark new force, but he finds help in the most unlikely of heroes: his ex-girlfriend Jane Foster (Natalie Portman) wielding none other than his ex-hammer, Mjolnir.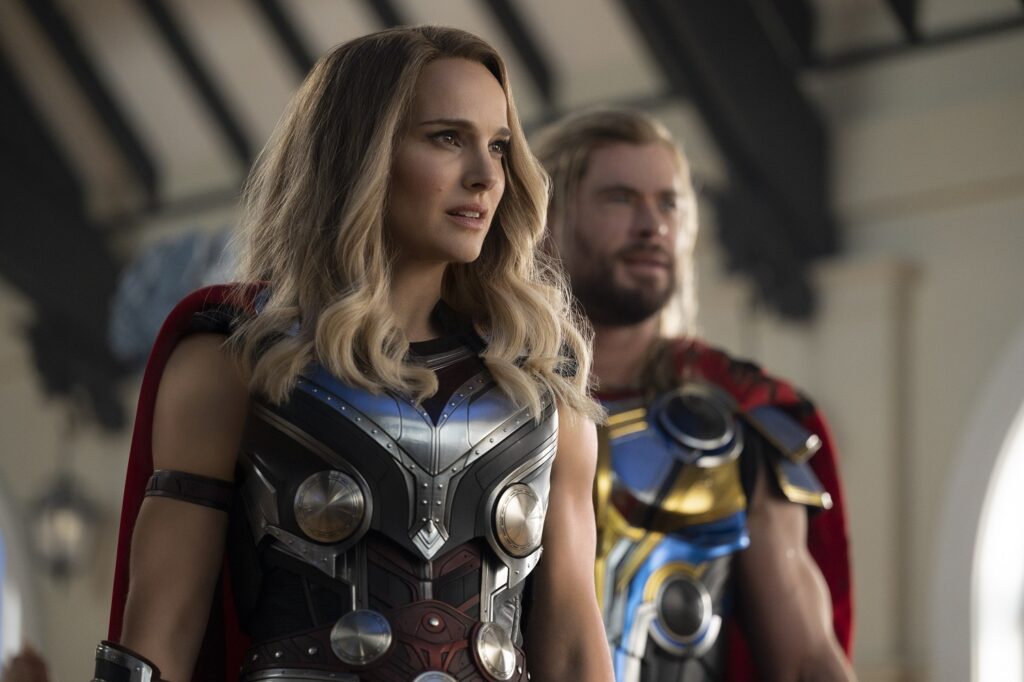 Once again reinventing the character and implanting a whole new genre on top of an MCU installment, Waititi has made an 80s heavy metal romantic comedy in Thor: Love and Thunder. The resulting film is extremely funny, mixed with a passable romance element that survives solely off the chemistry between Hemsworth and Portman. Portman is especially adorable, and it's clear she hasn't had this much fun making a film in a long time. When Portman branches out, it's always so refreshing and I hope she continues to take opportunities to lighten up alongside her critically lauded dramatic roles. Thor's new significant other, Stormbreaker, meeting and being jealous of the ex, Mjolnir, is also a hilarious B-plot.
The problem with this color-bomb of a movie is the wildly shifting tone, which can only be described as a story being told by a 6-year-old hopped up on too much sugar, playing with his action figures. In theory that sounds fun, but Thor: Love and Thunder bounces in and out of grounded romance, enormously over the top mythology, and extremely dark premises of death, abuse of power, and loss of innocence. Heady stuff after just watching Thor hilariously battle an alien horde that looks like the old Honeycomb cereal mascot.
Christian Bale brings that aforementioned darkness with ease in a superb performance as the film's heavy: Gorr The God Butcher. Everyone loves Bale as a hero, but I think his true calling is villainy, especially with that rage that appears to be in the actor's real life personality. The character's design and all the visuals in Gorr's scenes are stunning, but run counter against the vibe of the rest of the film in an unsettling way. One minute the events are silly, bold fantasy space adventure and the next all the light is being sucked from the universe and children are being enslaved and/or dying.
Don't even get me started on the gathering of the Gods sequence in the middle of the film that showcases beings from all religions and mythology, led by Zeus himself (Russell Crowe). The scene is beyond ridiculous (and quite intentionally uproarious) but yet again feels like it was a copy/paste from a different film. Not only that, but many other humorous situations in the film are just overcooked callbacks to terrific jokes from Thor: Ragnarok that are good for a chuckle the first time, but quickly wear thin when they return again. I adore everything Waititi has done, but I have to lay blame here as well: everything that works brilliantly in the film is all Waititi and so are all the glaring flaws.
Also confounding is yet again the lack of any reveals or forward motion to whatever the overall direction is to the post-Avengers: Endgame MCU. This particular ending nicely sets up another wacky direction for our lovable, blonde brute, but where is the world-building threat to pump us up for the future? Thor: Love and Thunder is still without question one of the Thor's best solo adventures with a sugar high of otherworldly insanity, but it certainly feels like a more focused direction from Waititi could've delivered a more coherent experience.
Score: 3 out of 5