Just three years after Gustav Möller's taut low-budget Danish thriller The Guilty, Antoine Fuqua helms this glossy American remake, leveraging his action sensibilities to squeeze a significant amount of tension from its narrowly focused premise. Taking place almost entirely within the confines of an LAPD emergency dispatch control center, the film stars Jake Gyllenhaal as Joe Baylor, a former street cop working his final shift as a 911 operator before a court appearance will decide his fate.
Details on the circumstances behind Joe's demotion are doled out sparingly over the course of the film, but it's clear from the start that he's ill-suited for this line of work. "You shouldn't do that," he responds to a caller who admits to using drugs, and when he expresses dismay that he might have overdosed, Joe's reply is even more callous. "It's your own fault, isn't it?" Elsewhere, he rudely interrogates a self-important business type who's just been robbed by a prostitute and hangs up on an injured cyclist after admonishing him "don't bike drunk, asshole," while fending off inquiries from a tenacious LA Times reporter seeking a comment before the next day's hearing.
Joe's demeanor changes when he receives a distraught call from Emily (voiced by Riley Keough), who pretends to be speaking to her daughter and promising to come home soon. Through coded messaging, Joe learns she's been kidnapped and is traveling east toward the city limits, but the call is disconnected before he can piece together anything further. He contacts the California Highway Patrol, but the raging wildfires just outside the city limits make air support out of the question, and the vehicle information Joe was able to obtain is too vague to be actionable by officers on the ground. As the night drags on, Joe attempts to use every resource at his disposal — legal or otherwise — to ensure Emily escapes her ordeal unharmed.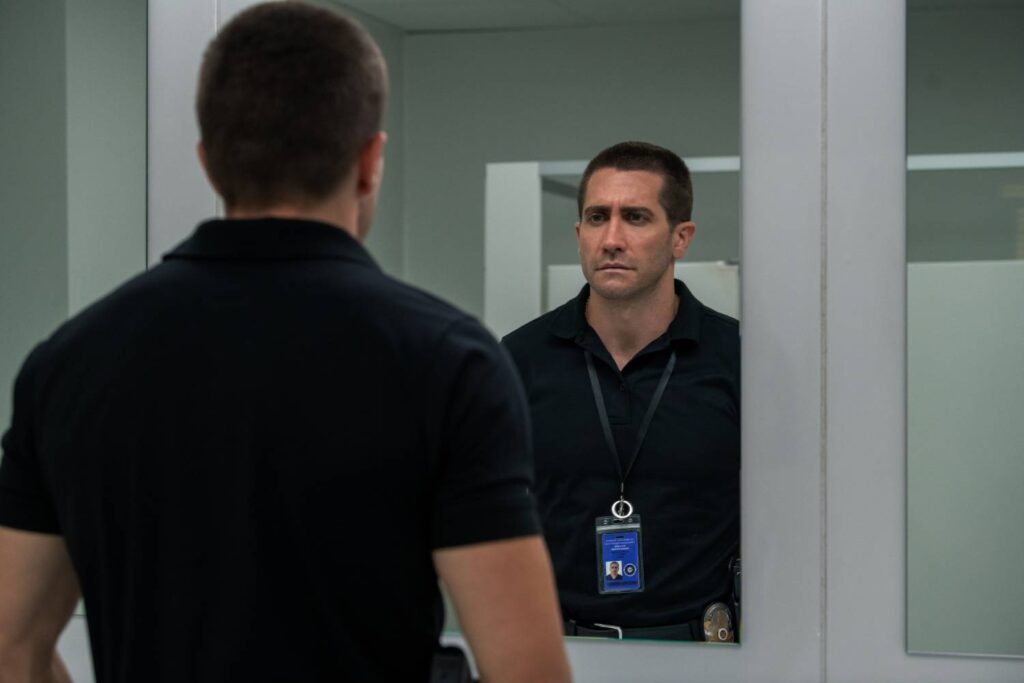 The juxtaposition of Joe trying to ascertain Emily's whereabouts while his personal life crumbles around him allows for a captivating, emotionally charged performance, and Gyllenhaal delivers the goods while Fuqua keeps the camera moving, creating a sense of kinetic energy even while Joe remains tethered to his desk. We feel Joe's panic as he grips his asthma inhaler and struggles to catch a breath, we understand his frustration when a lead becomes a dead-end and he angrily flings a lamp into the wall, and we sympathize with his pain when trying to comfort Emily's terrified 6-year-old daughter.
The Guilty isn't exactly a one-man show, but it might as well be. Aside from fleeting glimpses of other 911 operators, Gyllenhaal is the only actor we see, and the supporting cast — Peter Sarsgaard, Ethan Hawke, Eli Goree and Da'Vine Joy Randolph, just to name a few — provides voiceover work only. This puts Gyllenhaal squarely in the driver's seat of the entire experience, and his screen presence has arguably never been this commanding. The screenplay from True Detective creator Nic Pizzolatto offers little improvement over the 2018 original, but Fuqua's self-assured direction and Gyllenhaal's tightly wound performance are well worth the price of admission.
---
The 46th Toronto International Film Festival runs September 9–18, 2021. Find more of our TIFF 2021 coverage at this link.