After an all-digital rendition due to the COVID-19 pandemic last year, the Toronto International Film Festival returned for its 46th edition this month, offering a hybrid event with both in-person and digital screenings. We've already weighed in on several films from this year's selection, including festival opener Dear Evan Hansen, and we're checking in with brief thoughts on some of the other titles we've had the opportunity to check out.
Saloum
Directed by Jean Luc Herbulot
When a trio of infamous mercenaries extracts a cartel leader from Guinea-Bissau in the midst of a military coup — absconding with a hefty amount of stolen gold in the process — they're forced to make an emergency landing after discovering their plane was damaged during the escape. Chaka (Yann Gael), Rafa (Roger Sallah) and Minuit (Mentor Ba), collectively known as Bangui's Hyenas, plan to hunker down for a few days at a holiday camp in the coastal region of Sine-Saloum until things quiet down, but a host of mysterious characters — including the deaf-mute Awa (Evelyne Ily Juhen) and a local police captain (Ndiaga Mbow) — threaten to unravel their best-laid plans.
With elements of crime drama, revenge thriller and supernatural horror, Saloum thumbs its nose at genre conventions, instead embracing the sort of wild tonal shifts that upended audience expectations in films like From Dusk Til Dawn. Cinematographer Gregory Corandi's gorgeous compositions are the perfect complement to the charismatic performances of the principal cast, particularly Yann Gael's ringleader, and the white-knuckle third act offers up some effective scares and nightmarish imagery. Look for this Midnight Madness selection to amass a cult following in short order.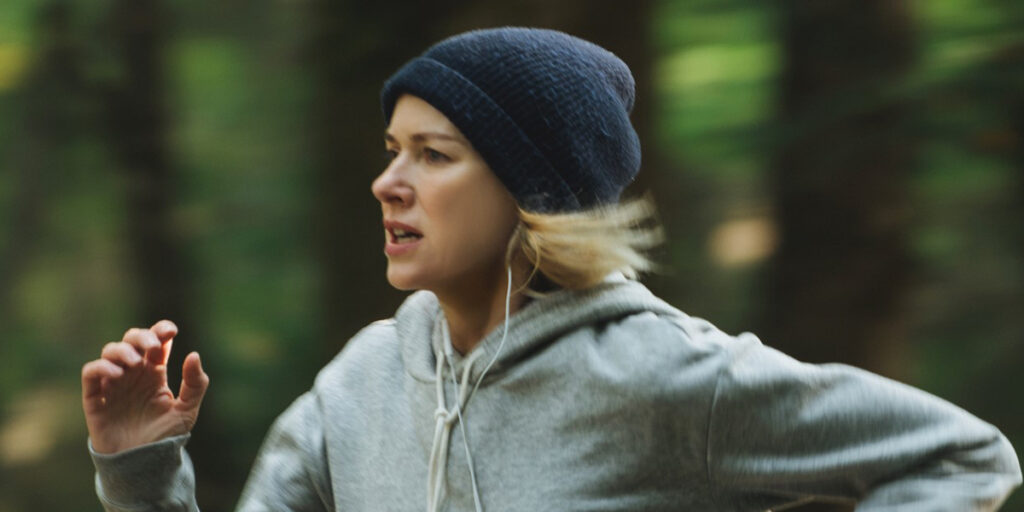 Lakewood
Directed by Phillip Noyce
Much like fellow TIFF 2021 selection The Guilty, this latest effort from Phillip Noyce is largely anchored by a single performer. In this case, it's Naomi Watts as suburban mom Amy, who learns a shooting has occurred at the high school attended by son Noah (Colton Gobbo). The news breaks while Amy is out for an early morning jog in a remote area, and when she's unable to reach Noah by phone, she fears the worst. In the first of many nonsensical decisions, a panicked Amy makes a beeline directly through the dense forest — rather than jogging back to her car — toward the local community center, where parents are gathering to await word from the police.
The bulk of Lakewood centers on Amy's perilous journey through the forest, and the frantic phone calls she makes along the way, attempting to glean the slightest bit of information from 911 dispatchers, fellow parents, and even a mechanic who works at the repair shop across from Noah's school. Watts is a capable performer, but her performance is continually undermined by the ludicrous contrivances of Chris Sparling's script, which range from the obvious (an ankle injury, guaranteed to slow her progress) to the patently absurd (helping an irritable police detective negotiate with the suspected shooter via a three-way call). The cringeworthy preachiness of the finale, where Lakewood reinforces its central thesis that school shootings are a bad thing and that we should probably take more action to stop them from happening, is like the rotten cherry atop a bland, flavorless sundae: unwanted and unnecessary.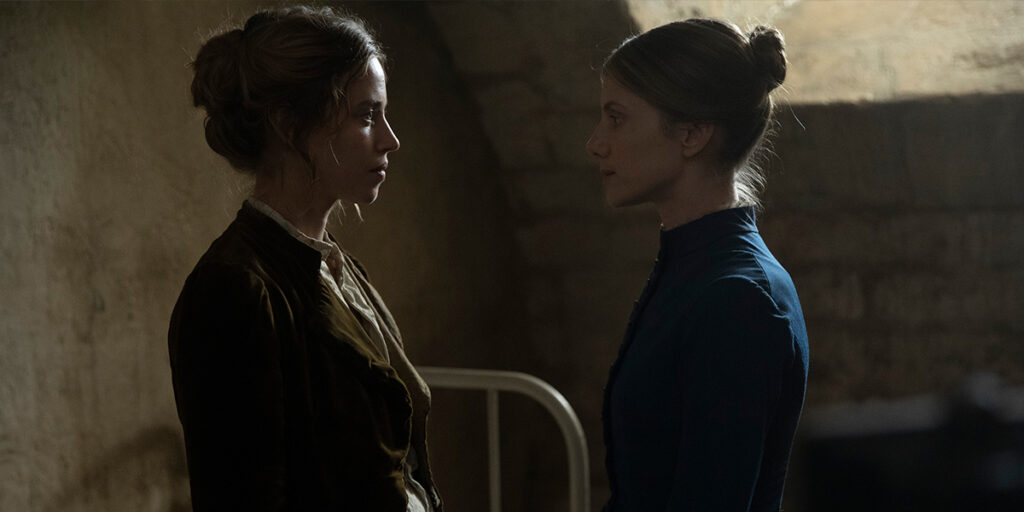 The Mad Women's Ball
Directed by Mélanie Laurent
Eugénie Cléry (Lou de Laâge) has seemingly made a lifetime of ruffling the feathers of her stern father, showing little interest in his repeated attempts to arrange a "suitable" marriage, but when she claims to be able to commune with the dead, it's the final straw for the old man. Eugénie finds herself committed to the infamous Pitié-Salpêtrière Hospital, where women from all walks of life are sent to be "cured" of illnesses ranging from schizophrenia to epilepsy to the all-encompassing "hysteria."
Directed by Mélanie Laurent and adapted from the Victoria Mas novel, The Mad Women's Ball paints a horrifying picture of early medicine's roots in misogyny, with an unflinching depiction of the barbaric "treatments" women were forced to endure — ice baths, sunlight deprivation, and hypnosis — to say nothing of exploitative demonstrations before a crowd of leering men, or the frequent incidents of sexual assault. The wrinkle here is that Eugénie suffers from no mental affliction — her spiritual encounters are real, each incident marked by panicked breaths and convulsions. The staff at Salpêtrière pays little attention to her claims, until she passes on a message to head nurse Geneviève (Laurent) from her dead sister, eventually winning her trust and enlisting her help to concoct a daring escape plan.
The second half of the film ratchets up the tension as Eugénie and Geneviève face obstacles in the form of the clinic's chief physician, Jean-Martin Charcot (Grégoire Bonnet), and a sadistic nurse (Emmanuelle Bercot) who derives pleasure from doling out torment and cruelty. Laurent is most adept during the quieter, more intimate moments of The Mad Women's Ball, and her direction feels less confident as the film flirts with thriller territory during the third act, although the climax — staged during the titular evening of revelry, where the patients dress themselves in lavish gowns while the rich visit the hospital to gawk at them like animals in a zoo — is well-staged and wonderfully nerve-wracking.
---
The 46th Toronto International Film Festival runs September 9–18, 2021. Find more of our TIFF 2021 coverage at this link.