Vampires and filmmaking have been intertwined since the earliest days of cinema, when F. W. Murnau's Nosferatu first terrified audiences in 1922, nearly a decade before Bela Lugosi's blood-sucking Count Dracula became synonymous with movie monsters. So established are the tenets of vampire mythology that fresh, original spins are something of a rarity, but director Blaine Thurier's Kicking Blood, premiering at the 2021 Toronto International Film Festival, approaches the material through a cynical, darkly humorous lens.
Anna (Alanna Bale) celebrates her birthday surrounded by her elderly coworkers from the local library, including the terminally ill Bernice (Rosemary Dunsmore), who baked a homemade carrot cake just for the occasion. When fellow employee Gerry (Shaun Austin-Olsen) is rude to Bernice, Anna decides to kill two birds with one stone by exacting a bit of revenge on behalf of her only friend, and treating herself to a birthday meal from Gerry's throat. It's here where Thurier's film presents its largest deviation from conventional stories of vampirism, positing a world where blood not only provides vampires with life-sustaining sustenance, but also unleashes a euphoric effect akin to heroin use.
As Anna later tells prospective victim Robbie (Luke Bilyk), "I'm going to suck your blood, and get high as fuck." But Robbie's battle with alcoholism and the trail of shattered relationships in his wake have robbed him of any desire to continue living. "Get on with it," he tells Anna, and his serene acceptance of death serves as a catalyst for Anna to reevaluate her own place in the universe. Declining to feed, she's fascinated as Robbie seizes the opportunity to quit the bottle completely, suffering through painful symptoms of withdrawal in a desperate attempt to start over. If this pitiful little human can exhibit such remarkable willpower, why should she be enslaved to her own addictions?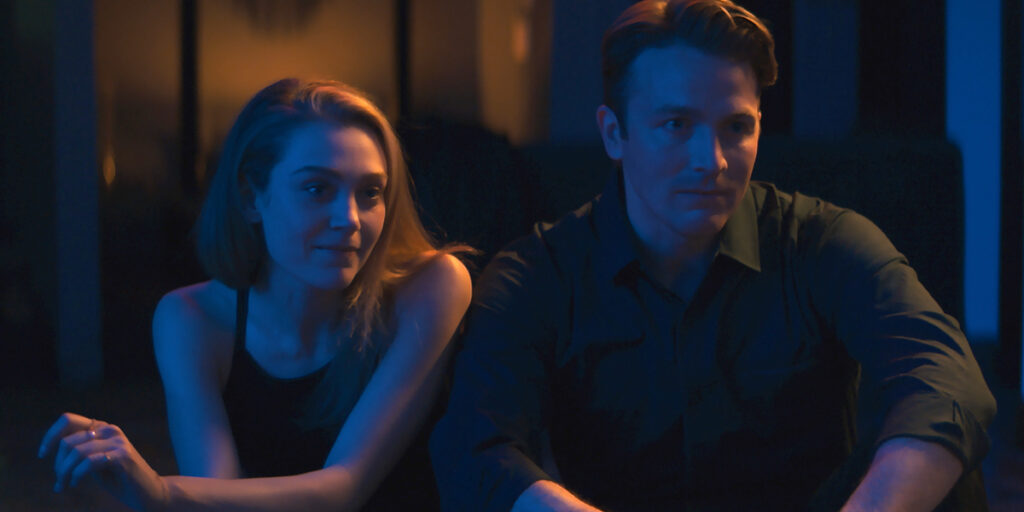 Kicking Blood charts Anna's quest to get clean and perhaps even become human again, although her chances of success are ambiguous, at best. Complications rear their heads in the form of her "hunting partners," Nina (Ella Jonas Farlinger) and Boris (Benjamin Sutherland), who revel in murdering humans and have no qualms about bankrolling their lifestyle by stealing from their victims, a practice Anna finds particularly detestable. They're aghast when they learn Anna has been helping Robbie through detox — "they're cattle, not pets," sneers Boris — but arguably more terrifying that these ruthless vamps is Robbie's ex (Vinessa Antoine), determined to lure him back to her arms, and to the bottle.
Bilyk gives a charming and affable performance as the good-natured addict caught in the throes of addiction, but it's Bale who truly shines in a performance dripping (no pun intended) with wry humor and a surprising amount of warmth for a centuries-old predator. Horror fans may find it lacking in the thrills and chills department — it's more of a character piece than a straight-up vampire flick, and there's curiously little bloodshed — but Thurier's imaginative spin on a tried and true formula makes Kicking Blood worthy of a second look.
---
The 46th Toronto International Film Festival runs September 9–18, 2021. Find more of our TIFF 2021 coverage at this link.