The 2021 Toronto International Film Festival is officially underway, kicking things off last night with the world premiere of Dear Evan Hansen, the feature film adaptation of the smash hit Broadway musical. With six Tony Awards and a Grammy already under its belt, expectations are lofty for this effort from The Perks of Being a Wallflower writer-director Stephen Chbosky, who taps original Broadway star Ben Platt to reprise his role as the titular teen. At 27, Platt is past the age where he can comfortably pass as a high school senior, a fact that became a hot discussion topic in the wake of the film's first trailer. But all movies require a suspension of disbelief, and Platt is so earnest, so full of raw emotion, that we eventually stop noticing (or perhaps stop caring about) the somewhat exaggerated affectations of his performance.
The film opens with Evan preparing for the first day of school, swallowing his various anxiety and depression medications and writing a therapist-assigned letter reassuring himself that today will be an amazing day. Chbosky sets the tone by excising the musical's original opening number and front-loading "Waving Through a Window," a stirring piece which conveys Evan's sense of loneliness and isolation even as he's surrounded by a throng of classmates. He wants so desperately to be seen, but his internalized terror at the notion of not being accepted renders him socially inert, unable to make friends or muster enough courage to talk to his longtime crush, Zoe (Kaitlyn Dever).
Sitting in the school computer lab and lamenting his perceived faults in another letter to himself, Evan has a chance encounter with troubled student Connor Murphy (fellow Broadway alum Colton Ryan), who confiscates the letter when he discovers it on the printer. When Connor takes his own life a few days later, his parents find the note in his pocket and assume he'd written it for Evan, and that the two of them had enjoyed a close friendship even as Connor struggled with his own internal demons. Nothing could be further from the truth, but Cynthia (Amy Adams) and Larry (Danny Pino) derive such comfort from believing their son wasn't alone that Evan can't bring himself to come clean about the letter's true origins.
On its own, this wouldn't have been terribly egregious, but in his eagerness to comfort the Murphy family Evan accepts an invitation to dinner, where he's asked to divulge more details about his friendship with Connor. Cynthia in particular is so desperate to latch onto anything positive, to remember her son as more than just the violent outcast others believed him to be, that Evan continues to play along. He's reluctantly thrust into the spotlight when his elaborate web of deceit catches the attention of Alana (Amandla Stenberg), a student activist organizing a memorial to raise mental health awareness; she asks Evan to make a speech at the event, and when video of his eulogy — portrayed in the musical's heart-wrenching centerpiece number "You Will Be Found" — becomes a viral sensation, suddenly Evan has the attention and adoration he always craved.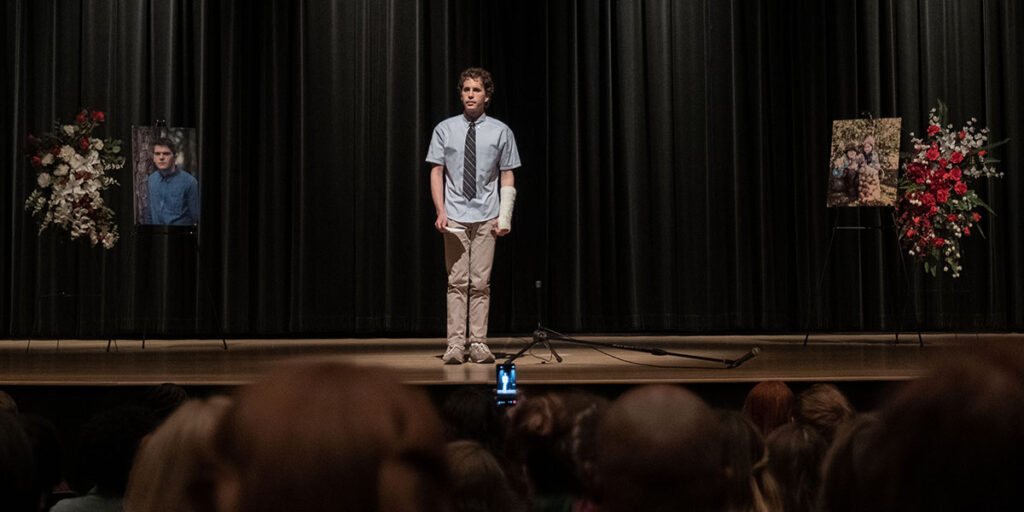 This turn of events might (understandably) be objectionable to some viewers, and admittedly was a source of controversy when the show premiered on Broadway. There's a very delicate balance to strike with this material, and Chbosky once again proves himself adept at depicting the emotional and moral complexities of adolescence, while also not flinching from the more distasteful customs adopted by the "always online" generation. In the wake of Connor's death, students who bullied him stop to pose for selfies in front of his locker; when the opening moments of Evan's speech seem destined to crescendo into a full-on breakdown, the immediate instinct of some classmates is to whip out their phones and start streaming.
Of course, the truth of must come out eventually, and while the Broadway version of Dear Evan Hansen was rightly criticized for allowing its protagonist to emerge largely unscathed from the deception, screenwriter Steven Levenson (adapting his own book) wisely opts for a different approach here. Some of those building blocks remain in place, like Evan's tearful confession to the Connor's parents in "Words Fail" and the subsequent heart-to-heart with his own overworked mother (Julianne Moore), whose performance of "So Big/So Small" is arguably the film's most sincere. But unlike the stage version, there's no burying of Evan's secret, no sweeping it under the rug, no carrying on with life as though nothing ever happened. Here, Evan is forced to reckon with his choices and their devastating fallout, although he does get an opportunity for a bit of redemption, as does Connor himself in "A Little Closer," one of two new songs written exclusively for the film by composers Benj Pasek and Justin Paul (La La Land, The Greatest Showman).
The other new addition, "The Anonymous Ones" — co-written by Stenberg, who performs it in the film — is a standout, serving as a reminder that mental illness isn't selective in who it afflicts. It also marks another notable alteration from the original stage production, morphing the character of Alana from a self-centered opportunist looking to capitalize on Connor's death to someone more genuine and empathetic; a scene where she and Evan compare prescriptions is especially compassionate. "There are a lot of people who feel like us," she tells him. "People you wouldn't think."
That's always been the central thesis of Dear Evan Hansen, although the film version goes out of its way to articulate it a bit more clearly. Certain elements, such as Platt's age or the problematic subject matter, will likely be a bridge too far for some audiences, but Chbosky is ultimately successful at honoring the original production, capturing its emotion and ensuring its message rings through.
---
The 46th Toronto International Film Festival runs September 9–18, 2021. Find more of our TIFF 2021 coverage at this link. For more on Dear Evan Hansen, click here for our interview with director Stephen Chbosky.