Screening at the 2021 Toronto International Film Festival as part of the Contemporary World Cinema lineup, Blaine Thurier's Kicking Blood puts a unique spin on vampire mythology, following a centuries-old bloodsucker named Anna who encounters Robbie, a down-on-his-luck alcoholic who would seemingly make for a perfect meal. But Robbie's desire to get clean piques her curiosity, and soon Anna finds herself contemplating trying to break free of her own addiction — provided it doesn't kill her in the process.
A few days prior to the film's premiere at TIFF, we were fortunate enough to speak with Blaine about his approach to the genre, shooting during the COVID-19 pandemic, and the themes he wanted to explore with his latest effort.
[Note: This conversation has been lightly edited for clarity]
---
Congrats on getting into TIFF! I'm sure it's exciting to be premiering in front of such a prestigious audience. Had you hoped to premiere there, or was it just sort of a happy coincidence that your film was selected?
Blaine Thurier: A little bit of both. Festival-wise, you have a strategy, and I think this film is sort of a TIFF film in a lot of ways, so we wanted it from the beginning. But at the same time, you take what comes to you. I don't feel anything but blessed and thankful, not just to have made a movie, but to be able to premiere it at TIFF.
Vampires and movies have sort of been intrinsically linked since the very beginning of cinema. People are so accustomed to the tenets of vampire mythology that it becomes more and more difficult to do something that feels like we haven't seen before. Can you talk a little about your approach?
Blaine Thurier: I've been experimenting with genre films for a little while. With A Gun to the Head I did the sort of crime movie, and Teen Lust was me trying to make a teen comedy. So I thought about vampires, and the world of vampires seems to have a lot to say about our humanity. [Vampires] are disconnected from humanity, they lose their souls, the live in darkness, they go through this eternal cycle of getting high and then being hungover from blood and having to die without it. There's a lot there about alienation and addiction, and just forgetting how to really live.
I really liked the notion that blood is not only a life-sustaining substance, but also has this euphoric, drug-like effect. Having that dichotomy of seeing Robbie going through the symptoms of withdrawal, and then later seeing Anna experience the same thing, made for an interesting juxtaposition, and it's something we haven't really seen in the past.
Blaine Thurier: We didn't want to constantly hammer home the addiction stuff, because addiction is just a symptom of something larger. People becomes addicted to things because it's a medication that makes them feel good, at least for a little while, so if you're going to show the destructive side of it you also need to show why people — or vampires — do it in the first place.
You shot the film during the pandemic, is that right?
Blaine Thurier: We did, we shot during the heart of lockdown.
So the empty streets and this feeling of isolation was organic: it happened because of everything that was going on in the world at the time. But I think it also helps to create a spookier atmosphere.
Blaine Thurier: Thanks! My philosophy with filmmaking is to embrace what you have, and find the magic in whatever you have access to. I had pictured this as something with full bars and busy streets, and we just weren't going to get that during lockdown. But if you look at what's there in Sudbury [Ontario, where the film was shot], there's a lot of boarded-up buildings and smoky factories and chain-link fences, and there was nobody on the street, so it just made sense to see that as an opportunity. It was alienation and disconnection, all right in front of us.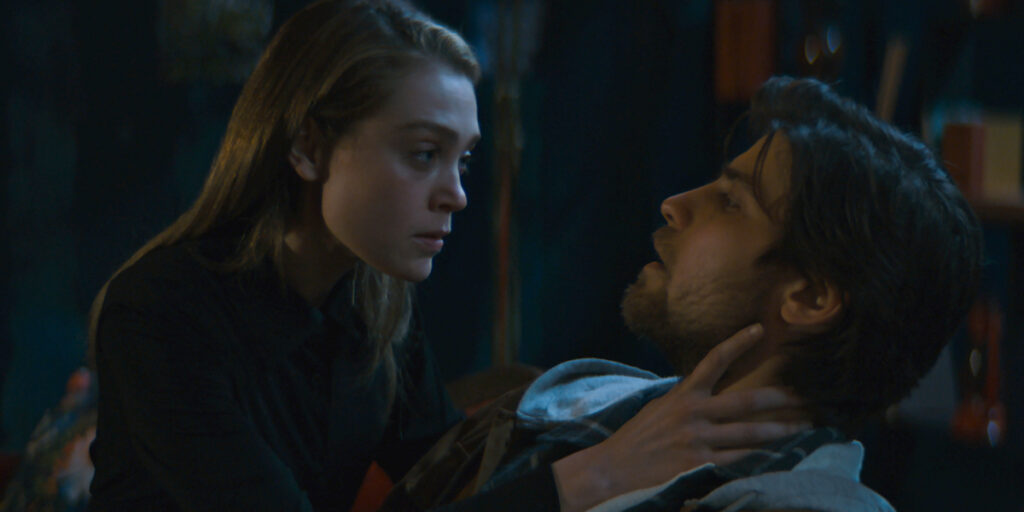 I want to talk about the character of Robbie for just a moment. I think there are so many films where someone suffering from addiction is portrayed as pathetic, but Robbie never comes across that way. He seems like a nice guy that just got caught in a cycle he couldn't escape from, but there's still so much life left in him.
Blaine Thurier: I live in downtown Vancouver, which is known for a large homeless population, many of whom have addiction problems. They all have stories, and many of them are smart and funny, and like you said, they just got caught in this cycle. So I wanted to explore this from a perspective of compassion, which I feel is really lacking for people who are lost in addiction. We tend to judge them or put them in jail rather than help them, but people like Robbie are out there.
Also Luke, who plays Robbie, is just a naturally charming guy — if you knew him as a drunk, you'd absolutely let him sleep on your couch.
The finished film has a pretty lean running time, but were there other versions where you fleshed out some of the relationships in more detail? For example, it's clear Anna and the other vampires have been together for some time, and there are some allusions to their history together, but were there other versions of the script where you explored that?
Blaine Thurier: There were a few flashback sequences for awhile. They were hard to lose, but I didn't feel like they were [the right fit for] this movie. There were long pages of exposition, where they talked about their past, long speeches about their philosophy of what the hierarchy is. At one point they talked about how they all became vampires and what their human history was before that, but we distilled all of that down.
As I mentioned earlier, most people are familiar with the basics of vampirism, and some of those elements on display here, like the notion that vampires have to be invited into your home. But there are also some notable omissions: none of the vampires are ever shown to have fangs, and there's seemingly no connection with religion. How did you make decisions on which of these elements to include or leave out?
Blaine Thurier: In earlier drafts, we went through just about every piece of vampire mythology. We didn't touch garlic, but there was a scene with a mirror, there was a coffin for awhile, and even a bat once. We kind of explored everything and tried to distill it down to what we felt was the most compelling, and what seemed to say the most about who we are.
We felt that it was feeding on a drug — destroying other people and yourself in the process — and avoiding sunlight felt like trying to avoid real life. Those were the kinds of things that interested us, and the idea of mortality; instead of living this eternal cycle, choosing to try and become human, but also choosing mortality.
And you know, I figured if vampires can sparkle in the sunlight in Twilight, it's a pretty flexible mythology.
---
The 46th Toronto International Film Festival runs September 9–18, 2021. Find more of our TIFF 2021 coverage at this link, and read our review of Kicking Blood here.