Thanks to the new EPIX series Pennyworth, fans of Batman prequels don't have to wait long to get another "not quite the Dark Knight" fix after the series finale of Gotham earlier this year. The new series goes way back in time to tell the story of a young, fresh from the war Alfred Pennyworth (aka Batman's butler) as he tries to make a name for himself by starting a security company in 1960s London, but unexpectedly gets swept into a vast conspiracy following a chance encounter with young American billionaire Thomas Wayne.
EPIX provided us with the first five installments of the ten-episode series based on the DC characters, and Jack Bannon channels a young Michael Caine as Alfred, anchoring the show with a smooth, likable and complex protagonist. The actual Batman connections in Pennyworth almost seem unnecessary, since the show has enough charm and period piece swagger to stand on its own as a dashing old school adventure.
Gotham executive producer and writer Bruno Heller, and executive producer and director Danny Cannon feel much more confident in the early episodes of Pennyworth than they did in the early days of their aforementioned series. Perhaps Gotham's issues were due to airing on a non-cable network or Warner's overprotective nature with the Batman property, but Pennyworth seems to be able to breathe on the cable channel, which benefits a show more about nuance than capes and masks.
Visually, the show is quite stunning from the London streets, complete with moody skies and zeppelins, to the sweeping shots of the English countryside that provide a gorgeous cinematic scope to the unfolding story. Even the costume and set designs add the feeling that you're watching a character driven one-shot issue of a great graphic novel or comic book.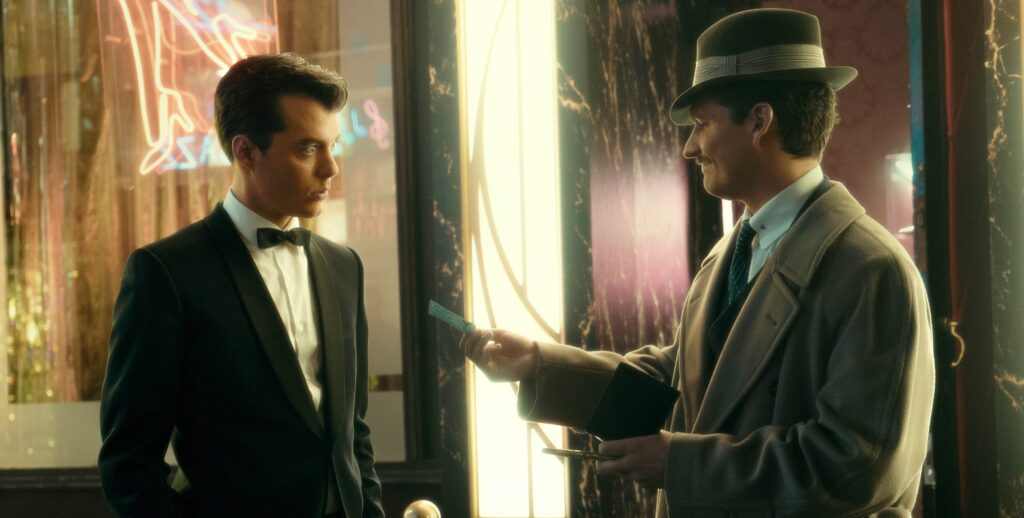 Ben Aldridge dons the mustache of billionaire Bat-daddy Thomas Wayne with an opposite personality to complement Alfred's secret agent-like panache. Wayne is a bit more eccentric and slightly more bumbling at this stage in his life which Aldridge plays up for a satisfying dynamic between the two leading men. The character of Thomas Wayne (and the show in general) have a lot in common with the under-appreciated Agent Carter and its own famous billionaire father.
Together the duo (and a few of Alfred's SAS soldier buddies) take on the Raven Society, a shadowy elite group with great influence, not unlike Batman's own Court of Owls — whether or not the similarity is intentional remains to be seen. The Raven Society is led by the calculating and extravagant Lord Harwood (Jason Flemying) who makes the mistake of kidnapping Alfred's love interest Esme (Emma Corrin), causing a domino effect that puts Alfred and Thomas on a collision course toward the society. This secret cabal is a lot of fun as the overarching villains of the series, with the introduction of each new member bringing a weird, James Bond-like rogues gallery vibe, especially the bonkers Bet Sykes (Faith Paloma).
Despite the many things that work for Pennyworth, the show still might struggle to find an audience. The core fanbase might feel there's not enough Batman elements in their Batman-spinoff and it just might not be a splashy enough world for audiences not looking for a BBC-style series, and that's okay. This series is doing its own distinctive thing and is refreshingly restrained with its attempts to tie into any type of DC Comics lore.
Pennyworth is cool, stylish and has charm to spare as Batman's adoptive father figure gets a 007 meets Lock, Stock and Two Smoking Barrels origin story that is bristling with personality. While the series would have been perfectly fine without the Batman connection, it will certainly bring more eyes to this deserving, fun little throwback show.
Score: 3.5 out of 5
Pennyworth premieres July 28 on EPIX.