It is time to boldly go where no one has gone before for a second time around in Star Trek: Strange New Worlds Season 2 on Paramount+. The series that serves as a prequel to the Captain Kirk era of the original television series is even better in Season 2 and continues to evolve as the true heir of what a Trek show should be in modern times.
Paramount+ provided us with the diverse and universally unique first six episodes of Season 2. Each one has a distinct thematic aspect to tackle, providing rich, stand-alone sci-fi stories that hearken back to the hallmark of Star Trek: The Original Series. This season also begins each episode with rotating voiceovers from the supporting Enterprise crew, framing each story with insightful character development for the burgeoning characters.
On top of spending more time with the beloved crew, this season introduces us to another soon-to-be fan favorite with the mysterious engineer, Pelia, played by Academy Award Nominee Carol Kane (The Princess Bride). Kane is a delight as her character periodically pops up throughout the episodes and, as more is revealed, Pelia is used in more elaborate and clever ways – yet always leaves you wanting more.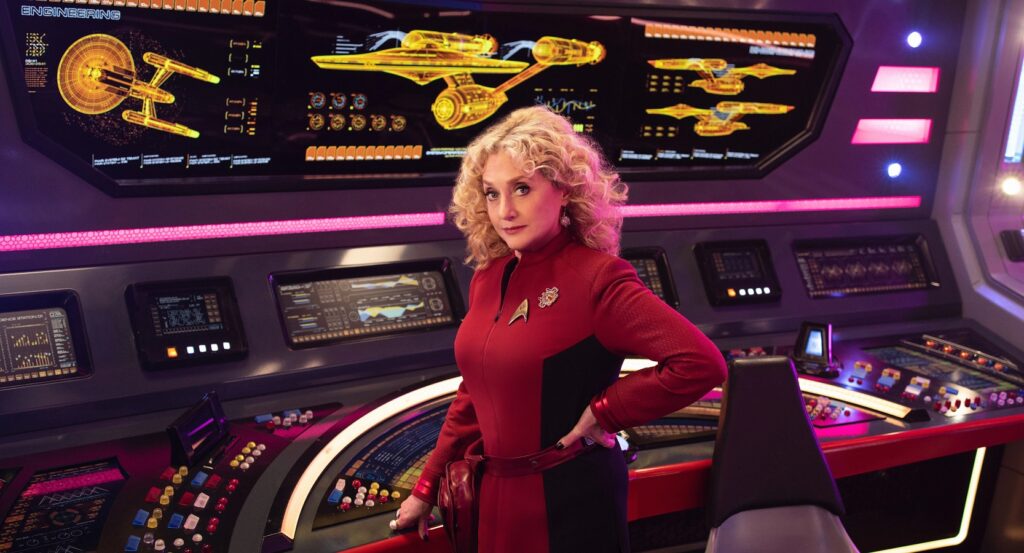 There are some serialization elements at work in these episodes, the show doesn't just leave audiences hanging following the Season 1 cliffhanger with the arrest of Commander Una (Rebecca Romijn). Although the Strange New Worlds Season 2 premiere, titled The Broken Circle, puts a pin in that story as Spock (Ethan Peck) takes command of the Enterprise to defy Starfleet by investigating a mystery involving rising tension with The Klingons.
Finally, the aforementioned cliffhanger gets addressed in Episode 2, Ad Astra per Aspera, an emotional courtroom drama that adds new layers to Commander Una. If you haven't already, this one will make you fall in love with this crew and their bond with each other. No phasers, no space battles, just a moving story of discrimination and the fight for basic rights for everyone – something in which we all can relate.
From there, the episodes branch off into alternate timelines, memory loss on a medieval planet, Spock's human side further explored and the unexpected return of James Tiberius Kirk played by Paul Wesley. Wesley continues to put his own spin on Kirk, while keeping the spirit of the character intact in similar fashion to what Peck is doing with Spock. Kirk is used in some surprising situations and sees some memorable "first moments" for the legendary character in these episodes.

Aside from the fantastic visuals and cinematography, the one through line that makes everything work is Anson Mount as Captain Pike. Mount is effortlessly charming and yet vulnerable in the role and his performance continues to make me want to follow Pike into any dangerous situation or hopeless battle. Mount is that good and his Pike has the swagger and confidence that hasn't been represented in a Starfleet Captain since a young William Shatner created an icon in Captain Kirk during the original series.
One of Strange New World's only faults is the constant return to the ticking clock on Pike's tenure as Captain. As audience members, we know inevitably Kirk will take over the Enterprise, but having that dark cloud looming over Pike's head is a considerable downer. Perhaps the bittersweet melancholy of knowing our time with Pike is limited only endears us to the character even more, but it doesn't make it any easier knowing this character has a short-dated expiration – but hopefully not for many more seasons.
Score: 4 out of 5
Star Trek: Strange New Worlds Season 2 begins streaming on Thursdays, beginning June 15, exclusively on Paramount+.