Catching Dust
Directed by Stuart Gatt
Stuart Gatt's feature debut is a tragic and powerful missive on the struggle between familiar dangers and unknown risks. The narrative revolves around Geena (Erin Moriarty), living in isolation in the Texas desert with her violent husband, Clyde (Jai Courtney), who may be hiding out from law enforcement or former criminal associates — or both. Cut off from the outside world, Geena plots her escape, but her plans are thwarted when a vacationing couple, Amaya (Dina Shihabi) and Andy (Ryan Corr), set up shop in their own trailer next door.
The arrival of Amaya and Andy introduces a palpable sense of tension, between Clyde's gruff and overbearing attitude toward the outsiders, and Andy's obvious attraction to Geena, all while she ponders whether or not her newfound friends may hold the key to her freedom. Best know for her work on The Boys, Moriarty showcases impressive range in her performance, and she's well-matched by Courtney, communicating more through actions that dialogue, but always exuding a sense of danger and menace. Shihabi and Corr are fine, but Gatt's screenplay offers little in the way of character development, leaving Andy and Amaya to exist primarily as a means to drive the plot ever onward.
Gatt uses the desolate setting to great effect, evoking a sense of claustrophobia borne from severe isolation. It heightens the interactions, putting both characters and viewers on edge as emotions run wild and the film careens toward its disastrous conclusion.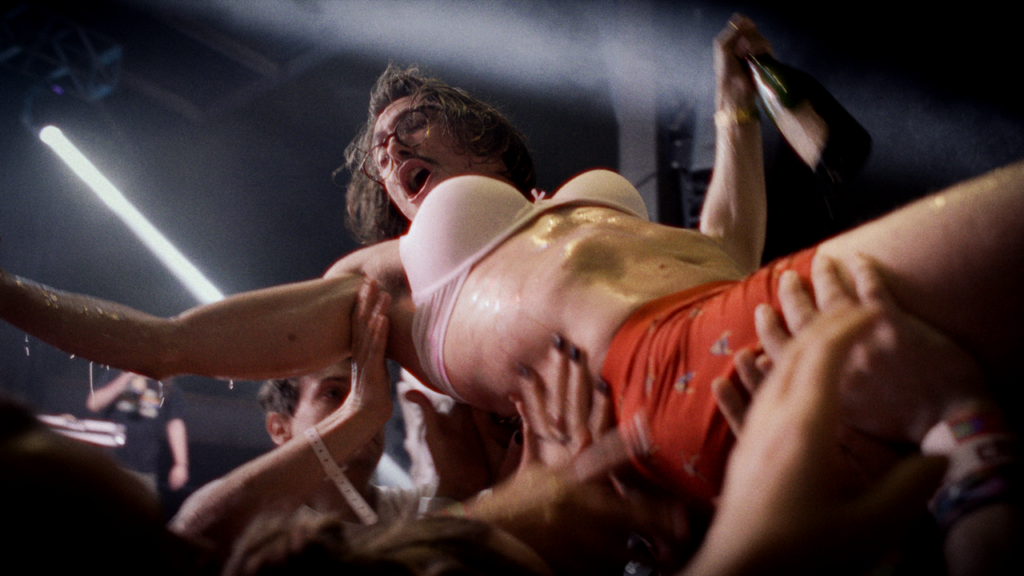 Songs About Fucking
Directed by James Gallagher
An often exhilarating and always compelling documentary from James Gallagher, Songs About Fucking centers on social media star Marc Rebillet, who parlayed a 2007 viral video into a massive online following. A comedian, musician, and improv artist — and possibly an exhibitionist — Rebillet embarks on a sold-out tour following the first year of the COVID-19 pandemic, and Gallagher's camera is there to capture the mayhem in all its glory.
At a scant 90 minutes, Songs About Fucking almost feels as frenetic as its subject's public persona, but on the rare occasion the film slows down, Rebillet proves himself to be surprisingly introspective for a guy who writes songs with titles like "Work that Ass for Daddy." Fame is a weird thing, and Rebillet often seems to be grappling with his place in the universe, but that doesn't get in the way of dialing up the manic energy for the benefit of the capacity crowds that pack each venue along the tour route. His energy is infectious, and even viewers unfamiliar with Rebillet's work — I had never heard of him before watching the film — are likely to find something to enjoy here, provided they can find an appreciation for his vulgar sense of humor.
---
Find more of our Tribeca 2023 coverage at this link.