Executive produced by NBA superstar Kevin Durant, Apple TV+'s sports drama series Swagger gives the Friday Night Lights treatment to the world of youth basketball. Durant's own real-life experiences inspire the series of growing up in the modern world of NBA basketball, where kids are being groomed and recruited before they even become teens. The series from creator and showrunner Reggie Rock Bythewood shines due to terrific cast performances despite following many familiar genre tropes.
Isaiah Hill stars as Jace Carson, a potential generational talent coming into his own as one of the top recruits in the country despite only just turning eleven years old. O'Shea Jackson Jr. stars as Ike Edwards, a former star player that came just short of his NBA dreams and is now coaching youth basketball. When Jace's mom Jenna (Shinelle Azoroh) tracks down Ike at his hardware store day job to seek him as her son's new coach, Jace and Ike immediately butt heads, yet their relationship just might be what the young talent needs to make it to the next level.
Swagger doesn't reinvent the wheel of the emotional sports drama, but it certainly knows how to fine tune the formula in a very satisfying way. The broad strokes of the series are fairly predictable, but how the ten-episode first season gets there isn't always as easy to see coming. The authenticity brought by Durant is clearly a fascinating angle, displaying how social media affects the minds and careers of these youths that have the weight of the world on their shoulders and the on-screen visuals to represent the technology are deftly handled.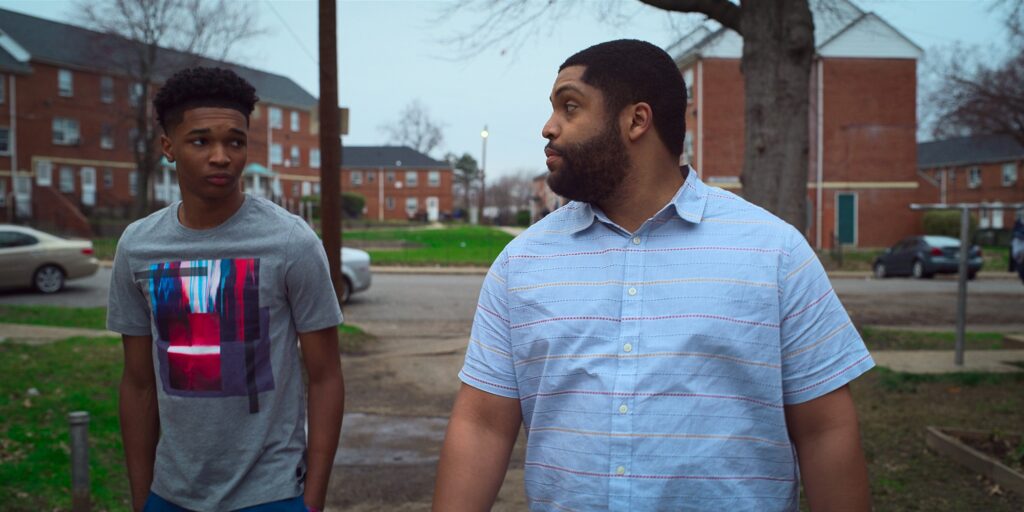 The true selling point that elevates Swagger above just a good sports drama is the excellent cast of somewhat familiar faces alongside completely new ones. Jackson Jr. keeps getting better in everything he does and Swagger is probably my favorite work he's done to date. His dynamic with Hill feels real and satisfying and extremely frustrating, as is normally the case with these children that have eyes of the entire world bearing down on them. Azoroh is also extremely strong in a performance that, if handled differently, could have easily fallen into some over-bearing mother cliches, but plays the line between loving and pushing.
As the series moves forward, the story expands to include many other characters, but these three are the main heart of the show. The series also doesn't shy away from social and class issues and even Covid-19, but never gets sidetracked or heavy-handed with anything, keeping a focus on Jace's ambitions. Sports drama fans will find Swagger familiar, yet also heartfelt and intriguing as it shines its light on the modern unseen struggles of coming up in youth basketball, ever seeking an edge on the treacherous path to the NBA.
Score: 3.5 out of 5
Swagger is currently airing weekly on Apple TV+