Feeling sad the first season of the weird, wacky world of Doom Patrol has wrapped up on the DC Universe streaming service? Not to worry, Swamp Thing is next up for their original content and is bringing service subscribers its horror take on the superhero genre from executive producer James Wan (Aquaman, The Conjuring).
Warner Bros. TV gave us a look at the pilot episode and the series brings a pretty faithful, if not a bit slow, origin story for the fan favorite "Protector of the Green." CDC investigator Abby Arcane (Crystal Reed) returns to her hometown of Marais, Louisiana when a mysterious illness begins to plague its swamp-reliant citizens.
Enter biologist Alec Holland (Andy Bean) who crosses paths with Abby as she investigates, and believes the illness may be part of the scientific work he is doing locally for wealthy business leader Avery Sutherland (Will Patton). As their investigation gets darker and more dangerous, a terrible incident brings forth a powerful supernatural creature that may be the key to both the illness and the mysteries of the swamp itself.
The Swamp Thing pilot is without question a true horror story with far more in common with Carpenter's The Thing than any of the other DC live action offerings. Directed by Len Wiseman (Underworld), the episode maintains the highly cinematic visuals and production values that have become a benchmark of the DC Universe streaming service's original series.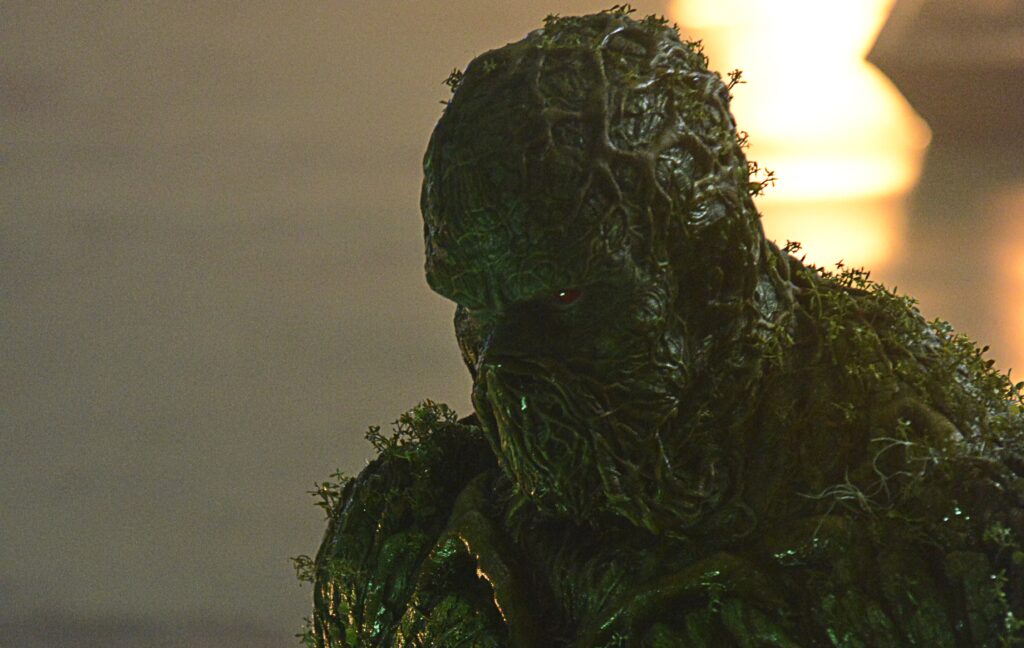 As mentioned earlier, aside from a creepy and well executed opening, the first episode tends to move rather slow while introducing the setting and main cast of characters. Both Andy Dean and Crystal Reed have enough charisma to sell their characters, but there isn't much to suck in casual viewers in the first half of the episode.
The show's supporting cast is fairly deep, but understandably only Alec and Abby get any real character focus in the episode. Virginia Madsen turns in a brief but powerful performance as Avery Sunderland's traumatized wife Maria, with a serious grudge to hold against Abby, and Will Patton has his wonderful sleazy, southern smarm in high gear as Avery himself.
The good news is that it will be fairly easy to forgive the slow start if the rest of the series matches the intense horror sequences that Swamp Thing provides in this first outing. The effects of the illness paired with the living swamp elements creates paranoid, spine-chilling set pieces that are every bit as suspenseful as they are gross.
The design of the physical embodiment of Swamp Thing (Derek Mears) looks terrific, utilizing mostly practical effects (i.e. man in suit) augmented with sparing CG in a very faithful rendition of the comic book source material. Disappointingly, Big Green has very little screen time in this first episode, so fans should expect only a tease before having to wait another week for episode two.
With that in mind, we were also given access to the full second episode of Swamp Thing but Warner Bros. TV has asked that we only briefly discuss the follow-up and focus more on the pilot in our review. We can confirm ol' Swampy is slightly more front and center in the next episode, which has some fun world-building with introductions to a few other notable characters from the mystical side of the DC Universe, although the sluggish pace does continue.
Not for the faint of heart, Swamp Thing has teeth when it occasionally decides to unleash its violent, supernatural horror in this mature audiences only adaptation. It's not your typical superhero show and takes a while to get to the good stuff, but if suspense and gross out creature horror are up your alley, Swamp Thing could be contagious.
Score: 3 out 5
Swamp Thing debuts exclusively on the DC Universe streaming service May 31.