Jason Sudeikis is back on the pitch for Season 2 of the award-winning, feel-good soccer comedy Ted Lasso. Season 1 of the acclaimed Apple TV+ series won hearts and came at a time when people needed optimism the most, and Season 2 sticks to that same formula while upping some of the complex dramatic elements.
After AFC Richmond's painful relegation loss at the hands of ex-teammate Jamie Tartt's (Phil Dunster) team, Ted Lasso finds his team stuck in a rut of ties as they attempt to win their way back to the big time. Aside from an uncharacteristically dark cold opening for the first episode, for many of the team members including the lovable Danny Rojas (Cristo Fernández) football is still life and things are business as usual, but others find themselves starting new chapters on and off the pitch.
Nowhere is that more clear than with fan favorite curmudgeon Roy Kent (Brett Goldstein) as his injury from last season sees a retired Kent focusing his time and energy crowding poor, adorable Keeley (Juno Temple). Kent consistently gets the best scenes and focus episodes with his arc being the most satisfying of all this season, thanks in part to Goldstein's continued brilliance in the role.
Now that team owner Rebecca's (Hannah Waddingham) big scheme to tank the club last season is out in the open and Ted has forgiven her, she is now supporting the team with all her heart while also finally opening it back up to romance. Waddingham gets to have much more fun this season and really flexes her comedic side after shouldering a lot of the dramatic beats last season. Rebecca's continued friendship with Keeley is also so very endearing because of the chemistry of Waddingham and Temple. Rebecca's use of Keeley's new dating app Bantr, also takes some very unexpected turns in the back half of the season.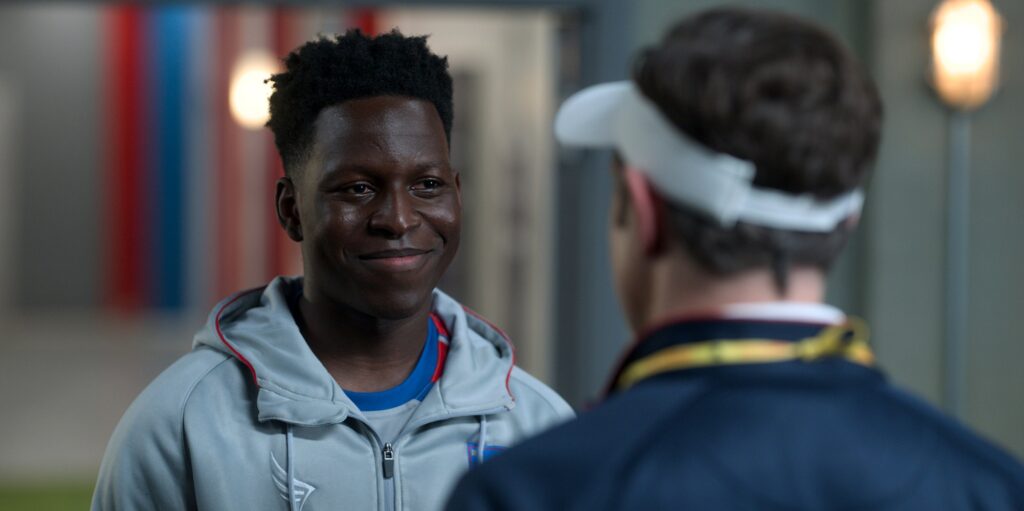 But what about Ted Lasso himself? Sudeikis is still superb, dropping non-stop hilarious pop culture soliloquies and continues to be an inspirational figure for being a good person and looking at the bright side of life. Unfortunately, Ted is also human and has his own frailties to deal with this season. When Ted runs out of options including the hilarious 'Led Tasso', the club brings in therapist Sharon (Sarah Niles) to help with the team's "yips" and Ted develops a connection with her when lingering anxiety issues from last season manifest. It's tough to watch Ted in pain, but Sudeikis will no doubt earn more Emmy nominations next year for his complex portrayal of the comedic and dramatic balance the character possesses.
The rest of the cast all get their moments throughout, including Jamie Tartt's expected redemption arc that thankfully moves swiftly to get Dunster's cocky, aloof character back involved in the show. Surprisingly, Nigerian player Sam (Toheeb Jimoh) gets the biggest screen time upgrade that bleeds over into almost every other storyline. If you didn't already love Sam, he easily gets the most consistently uplifting moments in Season 2 and Jimoh's sweetness and optimism is the only one that rivals Ted's.
Nate the Great (Nick Mohammed) and Higgins (Jeremy Swift) get wonderful focus episodes dealing with their respective families, and the Higgins-centric one is even the first-ever Ted Lasso Christmas-themed installment that's an instant holiday classic. Other than therapist Sharon, the only noticeable newcomer to the cast is Swedish player Jan Mass (David Elsendoorn) who occasionally gets to be the butt of a few punchlines, but doesn't get much other attention this time out. Coach Beard (Brendan Hunt) also continues to be the perfect, deadpan delivery companion to Ted's exuberance with Hunt's dry wit stealing scene after scene.
Everything you loved about Season 1 of Ted Lasso is back on display here and hitting all the same touching, optimistic notes in Season 2. Sudeikis and the entire supporting cast continue to excel and grow with these roles in a more complicated, but just as uplifting and a feel good season as one could hope.
Score: 4.5 out of 5
Ted Lasso Season Two premieres Friday, July 23 on Apple TV+.