Springtime has arrived in Greendale after a tumultuous holiday season and the Spellman family — not to mention the rest of the macabre town's inhabitants — are trying to get back to anything close to normal in Chilling Adventures of Sabrina Part 2 on Netflix. Obviously normal is not in the cards for this lot as Sabrina's world is about to get even darker and more complicated than ever.
Netflix provided us with all nine episodes of Part 2 and despite a meandering start,Chilling Adventures of Sabrina goes out with a magical bang! The season is split into two major arcs with the first five episodes building frustratingly slow to a thankfully great twist of a climax. The last four episodes then explode the narrative with full-on Satanic magic mayhem as Sabrina begins to understand her place in Satan's grand scheme for the Church of the Night and beyond.
As Sabrina, Kiernan Shipka wills herself through some early character troubles with the story pursuing Sabrina's dark side. She continues to make bad decisions involving her friends and family, and these are repeatedly grating on the viewer, but no fault to the talented actress herself. Thankfully after the first arc ends, Sabrina is still dealing with the darkness, but is given some shocking and also surprisingly fun scenarios to play around in, letting Shipka really shine and Sabrina stretch as a character.
The supporting cast is still the strongest element of the show and with introductions out of the way, Part 2 allows most of these characters to evolve and contribute to the overall story in exciting ways. Chilling Adventures of Sabrina doesn't flinch at addressing complicated gender identity issues with characters like Susie (Lachlan Watson) and Part 2 dives even deeper from both the character's viewpoint and from the surrounding friends and family, calling into discussion many preconceived notions and societal expectations about these individuals.
Sabrina's Aunts Zelda (Mirando Otto) and Hilda (Lucy Davis) also get some meaty material to work with as their stories somewhat diverge from each other for much of the season, allowing them to stand apart as characters. The adorable Davis only gets better and better as maternal Hilda and has her share of heroic moments in Part 2, while Otto also gets to play around outside of Zelda's fantastically dry deadpan delivery into some new areas as her relationship with Lord Blackthorne (Richard Coyle) becomes more serious.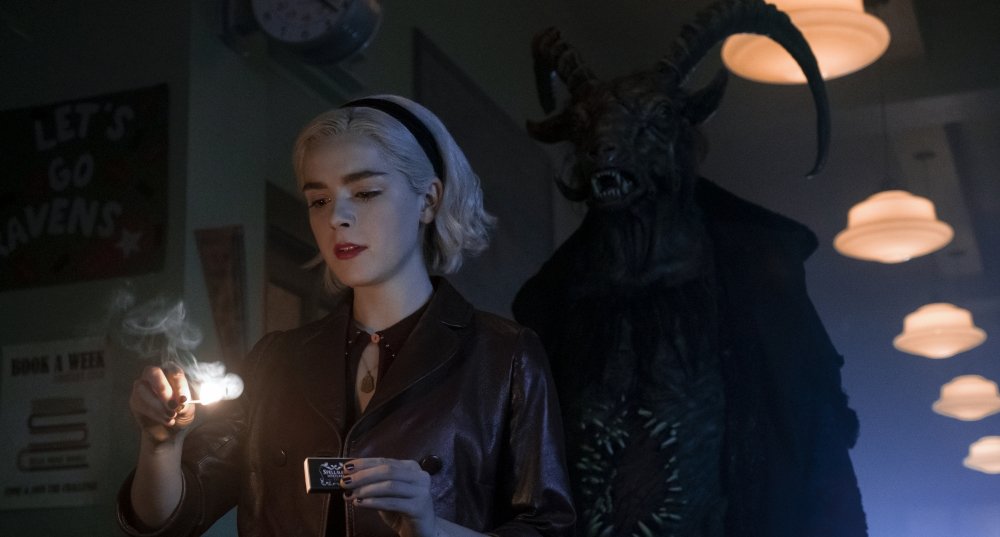 Speaking of Coyle, aside from his magnificent portrayal of the gloriously slimy Blackthorne that hits new levels of great in Part 2, other series MVPs Michelle Gomez (as Principal Mary Wardwell) and Chance Perdomo (as Ambrose Spellman) elevate their thinly written characters to scene stealing heights. Part 2 also gives Gomez the opportunity to play opposite beloved Joss Whedon character actor Alexis Denisof as Wardwell's long term boyfriend.
Sabrina's mortal life gets the most short-changed in this last half of the season, with Harvey (Ross Lynch) and Rosalind (Jaz Sinclair) suffering the most. Harvey is still very much in the love triangle along with Sabrina and Nicholas Scratch (Gavin Leatherwood), but he's also inserted into a romantic relationship with Rosalind, making it confusing for audiences to choose sides. In the last stretch of episodes the show does find a nice sweet spot for the duo as a mortal B-Team combating evil forces using Rosalind's "cunning" powers and Harvey's braun, but they feel like a little extra weight at that point of the story.
This uniquely dark and adult series continues to surpass the high school soap opera trappings to make Chilling Adventures of Sabrina something more sophisticated and sinister. The world Roberto Aguirre-Sacasa (Riverdale) and Co. have created for the show continues to be gorgeously realized and populated with a terrific supporting cast that keeps the show afloat even in the slower moments, while bringing things to a menacingly delicious close in these final episodes of the first season.
Score: 4 out of 5