On April 25, 2000, 29-year-old Hollywood star David Arquette won the WCW World Heavyweight Championship, widely considered to be one of professional wrestling's most prestigious titles. The stunt — conceived as a tie-in to the action comedy Ready to Rumble, which featured several WCW performers — generated plenty of mainstream headlines, but was roundly criticized by industry veterans and earned Arquette the ire of a particularly vocal fanbase who believed he'd "disrespected" the wrestling world and tarnished the legacy of the belt.
Nearly 20 years later, Arquette is still troubled by the ongoing disgust levied at him by the wrestling world, and new documentary You Cannot Kill David Arquette — screening as part of the 2020 Fantasia International Film Festival lineup — follows the actor as he sets out on a journey to redeem himself. "The plan would be to clear my name, and through the process, honor wrestling," he tells Eric Bischoff, the former WCW president and onscreen personality whom Arquette pinned for the championship. "I don't want to be a smear on its history."
But the road to redemption is fraught with peril, as Arquette battles heart problems, anxiety and alcoholism en route to his in-ring return. Showing up unannounced at a Legends of Wrestling event in Chicago, the actor nearly comes to blows with the promoter before being tossed out of a bar. "There's a lot of history attached to this whole thing," Arquette tells the camera as he stands outside, puffing a cigarette in defeat.
His next stop is an appearance for "one of the hottest promotions on the east coast," which turns out to be backyard wrestling company, where bloody, ultra-violent bouts take place in a makeshift ring supported by stacks of tires and 2x4s. Eager to be accepted, Arquette opts to square off with the local talent, who take some pretty major liberties by smashing him over the head with fluorescent light tubes and slamming him onto a pile of thumbtacks. Speaking to the camera afterward, the talent laughs it off as a microcosm of the wrestling world: Arquette was suckered in by "a shitty promoter" who "made him all the promises in the world," took advantage of him and then didn't pay him. "If that's not wrestling, I don't know what is."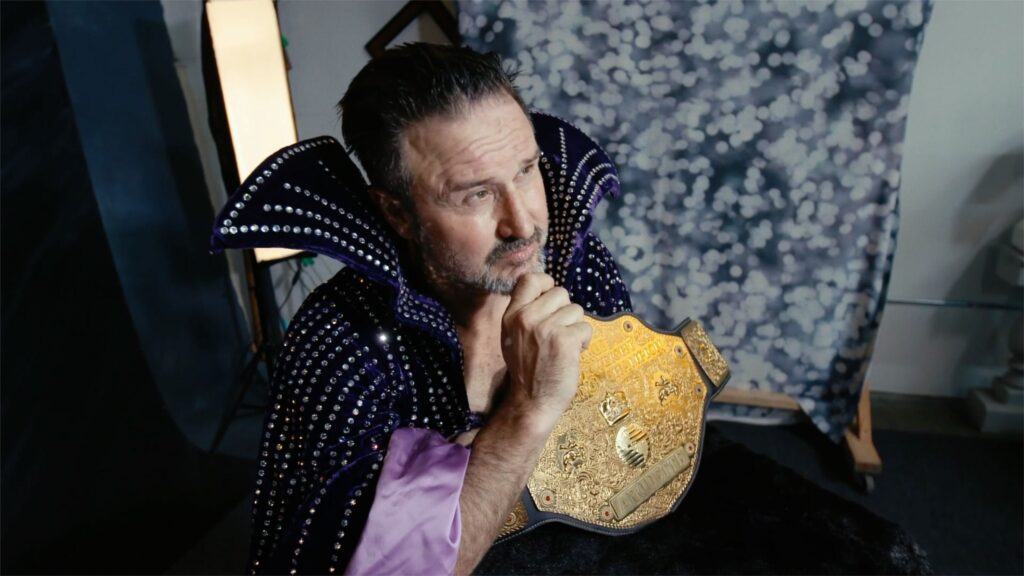 By this point, You Cannot Kill David Arquette feels destined to be a downer, but things begin to turn a corner as Arquette's experience only furthers his resolve. Soon, he's doing yoga with Diamond Dallas Page and training with luchadors in Tijuana (where he wrestles under a pink mask). Arquette's wife marvels at the incredible transformation — he stops drinking and smoking, drops over 50 pounds and gets into the best shape of his life — but she's less than thrilled to come home and discover her husband has erected a full-size ring in their backyard so he can train on a daily basis as he sets his sights on a true return to the ring.
Directed by David Darg and Price James, You Cannot Kill David Arquette is a captivating chronicle of a man's desire for acceptance, for which he seems willing to pay any cost. The filmmakers do a wonderful job of capturing the pageantry and absurdity of the wrestling world, as well as its darker side — a grisly "death match" in the second act nearly results in tragic consequences, and the psychological effects remain long after the bell has rung.
Through it all, Arquette's admiration for the industry — and his own fandom — shine through. He pores over old videos of Randy "Macho Man" Savage and his valet, Miss Elizabeth, spends hours cooking up ideas for his costume and character, and relishes the "in the moment" fan interactions that occur in and out of the ring. His enthusiasm and optimism are infectious, and while pro wrestling aficionados will certainly get more from the film's behind-the-curtain approach — not to mention appearances by the likes of Ric Flair and Ken Anderson — even viewers with no connection to the sport are likely to get caught up in the moment as the filmmakers prove their thesis: You Cannot Kill David Arquette.
For more on the film, click here for our interview with David Arquette.