She-Hulk: Attorney at Law is coming to Disney+ and in anticipation for the big, green premiere, The Lamplight Review took part in a press conference featuring key cast and creative team members. Participants included series actresses Tatiana Maslany (Jen Walters/She-Hulk) and Ginger Gonzaga (Nikki), alongside director/executive producer Kat Coiro and head writer/executive producer Jessica Gao.
We've seen the first four episodes of She-Hulk: Attorney at Law (come back later in the week for the review) and believe these four items discussed at the press conference to be the most important things to know for viewers going into the series.
---
1) She-Hulk is first and foremost a straightforward comedy set in the MCU, despite having other elements within:
Kat Coiro: We pulled from so many genres. The easy answer is that it's a half-hour legal comedy, but it also has huge cinematic scope and elements of drama, action, suspense. It really is a little bit of a peek behind the curtain of the everyday, sometimes even mundane life of a superhero, which we get to experience in this long-form series.
2) Breaking the fourth wall was the most important thing to get right about the series, according to head writer Jessica Gao (while also flexing some She-Hulk nerd cred):
Jessica Gao: For me, foundationally, I felt like first and foremost [the most important thing] was the fourth wall breaking and the meta humor and the self-awareness. It was the John Byrne run [of the comics] that made me fall in love with this character. It was so lighthearted and fun and refreshing, so that was always kind of a foundational element. For me, because I come from TV comedy (Rick and Morty), the comedy was a priority but then what's great about having such an incredible cast, it then feels like you're cheating as a writer. They come in and really just imbue this humanity and realness to these characters, where I was focused on jokes and you guys [Tatiana] made [She-Hulk] a real person.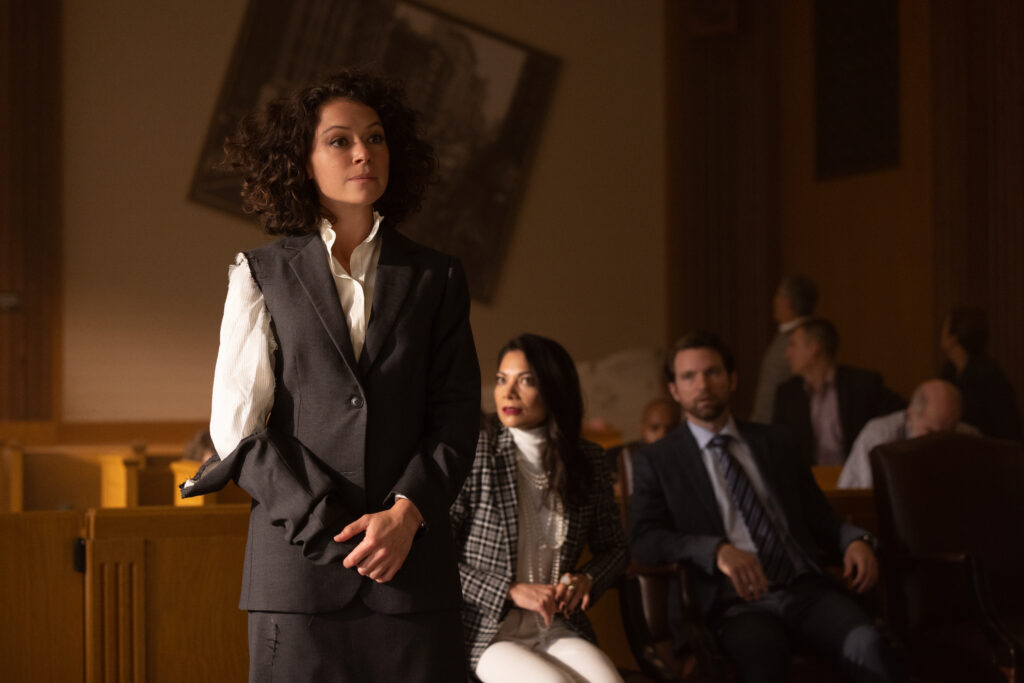 3) Mark Ruffalo is Bruce Banner/The Hulk:
Tatiana Maslany: Mark was just so open to whatever my process was with coming to She-Hulk, he never was prescriptive, but one thing I did witness him do was he was laying down on the ground, he was laying down outside as Bruce [Banner] and he gets up as Hulk, truly from a laying down position he's suddenly standing.
Kat Coiro: Kip! It's called a kip, I think?
Tatiana Maslany: Oh yeah? There's a word for it?
Kat Coiro: A kip! It's called a kip, I think? There's a thing where you lay down and then standup without moving your arms. Doesn't look like it's humanly possible.
Tatiana Maslany: Yeah, it looked completely inhuman. And I was like, "Oh, that's what ten years of playing this character and physically embodying him and being so inside of him… you get to do cool stuff like that."
Kat Coiro: And he said that he can't even do it, if he were asked to recreate it as Mark, he would have trouble doing it.
Tatiana Maslany: That to me was like, "Oh cool. I want to be able to do that some time."
Ginger Gonzaga: They don't teach me that in yoga.
4) Tatiana Maslany was the only and best choice for the role:
Kat Coiro: There is nobody else. There was nobody else. There was really no other discussion. And, you know, from her previous work (Orphan Black), we knew that she had a range and could embody so many elements of the human experience. And what's so interesting and different about Jennifer [Walters] is that as Tatiana said, she maintains her sense of self and yet her sense of self is influenced by the way she presents when she changes, it's a different way of walking through the world. And so it required a nuance of performance that really only Tatiana could give.
Jessica Gao: I was just gonna say nothing. She brings nothing to the table. [laughs] We talked a lot about how important it is for this character to be human first. And truly from day one, the moment she stepped into this role, it immediately was right before your eyes, you're like, "Oh, this is a person." Before this was just words on a page and now I'm seeing a real person who I believe has lived this entire life, has all these relationships, and has all these feelings. And then on top of that because I only knew her as a dramatic actress, and on top of that, [Tatiana] is super funny! Everybody else apparently knew!
Kat Coiro: I keep finding myself saying like Tatiana has amazing chemistry with Mark [Ruffalo], Tatiana has amazing chemistry with Ginger [Gonzaga]… and then you realize oh, she has amazing chemistry with everybody. And it's really because she listens and she engages. And as Jessica said, she approaches things on a macro-intellectual level, but is still able to approach on a micro-emotional level, which is very rare in an actress.
---
She-Hulk: Attorney at Law streams exclusively on Disney+ beginning August 18, 2022.