She-Hulk: Attorney at Law is proof that it's not easy being green — on multiple levels. Some superheroes already had interesting lives before getting powers, and Jennifer Walters (Tatiana Maslany) was building an impressive law career on a path toward the DA's office. But a road trip with her cousin Bruce Banner aka The Hulk (Mark Ruffalo) takes an expected turn when his gamma-irradiated blood makes her into another Hulk.
After watching the first four episodes, MCU fans need to know what to expect when sitting down to dive into this next installment in the shared universe (this helps). From writer/producer Jessica Gao (Rick & Morty), She-Hulk: Attorney at Law is Marvel Studios' first attempt at a straightforward half-hour comedy series. The series doesn't take itself seriously, breaks the fourth wall, and unapologetically has a good time — but if you're an MCU purist, the tone might throw you off.
The best way to describe the approach to humor the series takes would be a solid parallel with the comedic elements seen in Shang-Chi and the Legend of the Ten Rings. The happy hour meet up, the karaoke scenes, and anything with Ben Kingsley as Trevor Slattery (aka the fake Mandarin) run very similar in style and tone with She-Hulk: Attorney at Law. If you like your Emil Blonsky aka The Abomination (Tim Roth reprising the role) as a stone-cold killer, best check your expectations at the door — that's not a knock on Roth, he's hilarious in this, but it's a very different approach. The series portrays every new and returning character from a light-hearted perspective, even the very serious ones.
With that out of the way, She-Hulk: Attorney at Law is rough around the edges, but absolutely hilarious if you let yourself roll with it. I've long supported and been a fan of Tatiana Maslany's (Orphan Black rules!) career and she is radiant as Jennifer Walters. Maslany shows a whole other side of her talents in She-Hulk with tremendous comedic timing, while clearly having a blast. She's infectious and is a big reason the show works when it does.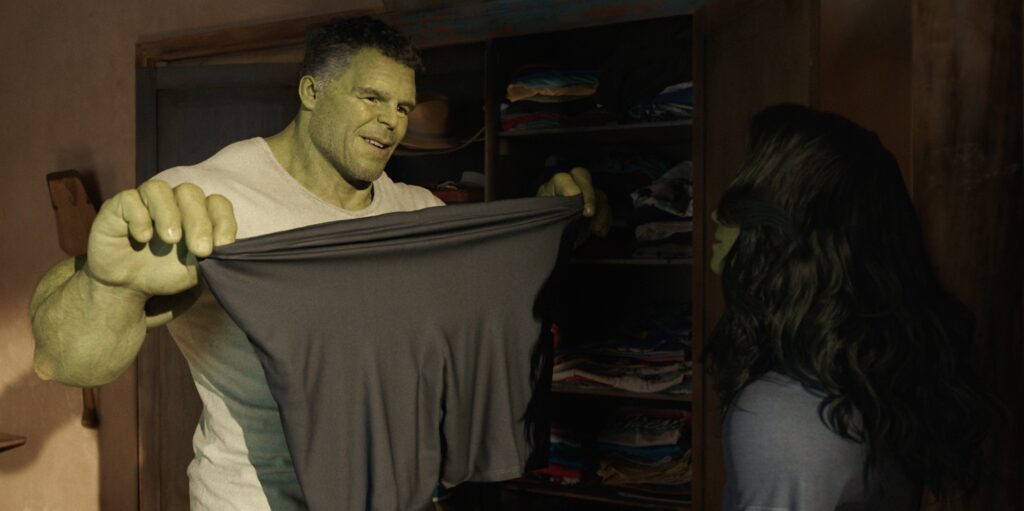 Each episode moves extremely fast, having new guests almost every week and a literal changing status quo almost every episode. Maslany is great with every cast member, especially her in-show cousin Mark Ruffalo. Most of the first episode features the duo working through Hulk issues and their brother/sister-like chemistry feels so real, making Jennifer immediately feel at home in the MCU thanks to her cousin Bruce. Adding to that, her relationship with the best BFF ever, Nikki (Ginger Gonzaga), and her loving but overbearing family really round the character out into a tangible, relatable person to root for.
From there, we won't spoil anything, but it's worth logging in every week for new episodes to see who might show up. On the negative side of things, not all the humor hits right, and it's clear there were some behind the scenes tonal struggles. Also, the much maligned CG effects are better in context, but are a still real problem, especially in the last half of the episodes viewed. Scenes where She-Hulk is wearing a lawyer outfit and walking around the office look awkward and suffer from floating head syndrome. Maslany's performance is well captured in close-ups, but most full body shots are iffy, to say the least.
Jennifer Walters' first live-action incarnation is a work-in-progress experiment with an unexpected tone that takes some time to settle in with the viewer. The cast is terrific and the show itself in its best moments is downright hilarious. We recommend sticking around post-credits every week for the biggest laughs. She-Hulk: Attorney at Law won't be for everybody and that's okay, but it still has room to be better at what it's trying to accomplish.
Score: 3 out of 5
She-Hulk: Attorney at Law streams exclusively on Disney+ beginning August 18, 2022.