The biggest pop culture event of the year, and possibly the last decade, is upon us with the conclusion to the first era of the MCU in Avengers: Endgame. Fans have been dissecting footage and theorizing frantically, theaters have been selling out left and right, and the media hype train has been dialed up to eleven. How could any one film possibly withstand this amount of unreasonable expectation and still provide an enjoyable experience for all the expected audience demographics? The response from Marvel Studios is akin to a quote from Captain America himself: "I can do this all day."
Clocking in at over three hours, this behemoth of a film is equally a beast to review due to the need to preserve the many, many secrets that have been masterfully kept hidden by the studio. We'll march onward with my review, but be aware there are huge elements that won't be directly addressed, and we recommend fans see the film as soon as they can to fully enjoy the viewing experience.
Avengers: Endgame is a staggering achievement of cinema that somehow comes together in seemingly effortless fashion thanks to Joe and Anthony Russo's brilliant creative hands and despite what had to have been a logistical nightmare to plan and execute. I won't go so far as to say it's a perfect film, but still quite mind-blowing that it's able to pull together such a fun, satisfying close to not only Avengers: Infinity War, but the entire first ten years of the MCU.
The overall plot structure of the film is one of the early surprises, kicking off the first half of the movie with a fairly dark and shocking opening act. From there the story starts to become a bit predictable while trying to check all the boxes needed to reach the end. The real standout aspect is not the plot itself, but the smaller choices for where we find each of the main characters, nearly all of which are wonderfully kept secrets and huge fun to discover as things begin to unfold.
It's also no secret that all eyes are on Captain America (Chris Evans) and Iron Man (Robert Downey Jr.) in Avengers: Endgame, as the fractured relationship between the two heroes continues to evolve. First and foremost, I'm ecstatic to report the Cap is absolutely everything in this film. I could NOT be more pleased with Evans' terrific performance or the absolutely brilliant way the character is handled in the film from start to finish. Inspiring, heartfelt, and pure, Cap is the most perfect element of the movie.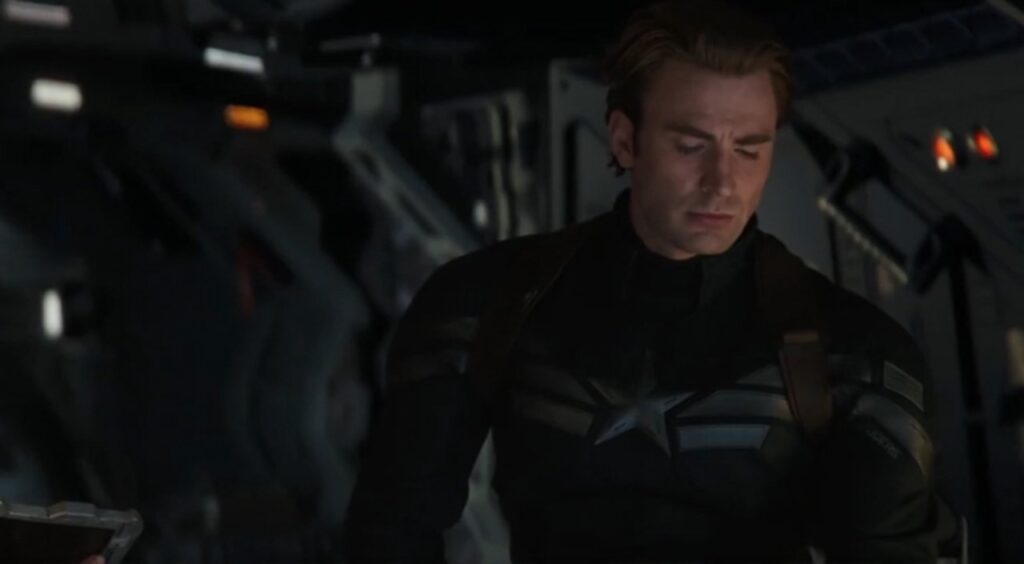 Downey Jr.'s Tony Stark, the father of the MCU, is also treated with great reverence, but things just never quite clicked for me this time out. The character is still great, but missing some of his usual charm, with parts of the story taking one too many liberties while also pulling the superhero rock star slightly out of his element.
But rest assured, fans of the incredibly huge roster of heroes and villains, the surviving Avengers that made it through Infinity War are all given plenty of screen time during this densely packed narrative, including the surprise heart and soul of the film: Paul Rudd's pitch-perfect performance as Scott Lang, aka Ant-Man. Other favorites, like Chris Hemsworth's Thor and Mark Ruffalo's Hulk, have terrific character developments that result in them stealing almost every scene.
Obviously, with a cast this big and the story complications that arise from the end of Infinity War, this film will inevitably leave some fans with disappointment about their particular favorites getting little to no attention. This understandable reaction isn't necessarily a valid or fair complaint, but there will be quite a few surprised audience members when they see how the final screen time all pans out.
The length of the film is also an issue, but to Avengers: Endgame's credit it doesn't feel nearly as long as the actual running time. The plot rarely slows down and the action and laughs are fairly consistent throughout. Once the extraordinary final sequences kicks into gear there will be goosebumps and tears, laughter and excitement, and an ending that might not be world shattering, but is a wonderfully poetic bookend that should satisfy even the staunchest of critics.
Score: 4 out of 5
For more on Avengers: Endgame, check out Brent's review.