The King of the Seven Seas is adding your home theater to the realms of his kingdom with the release of Aquaman on Blu-ray. Jason Momoa stars as Arthur Curry, the adopted son of a lighthouse keeper on a journey to discover that he's the super-powered rightful heir to the throne of the long lost empire of Atlantis.
Director James Wan's Aquaman is every bit the splashy, colorful and over-the-top comic adaptation audiences hoped they would get and you can read our full review of the film here. Needless to say, the comic origin story is a true blast to watch and well worth your time checking out again at home or for the first time.
The film looks incredible on the disc, especially sequences taking place in the superbly layered and painstakingly crafted world of Atlantis. Aquaman is also stacked with behind-the-scenes special features that dig deep into the depths of the film, but none of them really stand out as especially unique or exciting. The one true standout piece of bonus material is the three minute sneak preview of Shazam, but since that film hits theaters in just over a week, the shelf life of excitement to watch this feature will drop quickly.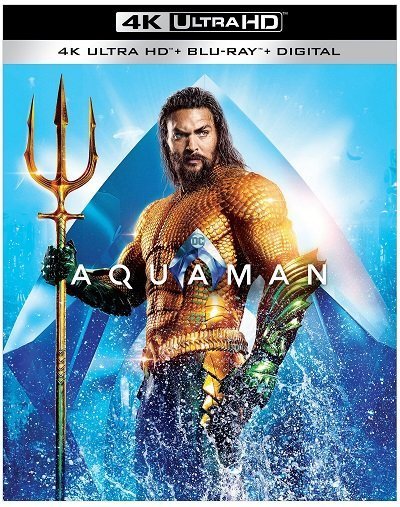 Despite most of the extras following the predictable format, the cast and creative team really make the featurettes very enjoyable to watch. Patrick Wilson (Orm), Amber Heard (Mera) and even Wan himself are quite entertaining on camera throughout, but no surprise Momoa steals the show in every segment of every feature with his endless energy and endearing charisma.
If actors being cute isn't your thing, Aqua Tech and Atlantis Warfare are some of the better extras that break down the amazing designs and science behind the futuristic ships and weaponry of the underwater kingdom. Kingdoms of the Seven Seas and Creating Undersea Creatures are also fascinating studies of the fantastic beasts and regal beings that inhabit the film's undersea universe.
astly, most of these features are all available to view along with your digital copy of the film included with this release for extra convenience anytime you want to return to Atlantis. While the film may not have an individual specific feature worth the cost of purchase, the shear volume and quality of the behind-the-scenes features along with a film that is great fun to boot warrants giving Aquaman a serious purchase consideration.
Score: 4 out of 5
---
Aquaman is now available on Blu-ray. Click this link to purchase from Amazon.