PHOENIX — A massive white curtain hung in front of the stage at Comerica Theatre on Sunday evening, with the members of Coheed and Cambria silhouetted against it. As the opening notes of "The Dark Sentencer" built toward a crescendo and the curtain dropped away to reveal the band, frontman Claudio Sanchez surveyed the screaming crowd and allowed himself the slightest of smiles.
Sharing the bill with Mastodon and touring in support of their ninth studio album, The Unheavenly Creatures, Coheed and Cambria leaned heavily on selections from their latest record to fill out the setlist. New tracks like "True Ugly" and "The Gutter" fit snugly alongside crowdpleasers such as "A Favor House Atlantic" and "The Suffering," and Claudio even took the rare step of unstrapping his guitar for a couple of numbers, bouncing around the stage with only a microphone in hand.
Backing vocals from guitarist Travis Stever and bassist Zach Cooper created beautiful harmonies, while drummer Josh Eppard pounded away with inexhaustible enthusiasm. The science fiction-inspired lyrics of "In Keeping Secrets of Silent Earth: 3" and "No World for Tomorrow" were complemented by a series of otherworldly images displayed on towering LCD screens, showcasing desolate planetscapes and futuristic cities.
After four weeks on the road, Coheed and Cambria heads to Austin, Texas on Tuesday for a show at Austin 360 Amphitheater before wrapping up the tour the following evening at The Pavilion at Toyota Music Factory in Irving, Texas. In the meantime, check out the full gallery of Coheed and Cambria photos from Comerica Theater below, and click this link to see photos from Mastodon's performance at the same event.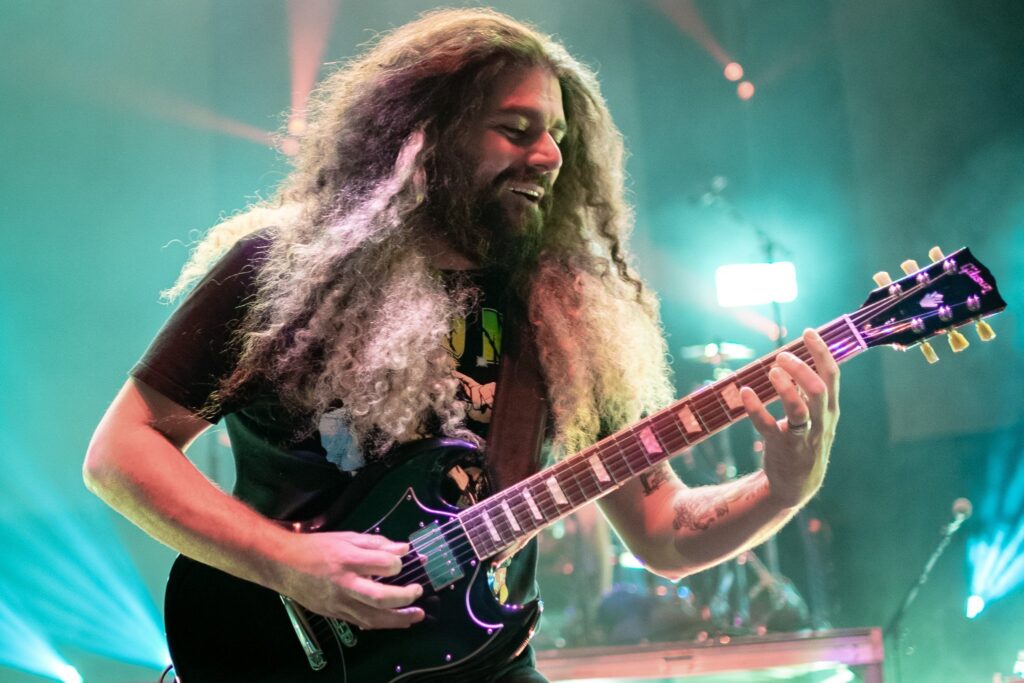 Photo Credit: Brent Hankins
Setlist
The Dark Sentencer
Key Entity Extraction V: Sentry the Defiant
Unheavenly Creatures
In Keeping Secrets of Silent Earth: 3
A Favor House Atlantic
The Gutter
True Ugly
No World for Tomorrow
Gravity's Union
Mother Superior
The Suffering
Old Flames
The Pavilion (A Long Way Back)
Welcome Home